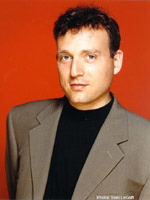 Derek Bermel
photo by Tom LeGoff
Derek Bermel's Dust Dances was premiered and recorded by Norwalk Symphony in 1998, and will be performed three times by the Memphis Symphony in March 2001. Dust Dances was first performed at the American Composers Orchestra's Whitaker New Music Reading Session in 1994. It is published by Peermusic Classical.
The orchestra work Dust Dances comes out of the rhythmically intricate gyil music of West Africa. Bermel makes fluent use of polymeters, metrical undercurrents that run across the established beat, and a beat that can often be felt in two different ways simultaneously.
"The piece demands close attention to rhythm," Bermel commented. "I wrote it when I was 24 or 25, and for the most part I wrote what I was hearing. I was trying to translate xylophone music into orchestra music, and it doesn't translate directly." For instance, African players don't read music, but according to Bermel "they are thinking in several time signatures at the same time." Translating that complex sense of pulse into the language of the American orchestral player was a challenge.
Bermel has had some hands-on experience with West African music. In addition to studying composition at Yale University and the University of Michigan with William Albright, Louis Andriessen, William Bolcom, and Michael Tenzer, he studied ethnomusicology and orchestration in Jerusalem with André Hajdu, and Lobi xylophone in Ghana with Ngmen Baaru. For more comprehensive information on both Bermel and Dust Dances, click here.
Bermel is laidback when it comes to the subject of competitions. "My teacher Bill Albright used to say [of competitions that] 'If you win you get the money, if you lose you get the honor.'" He doesn't apply for many competitions, admitting that he prefers practicing and writing to the work of putting together applications. In the case of Masterprize, a contact at his publisher, Peermusic Classical, alerted him to the possibility.
One of Bermel's concerns with competitions is that if judges are picked entirely from one "sector" of the music profession, certain kinds of compositions will always prevail. For instance, a jury comprised entirely of composers will look for one thing, whereas conductors will look for something else. If there are enough different kinds of competitions, Bermel argues, unknown composers will be brought to light. He finds the Masterprize approach "interesting," with its mix of jurors from across the music profession. Bermel is pleased that the competition benefits multiple people: the works of all twelve semifinalists will get some exposure.
Activities this year included the Chamber Music Society of Lincoln Center's premiere of Soul Garden for viola and string quintet at Alice Tully Hall, featuring violist Paul Neubauer, and the premiere of Natural Selection, four songs for medium voice and large chamber ensemble, at the Huddersfield Contemporary Music Festival, UK.
Bermel is currently working on a commission by WNYC's John Schaefer for The Kitchen's "house band" Kitchen House Blend. Large-scale projects on the horizon include an orchestral commission from the Westchester Philharmonic for 2002, and an opera, The Loving Family, supported by Mary Flagler Cary Charitable Trust and a Guggenheim Fellowship, with a libretto by Wendy S. Walters. A disc of Bermel's chamber music is in progress at CRI, and plans for an orchestral CD are afoot.