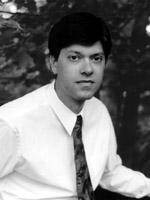 Pierre Jalbert
photo by Louise J. Greenfield
Pierre Jalbert's In Aeternam was commissioned by the California Symphony and was premiered and recorded by them in May 2000 under the direction of Barry Jekowsky.
In Aeternam was written as a memorial to Jalbert's niece, who died at birth. For the composer's excellent notes on the piece, click here.
The 32 -year-old Jalbert is currently at the American Academy in Rome, having won the Rome Prize. "It's a wonderful place, and I am enjoying my time here very much. My studio is in a building called Casa Rustica, which is built on the spot where Galileo first used his telescope, and right behind my studio is a large stone wall which happens to be the Aurelian Wall, built around the first century A.D. This blows my mind every time I think about it."
While in Rome, he is working on his largest-scale orchestra work to date, Symphonia Sacra, again for the California Symphony. The Symphony will premiere the piece in April 2001. "It is a three-movement work in which I try to write two different kinds of music," Jalbert writes, "one sacred, one profane (or secular), and then juxtapose them. I had the idea before coming to Rome, but being in Rome has inspired the idea all the more!"
Jalbert, who has also won a Guggenheim fellowship, takes a pragmatic view of the competition scene. He sees composition competitions as "sometimes a way of getting noticed and getting performed. You just hope it will lead to other performances and commissions without always having to compete."