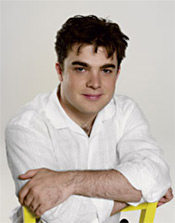 Michael Christie
Michael Christie was named music director of the Brooklyn Philharmonic by the ensemble's board of directors late yesterday. The 31-year-old conductor has signed a three-year contract to begin September 2005.
The position was previously held by Robert Spano, a former teacher of Christie's at the Oberlin College Conservatory of Music. Christie is slated to conduct three of the four Brooklyn Philharmonic main stage concerts this season in February and April 2006. These concerts mark the beginning of the 51st season of the Brooklyn Philharmonic.
Currently serving as the music director of the Phoenix Symphony and the Colorado Music Festival, Christie made his Brooklyn Philharmonic debut in April 2005 with Beethoven's Ninth Symphony and the world premiere of Jennifer Higdon's Dooryard Bloom.
The Brooklyn Philharmonic has received 22 ASCAP Awards over the last 26 years for "Adventurous Programming of Contemporary Music." Since its 1954 inception, the ensemble has premiered over 150 works, including 61 commissions.
Read Christie's full bio and online journal.