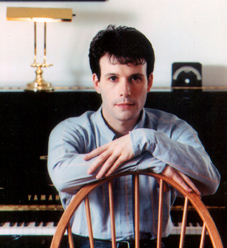 Michael Hersch
Photo courtesy Michael Hersch
People are talking about 30-year-old composer Michael Hersch. Love his music or not, his rapid rise to prominence has been turning heads in his direction for several years now. Hersch's biographical sketch would give pause to even the most cynical in the field, especially since his involvement in classical music spans little more than a decade. In addition to multiple commissions and performances of his work across the country, his award highlights include the Rome Prize for 2000/01, the Guggenheim Fellowship in Music, an Ives Scholarship from the American Academy of Arts and Letters, the American Composers Award, a "Meet the Composer" grant and three ASCAP Foundation grants.
Despite the relatively late start at 19, Hersch has had no trouble making up for lost time. On the heels of his stay in Rome, he arrived this September at the American Academy in Berlin. His residency there is the first in the newly-established Alberto Vilar Music Fellowship program which will bring young American composers of classical music, performers, and conductors to Berlin.
Home is where you hang your hat
A month into his fellowship, Hersch is still settling into life in Germany. "I came here literally just a few weeks after I was done in Rome," he explains without even a hint of arrogance at the accomplishment. "The shift in cities was the primary shock, but the way it's set up is almost identical." However, the Academy in Berlin is about half the size of the Academy in Rome, generally one person per discipline, and Hersch has also found that the focus is "much more on the present and looking to the future whereas in Rome, things tend to be more historically oriented."
Hersch has become something of a jet setter in the past year, shuffling back and forth between Europe and the States for concerts of his works, though it's not a lifestyle he has enthusiastically embraced. "It's difficult. Some people like it, but I think for me not having a center of gravity has been sort of difficult. [Rome and Berlin] are so beautiful and so nice, I always feel I'm sort of a guest in a hotel. I prefer being in one place and not having to budge from it. But both of these places — everything about them is perfect."
In general, Hersch says, he finds himself more aware of his American heritage living in Europe. "You get more of a sense of national identity, because national identity is always to the fore within Europe. There's a great sense of national character that seems to infuse so much of conversation that it becomes inevitable. One can't avoid being looked at at least on some level in a national capacity and I think that perhaps I had a well of patriotism that has come out being away for so long."
It's a situation that would likely confront any American living abroad. He amends that it "really has nothing to do with art or music, but I think it forces one to confront their own background a little more and that's good. I think I found patriotism that I didn't know I had."
Making it look easy
Though he is laboring now under the pressure of so much early success, he says he doesn't really think about it. "I mean obviously when great things happen it feels very good, but I learned a long time ago that everything, when it comes to awards and fellowships and commissions, all these things, they all have a relatively brief lifespan and if you don't do good work, it's all sort of meaningless anyway." If anything, the success makes him more critical of his work, rather than overconfident. "I think it forces me to be much harder on myself than I would have been without this recognition and I think as a result of a lot of these things, composing has gotten much more difficult for me instead of easier. While in the end I hope that the music is getting stronger, the process has gotten more difficult."
Ultimately, Hersch is very much a realist and doesn't appear to have let the accolades go to his head. "I think the most healthy thing is just to keep working and hoping to have the opportunity to work, so in that sense you have to just keep plugging away, just work. All these things, in and of themselves, have lifespans. They're nice for a day, an hour, a week, a month, a year. In the end, for me the most important thing is to be able to have the opportunity [to write music]. So in this sense, the academy experiences have been great because it's made my life much easier in the sense that I've really been able to just focus on music. When I'm back it will be very difficult again."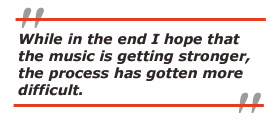 Though he has written for a range of ensembles, when it comes to his orchestral scores he admits that "every time I sit and write a new orchestra piece it feels as if I've never written one before. In the end that might be a good thing, but while I'm doing it, it's very difficult. It's a very strange phenomenon, and it doesn't happen so much with other forms, but with orchestra music, every time I write a new piece there doesn't seem to be a collective experience from all the orchestra works I've written before. So in that sense there's a newness to each one but at the same time I would have hoped it would have gotten easier."
Easy or not, he has been able to produce and orchestras are responding with commissions. Mariss Jansons, music director of the Pittsburgh Symphony Orchestra, has been an especially vocal champion of Hersch's orchestral music. Hersch recalls that while still a student at Peabody he sent music around to a few music directors and ended up meeting and playing for Jansons. "He commissioned the first piece and then it just kind of went from there," Hersch explains. "I just seemed to be of the same expressive frame of mind and for me obviously it's been a really amazing relationship." His first commission, Ashes of Memory, was such a success that the orchestra will premiere his Second Symphony next April in Pittsburgh and at Carnegie Hall and a third project, a co-commission with two other orchestras, is already lined up for 2002-03.
Hersch finished his Second Symphony early in October. Whereas he previously tended to compose works written in one huge gesture, he says that this is one of the first that is divided into relatively clear movements. He also points out that "it's also the first piece I've really written having a lot of experience with an orchestra. Composers always speak of that — that it's great to be able to write for people, for ensembles and performers, that they know their playing well. In this case I feel that I do know this orchestra well, so the piece is very much tailored to the orchestra and many specific people.
"And it's also interesting writing it literally half in Rome and half here [in Berlin] and two weeks in America in between. In that sense it's the most transnational piece I've written."
On music and inspiration
Hersch's well of creative thought, he finds, is somewhat sealed off from his external environment. It "comes from a very internal landscape essentially that I don't have much control over," he says, "and obviously that changes as I change."
Though understanding that internal world seems to be the key to getting inside Hersch's music and psyche, he's unable to elaborate further. "People will always ask me, and artists generally, how they're impacted by their environment. I think for me this internal world really overpowers anything externally but I can't say totally. I can't unequivocally say that I haven't been influenced by my surroundings recently. I think I need more space, but we'll see. Leave it to other people to decide."
After a few seconds pause, he continues, "It's a very good question and I have yet to come up with a good answer."
He has found that "the few times that something truly horrible has happened externally in my life, in some strange way if one of those event coincided with a premiere or the completion of a work, I used to feel this weird sense of relief in the sense that if the piece was played I could turn to this external event that anybody could understand." It was an easy out, but not completely honest by his own admission. "It was an easy way to explain away the music and people could always understand that. But the reality isÖthat world has been there really since I was a little boy and it obviously is a combination of many things. I can't explain exactly what it is, but it's not primarily shaped by things outside I don't think, unless we're talking in a very large sense. And I think to try and talk about it is hopeless."
In a sense, the very fact that it can't be talked about is why he translated it into music in the first place. "In the end that's what makes music so wonderful. That's one of the things that makes it what it is. It is hard to pin down specifically unless the composer his or herself wants that. That's generally why I give pieces somewhat abstract titles."
Hersch isn't fond of labels in general. He even finds it difficult to classify his own music. "The issue of boxing I think has become so ridiculous at this point. None of the labels even mean anything. I just think that if people try and take the few terms that they have for music and apply that kind of restrictive vocabulary to other art forms, I think they would see very quickly how inferior it is."
He does think his earlier music was easier to categorize, but it has continued to change, especially in the past few years. "I think the more recent things are more difficult [to label] but I'd rather leave that to other people to try to do."
Among his current favorite composers he counts Henze, Kurtag, and Wolfgang Rihm. When he was younger, though, he turned to composers like Rouse and Corigliano not so much for compositional guidance, but rather as an example of how to "look at the world and see music and exist in music. I was really kind of lost in my head for many years and when I met them they really kind of opened my eyes to a lot of things, how to negotiate the world in a way, but as a composer in the broadest sense of the word."
Late bloomer
Coming into the classical world at the relatively old age of 19, it was guidance he needed. Like a public school music teacher's daydream, he says that his first serious encounter with classical music — in this case Beethoven — "shook me. It scrambled everything. That's when I knew that I was to be a composer."
"I didn't know that that was possible. I didn't know that what I felt and how I reacted — that that was possible and it shook loose the impulse in me to do it.
"My whole life sort of started over at that moment, so obviously for me it was quite a massive revolution in my thinking." The memory of it brings out a tumble of thoughts from Hersch. "Obviously it's different for each person. But I think it's misleading to say it was the realm of classical or concert music or whatever term people want to use. Schoenberg said that we don't love Beethoven because of his style. That's one of the most brilliant comments and its true. So I think what shakes people, it's not so much a genre as the power of certain people's ability to express themselves however that is whether it's through stone, through a piece of music that requires an orchestra, whether it's a poem that requires to be read. I wouldnít be so fast to write off one over another."
But why did classical music speak to him so strongly? "I didn't approach concert music to the exclusion of everything else after I discovered it, but for whatever reason I found that that kind of experience happened to me more often in that vein."
Hersch considers himself part of a generation that (thankfully) lacks a musical hierarchy universally ingrained into its thinking. "We have grown up with everything, willing to listen to anything and take in most anything. If we end up loving only one type of music that's fine, but I think it's more honest. I'll listen to anything, and I'm not saying I'm a great humanist. But you never know when you're going to hear something striking."