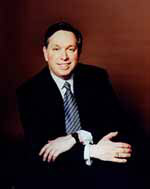 Michael Kaiser
Photo courtesy of Cornhill Publications Limited
The Kennedy Center announced on July 19 that Michael Kaiser has been named to replace Lawrence J. Wilker as president of the national center for the performing arts. His is slated to begin his new post in February 2001.
Kaiser, 47, is currently the executive director of the Royal Opera House at Covent Garden in London. He is widely credited with engineering the financial turnaround of the beleaguered institution in his 19-month tenure: he erased its deficit of £19 million, completed a £214 million redevelopment of the facility, created a £20 million endowment fund, and greatly increased its level of support from the private and public sectors. Prior to Covent Garden, Kaiser worked a similar reversal at the American Ballet Theatre, where he was the Executive Director from July 1995 to November 1998. Under his guidance ABT eliminated its accumulated deficit, increased box office sales and touring activities, inaugurated a junior company and three summer schools, and expanded its education, access, and outreach programs considerably. Kaiser recently announced his intention to resign from the Royal Opera House because of continued internal politicking and bickering.
In the realm of contemporary music, the Royal Opera House now produces performances of chamber and new works in its 450-seat Linbury Studio Theatre and a series of experimental works in its Clore Studio. Broadcasting contracts between Covent Garden and the BBC have augmented the audience numbers for these events.
When asked by NewMusicBox what his plans were for the promotion of new American music, Kaiser responded: "I believe that a center as large and diverse as the Kennedy Center has an obligation to present a wide spectrum of art – from the classics to the contemporary. I am deeply committed to new music, particularly new American music, and look forward to working with Leonard Slatkin to bring new music to the Kennedy Center." Kaiser declined to provide what specific goals or criteria he would pursue in rectifying the Kennedy Center's indifference toward producing works by American composers. As evidence of his support of new music, he cites his commission of the ballet Othello from Elliot Goldenthal while at American Ballet Theatre.
In addition to ABT, Kaiser has also previously served as Executive Director of the Alvin Ailey Dance Theatre Foundation and as Associate Director of the Pierpont Morgan Library and the State Ballet of Missouri. He has founded and directed two consultancies: Kaiser Associates and Kaiser/Engler, whose clients included Glimmerglass Opera, the National Museum of African Art, the Detroit Symphony, and the Market Theatre of Johannesburg. Originally from New York, Kaiser received his Master's degree in management from MIT and his B.A. in economics from Brandeis University.
President Jerry Wilker's announcement in April that he intended to leave the Kennedy Center at the end of this year to launch an Internet arts and entertainment venture prompted the search for a replacement. The search committee, which includes including Sen. Edward Kennedy and board Chairman James A. Johnson, voted unanimously to hire Kaiser; this decision was ratified by the full board of trustees.
"The news of Michael Kaiser's appointment is indeed exciting," said Placido Domingo, artistic director of the Washington Opera, in a statement from Bayreuth, Germany, where he is rehearsing a new production of Wagner's Ring cycle. "He brings with him such an impressive track record of giving extraordinary stability to arts organizations. While he was at Covent Garden he and I had a wonderful relationship, and from a personal standpoint I am especially delighted at this appointment, because in future Kennedy Center dealings I will remind him of our own past and the fact that he was at one time in the 1980s a member of the Washington Opera board."
The Kennedy Center has recently launched a $100 million fundraising campaign, of which $70 million has already been received; Kaiser's experience in fundraising is certain to be beneficial in future such endeavors. A search for a new artistic director of the center has been put off until Kaiser assumes control and can be involved in the search.