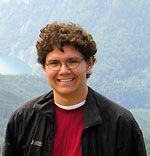 Justin Schell
The contemporary dance group Danceworks introduced a new collaborative endeavor to Milwaukee last month with "Art to Art," premiering new works from local emerging artists. Six choreographers—Kelly Anderson, Monica Rodero, Sofi Askenazi, Liz Hildebrandt, Diana LeMense, and Dan Schuchart—were randomly paired with six composers—Michael O'Day, Peter Pearson, Amanda Schoofs, Allen Russell, Eric Meyer, and Riles Walsh—in connections facilitated by Kevin Stalheim, director of Milwaukee's Present Music. According to Sarah Wilbur, artistic director of Danceworks, the project is "a venue for exploration" that "expands the network of performing artists that live in Milwaukee." Each of the twelve artists brought their own ideas to their works, though most agreed it was a unified process throughout, necessitating experimentation and compromise. The project thus gave each artist an opportunity to explore the dynamic relationship of cross-media artistic creation.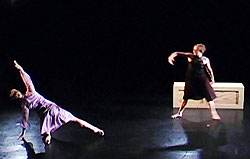 Kelly Anderson and Kelly Zwiers performing one might hear a feather or see a pin drop
Photo by Keith Knox
Michael O'Day, who has previously written music for the Milwaukee Ballet, expressed this in recounting the genesis of the piece one might hear a feather or see a pin drop, choreographed and danced by Kelly Anderson. "Kelly's first response to me was that she liked classical music, especially strings and arias," he said. O'Day, who decided beforehand on an electronic piece utilizing granular synthesis, thus had to unify "a very broad, somewhat contradictory, palette of ideas." As O'Day's music subsumed ethereally human voices under digital debris, Anderson's choreography worked in tandem to blur the line between human and non-human. Anderson writhed on the ground like a malfunctioning automaton, ceasing only when stilled by dancer Kelly Zwiers. As the work concluded with them lying on two blocks, Zwiers silently put Anderson to rest for the final time.
The other pairs had a similar story in their work's creation, but with very different results. Monica Rodero and Allen Russell structured sotto voce as a conversational duet. Rodero crafted a dialogue between dancers Dan Schuchart and Liz Hildebrandt while Russell's piece played violin and piano lines off each other. The work, like every conversation, traversed various emotional states, from sweeping legato themes when the dancers were joyfully entangled, to caustically percussive writing as the pair's discontent and separation grew. The closeness of all four artists, however, produced a remarkably palpable sense of entwined intimacy.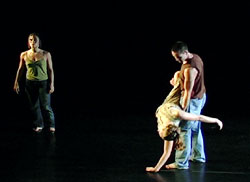 Liz Hildebrandt, Karley Hetebrueg, and Dan Schuchart performing bound.struggle.release
Photo by Keith Knox
Amanda Schoofs and Liz Hildebrandt produced bound.struggle.release, danced by Hildebrandt, Schuchart, and Karley Hetebrueg. Schoofs's electronic composition utilized massive sound blocks that often rang like the largest gongs of a Javanese gamelan. The piece also possessed a spatial dimension, sounding different depending on an audience member's location. Responding with violent outbursts of movement, the three dancers seemed caught in a web of struggle for superiority, hurling each other to the ground and crawling over the wreckage. Schuchart ended the work by simply dumping the two women on the ground, yet the look of dejection on Schuchart's face, combined with the silence that accompanied his final steps, assured the audience that it was a Pyrrhic victory at best.
Here Again, the work of Diana LeMense and Eric Meyer, seemed to explore varieties of uniformity. Five dancers elegantly moved in LeMense's staggered patterns to Meyer's Wardances. Scored for clarinet, trumpet, bass, a variety of keyboards, and sampled percussion, the piece moved through a series of fractured grooves. The piece hinted at, but never quite achieved a steady beat, resulting in multiple pulses sounding simultaneously. Such an effect did compliment the movements, yet the components only briefly aligned, when each dancer performed a brief solo to a series of piano cadenzas. This was also the case with Divide, the work of Riles Walsh and Sofi Askenazi. Walsh's "digital/analog mish mash" mined the words of Andy Warhol and samples from "The Velvet Underground and Nico," resulting in a vivid sonic trope on the history of multimedia. Dancer Kelsey Heida moved through a series of strings stretched across the room, but unfortunately there was little visible connection between the music and the choreography, resulting in a disjointed and underdeveloped work.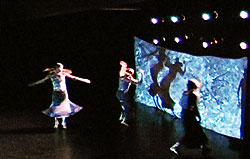 Persephone's Descent
Photo by Keith Knox
Persephone's Descent, created by Dan Schuchart and Peter Pearson added a further visual dimension with projections by filmmaker Brian Perkins. The dancers moved smoothly throughout the work, often imitating each other in what Schuchart called a "visual echo," in order to "create a shifting world where perceptions are changed through different view points." Schuchart's employment of a large canvas screen added a striking combination of form and function. When wheeled across the stage, it became a billowing sail; when still, it served as the backdrop for Perkins's silhouettes of flowers and video of leaves, adding further mystery by distorting the dancing shadows.
Pearson's music, a single movement string quartet, not only fit Schuchart's ideas, but enhanced the aesthetic experience. By displacing small pentatonic modules, Pearson achieved a constant pulse of ever-changing and polyrhythmic echoes. It was not, however, overpowering or aggressive. "I think the piece as a whole has a slight pastoral quality to it, somewhat akin to driving through Wisconsin," the composer said, an idea which meshed well with Schuchart's choreography, the wind from the open road filling the sails through the slow yet ever-changing world of perception.
Danceworks will continue to explore new collaborations across disciplines as "Art to Art" will be part of their annual summer series. Next summer, the group plans on pairing choreographers with visual artists. Those composers and choreographers that worked together this summer, however, learned something best articulated by Schuchart: "We made something more than any one of us could have done alone."
***
Justin Schell lives in Minneapolis. He is a first-year graduate student in the Comparative Studies in Discourse and Society at the University of Minnesota Twin Cities, where his main research interests are the study of contemporary musical cultures, the relationship between music criticism and notions of historical value, and the myriad ways that music does cultural work throughout the globe. He previously lived and worked in Milwaukee, where he completed a Bachelor's degree in Music History and Philosophy. And he unwaveringly agrees with Frank Zappa that The Shaggs are better than the Beatles.