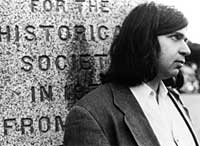 Frank J. Oteri
Photo by Melissa Richard
I still remember the first time I heard the music of each of the four so-called fathers of minimalism.
Philip Glass came first for me. It was 1979. I was a junior at the High School of Music and Art and an aspiring composer with little knowledge of contemporary music. One of my music teachers suggested I watch a documentary about a new music composer on television that night. Turned out the composer was Glass and the music I heard, excerpts from Einstein On The Beach and North Star, the soundtrack for the film, Mark Di Suvero: Sculptor. That music was unlike anything I had ever heard before that. I still remember my first reaction. This is the happiest music ever made. Yes, it sounded like it wasn't going anywhere at first, but I didn't want it to: it was where it should be.
About a year later, I heard a live broadcast of a Steve Reich concert from the Guggenheim Museum on WNYC-FM. I think it was the premiere performance of his Octet. Counterpoint had never made such immediate aural sense. It was also so blissfully and unrepentantly happy. That broadcast made me a crusader of new music on the radio to this day.
Terry Riley's music I discovered in a record store. The liner notes to the original Columbia Masterworks LP recording of In C were among the most tantalizing pieces of prose I'd ever read. I had to find out what this record sounded like! To this day, these liner notes seem one of the best arguments for why LPs are better evangelists for spreading the word about interesting music than CDs.
La Monte Young's music was the hardest music to track down and still is. But after reading his name along with the three others in recordings and articles about this music I rummaged through in that first year, I was determined to track it down. Luckily, this was around the time of the great series of Well Tuned Piano concerts La Monte gave at 6 Harrison Street so I was able to have a personal encounter with one of the greatest musical monuments of the 20th century.
But now it's more than 20 years later and I've encountered so much other exciting new music of all different varieties. Yet, minimalist music, which was my initial exposure to new music, still strikes both an emotional and intellectual chord. Of course, it's been 25 years since the first performances of Einstein On The Beach at the Metropolitan Opera back in November 1976. But, antsy even as a teenager, I would have been far too young to soak in that uninterrupted 4 1/2 hour experience.
Given that the history of minimalism goes back much further than 25 years and is a source of great debate among music historians and even its so-called progenitors, the 25th anniversary of the American premiere of Einstein On The Beach, not even the world premiere which took place earlier that year in Europe, seems an arbitrary excuse to reflect on the relevance of minimalism today. But those performances, in an opera house that rarely acknowledges the music of our time, were a public awareness catalyst that led to American composers once again being in the consciousness of a great many people outside the narrow confines of new music connoisseurs. So this month seemed an appropriate time to talk with Philip Glass about how the landscape of new music fundamentally changed in the 1970s and where it is today.
To put Glass's reflections in context, we've asked Kyle Gann to examine the history of minimalism and the result is arguably the most-maximalist HyperHistory ever to appear in NewMusicBox! We've also asked four younger composers–Randall Woolf, Wendy Mae Chambers, Robert Maggio and Charlie Hoyt (who maintains a Web site for the Advanced Center for Treatment of Philip Glass Addiction)–whether minimalism is still relevant to them. And we ask you to ponder if minimalism will be a driving force in 21st century music and if the important minimalist works of the late 20th century will enter the standard repertoire of classical music.
In the News and Views, Dean Suzuki suggests that composers, minimalists and otherwise, who maintain active dialogues with artists in other disciplines create music that has reached a much wider audience. Molly Sheridan catches up with several composers who are aiming their works at a broader audience — Jennifer Higdon, Michael Hersch, Pierre Jalbert and Tobias Picker— as well as tireless composer-advocate Don Gillespie who recently retired from C.F. Peters following a trailblazing 31-year career. And in her SoundTracks essay, Amanda MacBlane remembers that contemporaneous with the premiere of Einstein On The Beach in 1976 was the TV debut of Family Feud, which inspires a wild musing about the uptown-downtown musical turf wars a generation later.
Indeed, minimalism's legacy has been hardly minimal.