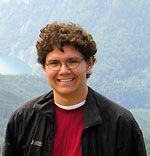 Justin Schell
Improvised music means many different things and in the Twin Cities it's not hard to find such diversity in local artists, venues, and record labels dedicated to musical improvisation. While the Walker Art Center hosts many of the larger names in improvised music—Ornette Coleman last year and John Zorn earlier this month—most improvised music happens at smaller, musician-run venues, fostering a strong and close-knit community.
A stable of the scene is the Tuesday Night Music Series for Improvisers and Experimentation held at Minneapolis's Acadia Cafe. Started in 2003 by bassist Andrew Lafkas, programming is now primarily coordinated by trumpeter Nathan Phillips. The series, according to Phillips, provides "a space where people can play improvisation in their own neighborhood." He continued, "People who don't have name notoriety, who have compelling music, can play." The $3 cover brings an audience from 30 to 75 into the Acadia's theater, its stage just a few feet from the audience. Over the span of a month, I heard a variety of improvised music, ranging from free jazz to noise-drone explorations to avant-garde free improvisation, reflecting the porous boundaries of improvised music in the Cities.
The multi-instrumentalist Milo Fine also facilitates venues for Twin Cities improvisers. Practicing his own style of self-determination, Fine has organized his own shows for nearly 40 years, currently performing at Homewood Studios and the West Bank School of Music. Accomplished on reeds, electronics, piano, drums, and "m-drums" (found objects Fine arranged into a drum set), he collaborates with a number of musicians, including bassist Anthony Cox, percussionist Davu Seru, and guitarist Steve Gnitka.
Fine has garnered both accolades and alienation during his career. He recorded with the late Derek Bailey in 2003—having also participated in the late guitarist's Company Week in 1988—and Anthony Braxton in 2004. (Both discs are available on Emanem.) Fine tries to maintain "the spirit of what improvisation can be," holding onto oppositional traditions birthed in the 1960s. "At that time there was the sense that anything was possible," Fine said. Attempting to lessen the taint of what he calls the "insatiable beast" of the status quo, Fine's course of action has served to alienate him from media attention and more lucrative opportunities. "It's a glass ceiling that wasn't put in by them, it was put in by me," he said. Fine is integral to the history of Twin Cities improvised music, yet unwilling to be consigned to it.
Improvised music is also incubated in art galleries beyond the Walker. Saxophonist Chris Thomson and percussionist Tim Glenn began the iQuit Music Series in late 2004. While Thomson's background is in the jazz tradition, Glenn has brought an influx of voices from the local rock, hip-hop, and noise scenes. Concerts are held every other Sunday at the Rogue Buddha Art Gallery in Northeast Minneapolis. According to Thomson, the series was started to "help foster a really terrific venue for people who do interesting things with sound and music."
Shifting from production to reproduction, a number of Twin Cities-based labels support improvised music. The newest is Sugarfoot Music, co-founded by Chris Hinding and cellist Michelle Kinney. Sugarfoot was started, in Kinney's words, as an attempt to "galvanize a community of people" through music and social responsibility. Ten percent of each album's sales go to a charity of the artist's choosing. Existing as two laptops and a website, the low overhead allows for quicker recoupment, in turn allowing more to be donated as well as put back into Sugarfoot. Officially launching later this month at a four-night concert series at the Southern Theater, it will coincide with the release of Touch It, the debut CD of Jelloslave, Kinney's collaboration with cellist Jacqueline Ferrier-Ultan.
Mutant Music, based in St. Paul, recently released a solo LP from Paul Metzger, known for his addition of sympathetic strings to his banjo; the resulting sounds provocatively collide traditional American music with North Indian Hindustani music. Shih Shih Wu Ai Records, the label of Milo Fine, has been active since 1972 in documenting various musical encounters. Roaratorio Records has released a number of records by Carei Thomas, another established improvising musician in the scene. Roaratorio also recorded saxophonist George Cartwright, who moved to the Twin Cities seven years ago from Memphis. Best known for his work at New York's Knitting Factory with Curlew, Cartwright has also worked with Innova, the label of the American Composers Forum. Innova recently issued his latest project, The Ghostly Bee, its stunning packaging delicately housing Cartwright's anything-but-delicate music.
This snapshot of the Twin Cities improvised music scene only skims the surface of a vibrant culture of musical expression. "Most of the people doing creative work around here," said percussionist J.T. Bates, "could do it anywhere." George Cartwright, surprised by the quality of the music, concurs. "I think the music scene here is incredible and I don't think the world knows about it."
Twin Cities residents have been increasingly receptive, however. Bates believes that "all of us will improvise no matter what. But having a regular crowd makes it feel like you aren't just throwing stuff out there with no idea if it's running into anything." Most importantly, however, the scene retains a sense of intimacy and community; it's noticeable no matter the venue. Milo Fine, eloquently speaking for many other Twin Cities improvisers, believes these characteristics are necessary for the music "to be moved and developed. To keep it truly living."
***
Justin Schell lives in Minneapolis. He is a first-year graduate student in the Comparative Studies in Discourse and Society at the University of Minnesota Twin Cities, where his main research interests are the study of contemporary musical cultures, the relationship between music criticism and notions of historical value, and the myriad ways that music does cultural work throughout the globe. He previously lived and worked in Milwaukee, where he completed a Bachelor's degree in Music History and Philosophy. And he unwaveringly agrees with Frank Zappa that The Shaggs are better than the Beatles.