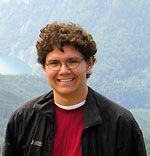 Justin Schell
While the story of Pinocchio is well over a century old, most views of Italian author Carlo Collodi's work are filtered through Walt Disney's 1940 adaptation. The saccharine character of the animated version removed many of the story's darker elements as well as the political overtones of the original. With the multimedia work Pine Eyes, premiered by the St. Paul-based Zeitgeist Ensemble last month at the Walker Art Center, Martin Bresnick sought a "direct, vigorous, vivid, unadorned" conception of Pinocchio to serve as "an antidote to the Disney version."
Some readers may recognize Pine Eyes. Zeitgeist commissioned a piece from Bresnick in 1996, and the four-movement Pine Eyes was completed in 1998. Premiered in 1999, it was then recorded by Zeitgeist and Bresnick for CRI's 2000 release of Opera della Musica Povera, a collection of his pieces inspired by the 1960s Italian arte povera movement. Bresnick and Zeitgeist, however, did not want to stop at four movements. "I always had it in my mind to make it bigger," Bresnick said, but it took six years for that dream to be realized.
The title of the two act, 80-minute work comes from a possible translation of "Pinocchio." Instead of its customary rendering as "pine nut," Bresnick instead translated pino as "pine" and occhio as "eyes." Act I encompasses Pine Eyes's birth to the attempted murder-by-hanging of the puppet by two assassins, while Act II presents the rescue of Pine Eyes by the blue-haired fairy through his human transformation.
Pine Eyes provocatively shifts between the abstract and the literal in its refashioning of Pinocchio. Bresnick's music takes full advantage of Zeitgeist's unique instrumentation—two percussionists, piano, and bass clarinet. Like most of his compositions, it is crafted with great attention to formal structure. Pine Eyes is atonal but generally consonant. It does, however, float around key areas a tritone apart: B and F for the first act, D and A-flat for the second act. Pitches symmetrically revolve around these tonal areas, forming palindromes of various sizes. In contrast to the pitch material, Bresnick utilizes asymmetrical divisions of 12, especially groups of 5 and 7, to rhythmically structure the piece.
More recognizable, however, are the numerous moments that mark Pine Eyes as musical theater. "We had many different roles in the piece," Zeitgeist clarinetist Pat O'Keefe said, and the group fulfilled them all with great agility and skill. In some cases Bresnick utilized traditional leitmotivs: when the puppet experienced more human emotions, pianist Shannon Wettstein played a series of slow, descending chords underneath O'Keefe's plaintive bass clarinet. Bresnick also used Zeitgeist as foley, the musicians audibly illustrating the story. When Pine Eyes falls to the ground after burning his feet off, Barringer dropped a set of wooden wind chimes; similarly, the ethereality of the bowed vibraphone evokes the mystery of the blue-haired fairy. In fact, the entire first scene, "Myths of Origin," is composed solely of unpitched wooden instruments. Such literality, however, is emphasized less and less as the piece progresses, a musical parallel of Pine Eyes's movement towards humanity.
Martin Bresnick's score is paired with the digital puppetry and animations of his brother, Robert Bresnick, and Robert's wife, Leslie Weinberg. A persistent theme in Collodi's story is how nature and culture, reality and unreality, are continually confused and the images, done after the score was complete, add a visual interpretation to such themes. Pine Eyes, for instance, is a literal stick figure, yet because the human characters are digitally scrubbed of recognizable facial features, the puppet looks the most realistic of all the main characters.
Above all, the roots of Pine Eyes, a work that doesn't hide the artificiality of its means of production, are in Brecht. Or, in Martin Bresnick's words, it "shows you the hat where the rabbit comes out." Conceiving of Pine Eyes in Brechtian terms clearly makes it more than just a children's story. Collodi's original tale served as a kind of instruction manual on how peasant Italians—puppets in a less literal sense—could attain middle class status. Most evident in the work's conclusion, Collodi celebrates Pinocchio's transformation into a proper middle class boy, as the puppet is literally discarded and a new boy brought into the world. "How funny I was when I was a puppet," the new boy says condescendingly.
Bresnick eschewed much of Collodi's moralizing for Pine Eyes, and the work's conclusion is far from celebratory. A final, grotesque image of the puppet is paired with music that attempts to cyclically return to the key area of B, yet is continually frustrated by semi-tones above and below. With poverty still rampant both at home and abroad, the creators of Pine Eyes seem more suspicious of the value attributed to the middle class, and perhaps its transformative potential, than Collodi.
Such political interpretations are not out of place, yet no one involved in the production forgot that the tale is a children's story at heart. "We envisioned this piece as one that children will like," Barringer said. Many children, in fact, attended the premiere performances, and Barringer hopes that Zeitgeist can perform the work for more children in the future. There is also talk of releasing the work as a DVD. Pine Eyes, she believes, is a piece "that can engage schoolchildren, families, and adults," something not often found in new music circles. Martin Bresnick extends this to an even more humanist position. For him, the story of Pine Eyes contains a deeper truth that "the becoming of a fully-sentient and caring human being is a journey that we all make."
***
Justin Schell lives in Minneapolis. A graduate student in the Comparative Studies in Discourse and Society program at the University of Minnesota Twin Cities, he is currently working on a study of world music, globalization, and the Olympics. He has recently returned from a one-year performance hiatus to join The Gated Community, contributing backing vocals and an arsenal of auxiliary percussion to the Twin Cities' newest country/bluegrass/experimental band.