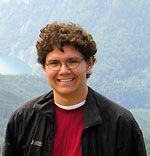 Justin Schell
The trailer for the sixth annual Sound Unseen film festival imagines a world perceived not visually, but sonically: people wear glasses with speakered lenses and visit cinemas with a ragtag collage of amplifiers in place of a white screen. One would be hard-pressed to find a better metaphor for what has become a staple of the Minneapolis arts scene. Over 40 films documented multiple worlds of music, resulting in a heady mix of the populist and the esoteric, the globally iconic and the locally underground. Nas, Jeff Buckley, "Wild Man" Fischer, ethnomusicological film archives, and Cuban hip-hop were just a few of the myriad subjects represented. Films with subject matter generally placed towards the "art" side of music also manifested within this diversity.
Films about Arvo Pärt and Philip Glass document the ways a composer responds to success. Structured as a series of vignettes, Arvo Pärt: 24 Preludes for a Fugue (2002) provides an illuminating portrayal of the reclusive composer. The short vignettes range from rehearsals of Fratres and Cecilia, Vergine Romana, to more intimate moments, when Pärt is shown kneeling in prayer, deep in thought. Judging from Dorian Supin's film, popular recognition seems to have had little effect on the composer. Creating a resonant whole out of divergent parts, Supin captures Pärt's gentle and unassuming mannerisms, revealing a human composer yearning to reach the musically divine.
Diametrically opposed to Pärt is Eric Darmon's Looking Glass (2003), which follows the globe-trotting contemporary life of Philip Glass. It is clear from the film that Glass's music has become secondary to the business of his music. Looking Glass Studios is referred to as "the office" and few moments pass without Glass on the phone about an upcoming gig or working on a current project. While the film contains a tantalizing snippet from an archival performance of Music with Changing Parts, past works garner little attention. Instead, Darmon chooses to focus on what can easily be thought of as "Glass, Inc."
Two of the festival's "marquee" events featured artists at opposite ends of the turntable. DJ Spooky performed his Re-Birth of a Nation, while Christian Marclay, as part of his year-long residency at the Walker Arts Center, organized a mini-festival entitled Sound Art Cinema.
In Re-Birth, Spooky transfers the DJ's focus from sound to film by scissoring and looping D.W. Griffiths's racistly revisionist history of the Reconstruction-era South, Birth of A Nation. His live video-editing skills aside, the fundamental lack of Re-Birth is that Spooky's re-presentation of the film fails to extract any further cultural resonance. Spooky's soundtrack, which ranged from Glass-inspired minimalist textures to drum 'n' bass, was rather unfulfilling, except for the periodic thumping hip-hop beat.
Shown over two full days, the fifteen films chosen by Marclay, a well-established turntablist in his own right, microcosmically represented the festival's diversity: I can think of few other festivals where Walt Disney would share space with Michael Snow. Loosely organized around the idea of "musical performance becoming theatrical," most of the films, perhaps predictably, focused on Fluxus. Four films of Mauricio Kagel, Match (1966), Solo (1967), Ludwig van (1969), and Unter Strom (1970), made manifest the effect of Fluxus in Germany. Ludwig van is the composer's provocative protest against Beethoven's deification.
For New York's Fluxus scene, Marclay chose Peter Moore's Stockhausen's Originale: Doubletakes (1964-94), a sensory-overloading aesthetic romp that features most of the 1960s New York avant-garde luminaries, from James Tenney scampering around in a feral costume to Alvin Lucier emphatically conducting a chorus of newspaper declaimers. Finally, in an attempt to construct a legacy of Fluxus, Marclay showed Sonic Youth's performance of George Maciunas's Piano Piece #13 (Carpenter's Piece for Nam June Paik), the members of the group hammering nails into the keys of an unfortunate spinet with malicious enjoyment.
One of the highlights of Sound Unseen was Thomas Reichman's Mingus (1968). This rarely-screened film captures a taut slice of the bassist's life. Filming Mingus in his apartment, from which he was soon to be evicted, Reichman captures the bassist's improvised invectives on black nationalism, the American education system, armed revolution, and, of course, music. He extracts his bass from the rubble to pluck some notes or examine a crumbling sheet of music.
As much as Reichman tries to "normalize" Mingus, his mental instability is obvious: he enacts a mock whipping and hanging ceremony with his young daughter Carolyn. Her presence amplifies his increasingly paranoid outlook and when Mingus says, "my wife keeps me away from my daughter," it is easy to understand why. In the end, he is led away in tears by police on suspicion of heroin possession, leaving all his belongings, including his bass, on the street. Seething with the political ethos of 1968, the bassist's anger, sadness, and paranoia are palpable in his words: "I hope the Communists blow you people up."
These films were only a few examples of how Sound Unseen attempts to see different worlds through hearing music. Unfortunately, very few people actually saw these films. While venues were nearly full for Mingus and Re-Birth, other films were woefully under-attended. Perhaps a bit more publicity is needed for next year's festival. Those who did see these films, some rarely screened anywhere outside New York or the metropolitan centers of Europe, were treated to a dynamic fusion of music and film festival.
***
Justin Schell lives in Minneapolis. He is a first-year graduate student in the Comparative Studies in Discourse and Society at the University of Minnesota Twin Cities, where his main research interests are the study of contemporary musical cultures, the relationship between music criticism and notions of historical value, and the myriad ways that music does cultural work throughout the globe. He previously lived and worked in Milwaukee, where he completed a Bachelor's degree in Music History and Philosophy. And he unwaveringly agrees with Frank Zappa that The Shaggs are better than the Beatles.