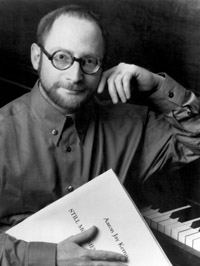 Composer Aaron Jay Kernis
Photo by Daniel Voigt courtesy of G. Schirmer, Inc.
Under the guidance of composer Aaron Jay Kernis, up to nine composers will have their orchestral works read by the Minnesota Orchestra and participate in a six-day immersion into the workings of the American symphony orchestra. The orchestra has partnered with the American Composers Forum in cooperation with the American Music Center to present professional workshops on musical, career, and audience/community outreach issues in addition to the readings. Participants also receive pre-reading consultations and post-reading composition mentoring with Kernis, meet with orchestra members, and attend small-group sessions with musicians and other music industry professionals.
The institute evolved out of the Minnesota Orchestra's Perfect Pitch program, which for the last seven years has offered orchestral reading sessions to a widening circle of regional composers. The seminars and the national focus added this year, Kernis says, are a natural evolution of that program. "We decided to build something around the orchestra, to have the input of the musicians and to use our musicians to build bonds with composers. The rest is just an extension of that covering areas composers, especially young ones, have very little experience with — either educational issues, business issues or their own career issues. It just seemed like the right way to build and diversify our program and make it unique."
The orchestra also takes advantage of the opportunity to build relationships with new composers. Works read in past years have since had repeat performances by the Minnesota Orchestra or been noticed by other ensembles.
Kernis notes that the selection criteria is quite simple – the panel is looking for "really interesting orchestra music. Skill, interesting ideas, fresh ways of working with the orchestra." The program is most suited to emerging talent judged to be at a point where exposure to an orchestra will have a significant impact on their work and their careers. Kernis explains: "Emerging composers and composers in general do not have nearly enough opportunities to hear their orchestra works played, especially by major orchestras such as Minnesota Orchestra, and even fewer that help to hone and further develop their skills with orchestral writing. We hope that this program will help to bring talented composers forward and provide the fundamentally important experience of an orchestral reading to assist them in their development."
Kernis is excited to be offering such a program since it's something he missed out on early in his own career. "I was involved in readings with the New York Philharmonic and the St. Louis Symphony, and worked with the conductor and composer-in-residence, but not the musicians." And those are the bridges he's interested in seeing built. "What I find most frustrating is to see a composer sitting out in the audience, and due to the tightness of time at rehearsals, there's very little communication going on." For his part, Kernis brings years of experience writing orchestral music and working with orchestra musicians, in addition, he says, to a passion for discovering and nurturing young talent.
The institute will be held March 9-14, 2002. All U.S. resident composers are invited to submit one orchestral work up to 15 minutes in length for consideration. A national panel of composers will then review the entries and make recommendations to Kernis and a Minnesota Orchestra representative, who will make the final selections at their discretion. The American Composers Forum will accept entries until October 31, 2001. Composers must be current members of the American Composers Forum or must join if selected.