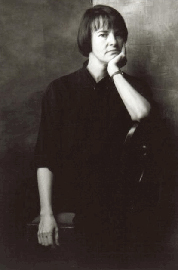 Libby Larsen
Photo by Ann Marsden
With the appointment of composer Libby Larsen to the Harissios Papamarkou Chair in Education and Technology at the Library of Congress, American music has a new friend in Washington. Established in 2000 through a generous gift of Alexander Papamarkou (d. 1998) in honor of his grandfather, the chair is one of the many prestigious scholarly chairs at the Library of Congress's John W. Kluge Center. Its holder's duty is to connect the nation to the Library of Congress through technological and educational means. Larsen, who enthusiastically began her 5-month appointment earlier this month, views the position as an invaluable opportunity to bring artists and educational organizations together and put projects in motion that will bring American music to the public at-large.
"I am delighted to be here because it gives me the power to convene more than anything," Larsen said from her new office in Washington. "And I think convening is one of the things we really need."
Not only is Larsen a highly regarded composer, but she has also been a tireless advocate for contemporary music and musicians, making her a natural choice for a politically-oriented appointment. Having co-founded, with Stephen Paulus, the Minnesota Composers Forum (now the American Composers Forum) in 1973, Larsen is no stranger to the administrative and communication needs of today's artistic community, and she is in tune with many of the problems that face concert music in America. Beginning in 1990, many organizations looked to Larsen to speak about music in the 21st century. Considering the past 150 years of music in America and where it would be in another century, she reiterated that the concert hall could not "reflect what naturally happens with music in our culture" if they refused to program contemporary music.
"At the bottom of all this is my great fear that notated music—without people really understanding it yet—is really what's at stake here in music," she explains. "All the systems have changed so rapidly. So we have to define live sound and notated music in meaningful ways. That's why I'm doing this."
Particularly worrisome for Larsen were the results of a recent study performed by the Ford Foundation as a part of their Leveraging Investments in Creativity (LINC) program. According to a survey of 9 cities in the US that took place over the past two years, nearly three quarters of the respondents said they valued the arts as an integral part of life, but barely one quarter considered artists to be contributing members of society.
"The gap is really a gap in perception," Larsen clarified. "They don't recognize that, in fact, it's the artists who produce the work; so it's really a deeper cultural issue. In a consumer culture we've taught ourselves to recognize product, but not the process for producing it."
One of Larsen's main goals in response to these findings is to explore ways to bridge this gap between what she describes as "the what and the who." Ultimately, she is aiming to create a new system by which artists can connect to one another and is looking to technology to provide a forum for such systems to be created. In the non-profit art world, where innovation and creation do not always equal profit, capitalist models fail. And with so many arts organizations competing for the same limited resources and struggling to stake their claim on the Web, Larsen calls for a more socialistic approach. "What we really need to do is combine all our small, individual technological efforts into a master arts server."
This idea, which Larsen refers to as a "Global Greenroom," grew out of over 20 years of discussions that Larsen has had with other artists has she traveled and concertized around the world. "We all know that we ought to be able to make ourselves accessible as a group of artists to each other and also to the culture at large… So I am working on a really large idea here that would set up a technological system that would allow us to access each other…and do master classes live and interactive concerts live."
Much of her time at the Kluge Center will be spent talking to artists and organizations (both artistic and educational) that would be interested in collaborating on such a project. By the end of her five-month residency, Larsen hopes to have an agenda for action and some of the infrastructure in place, but she is aware that her role will be integral to its implementation even after her appointment is finished. "I certainly would, under the guise of the LOC, be the person that keeps working on it indeterminately."
Beyond her actual duties, Larsen is thrilled to be a part of a community of multi-disciplinary artists. After a brief interjection by poet Edward Weismiller, who has an office down the hall, she returned to the phone saying, "One of the great joys of being here is just meeting with the other fellows. They're all just as passionate about their areas as I am about my area."
And speaking of her area, with such towering goals and a helter-skelter schedule that has her traveling back to Minnesota every weekend to be with her family, when does she have time to compose?
"I took myself over to the Music Department and I said, 'Can you give me one of your reading rooms for a studio?' And they did. So what I'm doing is I'm working a couple hours in the morning and then I go back around 6 o'clock and I compose until 9:30. So that gives me you know, 5 and a half hours a day…So far it's O.K., but if it gets really intrusive then I'll have to make a choice because, after all, I am a composer."