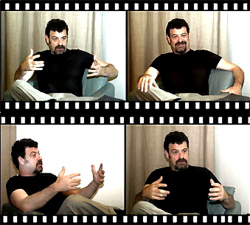 The many faces of Tobias Picker
Photo courtesy Tobias Picker
Mix a love triangle with a murder and you've likely got some very good raw material for an opera. At the end of the month, the Dallas Opera will test the theory when they premiere Thérèse Raquin by composer Tobias Picker.
Based on the novel of the same name by Émile Zola, the opera was commissioned by Dallas in collaboration with L'Opéra de Montréal and the San Diego Opera. Briefly, it is the story of an unhappily married woman who, with her lover, plots the murder of her husband and then has to deal with the ensuing guilt. Picker says he picked up the book at the suggestion of his sister. "I was looking for something that would take me beyond Emmeline," his first opera which premiered in 1996 in Santa Fe. "When I read Thérèse Raquin, I realized that this would really take me further into the psychological and psychoanalytic aspects of the characters lives and motivations."
Picker has made a habit of turning to literature when searching for operatic inspiration. Once he has settled on a storyline, "I think about the characters for many months before I even write a note. If I get an idea for a theme for a character I jot it down. There's usually a first theme, a principal theme that corresponds to the main protagonist of the opera and then I go from there." It's then that he brings a librettist into the process which, in the case of Thérèse Raquin, was songwriter Gene Scheer. "I work with the librettist very closely on how I want to tell the story and I take in his ideas and then he presents me with the first draft of the libretto. Then we work on that and go back and forth.
"When I feel it's ready to set, then I begin at the beginning and go to the end."
Picker will also be working with Scheer on his Metropolitan Opera commission, An American Tragedy based on the novel by Theodore Dreiser to be premiered in the fall of 2003.
Picker considers the partnership between librettist and composer an essential element of the process. "I like the collaboration. I like having that blood coming into an opera from a librettist's and a dramatist's point of view," he explains. "There's a dialogue that takes place between a composer and a librettist that cannot take place when the composer writes his own libretto and it's a very rich and rewarding aspect of writing an opera.
"It's someone you can talk to the way you can talk to no one else," he continues. "It's somebody else who's gone deeply into the characters, deeply into the story, who inhabits the same world that you do which is the word of those people and that story. There's no one else that you can really talk to in the same way about it. So I like to work with a librettist because otherwise I would be talking to myself all the time."

Despite his operatic successes, Picker has been careful not to ghettoize himself. He continues to write symphonies, chamber music, and solo works. "Writing an opera is very time consuming. I do that and I take little breaks and write other pieces," he explains, referencing a cello concerto performed this year at the Proms, which he wrote between operas. He finds that otherwise, "there is a tendency to typecast composers. If you have written a successful opera you're suddenly an opera composer. And this is something that people like to do, but there are two kinds of composers. There are the kinds of composers who can write opera and symphonic and chamber music and there are the kind of composers who can only write opera, like Puccini. But Tchaikovsky wrote masterful operas and masterful everything else. So did Mozart."
So what kind of music does Picker write exactly? "The first thing Iíd say is that I don't know how to answer that question, but then the second thing I would say is that you would like my music. My music has broad appeal, although not as broad appeal as some people's."
And that kind of appeal is not something Picker sees the need to make any apologies for. "I certainly value the audience. I don't devalue them. I do care if they listen." It's a position he feels puts him in with the majority of today's composers, despite the commonly held perception that many are writing without regard for their listeners.
Born in New York City in 1954, Picker holds degrees from The Juilliard School and the Manhattan School of Music. But even before he began his formal study, he says, "I canít remember ever not composing. I started very early and I think that I was born a composer. I don't think I ever had much choice. It wasn't like I sat down with my guidance counselor in high school and looked over various career options."
Early on, he admired the traditional masters of the canon. "What does Joan Tower call them? Dead white male composers. Those were my role models."
Being an American does leave it's mark on Picker's music. "I'm sure it does make me sound different than a French or German composer, but I think that I tend to think more globally. We live in a time of globalization and internationalism too, so while there's something in the blood of every country that comes out in its artists, there's also today a global attitude that I like very much."
As an example, Picker explains that he recently set some poems of Pablo Neruda in Spanish and that "to me those songs sound very Spanish and some people have said that Thérèse Raquin sounds French. So I take that as a compliment. On the other hand, Sara Fulgoni, who's creating the title role in Thérèse Raquin, said to me that there's one section of an aria that to her sounds very America." Ultimately though, Picker finds "we live in a time of globalization and it's inescapable."
Though Picker acknowledges "a connective tissue" of purpose between all of his pieces, it's not something he's willing to explain or elaborate on. "That's why I write music. Let people figure it out for themselves if they want to know."