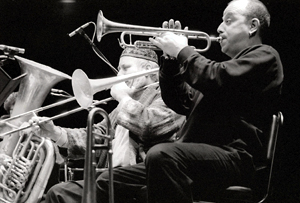 The Kamikaze Ground Crew plays American music during the marathon concert
Photo by Jeff Day, courtesy CMA
With the economy in a tailspin, chamber music in the United States (like many of the arts) has suffered from scarce funding, lackluster audiences, and overly cautious management. Members of the chamber music community gathered for the 25th Annual Chamber Music America Conference at New York City's Hilton on January 16-19 to discuss how to overcome these hurdles, engaging in a weekend of sessions, socializing, and live music.
The centerpiece of this year's conference, which was titled Speaking in Tones, was the CMA 25th Anniversary Marathon Concert which took place at Symphony Space on Saturday, January 18. The concert, which clocked in at a little under nine hours, featured performances by 16 ensembles from all over the country playing chamber music in all its incarnations. While chamber music stalwarts such as Beethoven, Mozart, and Ravel were duly represented, nine of the 16 sets featured primarily recent American works, including stand-out performances by the Stefon Harris Quartet and ETHEL. The CMA–WQXR Record Awards were presented at the beginning of the fifth hour. Of the six recordings that won, only 2 featured contemporary American repertoire: Umoja (Imani Winds) and The Shock of the Old (Common Sense Composers' Collective and American Baroque). A complete list of winners is included below.
While the marathon represented the bulk of live music, Sunday's Commissioning Showcase (normally the only concert event of the conference) was a quality-packed hour of works newly commissioned through the CMA Commissioning Program and New Works: Creation and Presentation Program. Audience members were treated to three energized performances: Michele Rosewoman's Advance Dance performed by the composer and her ensemble Quintessence, Mindscape—Four Poetic Images by Akemi Naito performed by the Cygnus Ensemble, and Triple Helix playing Lee Hyla's Piano Trio. [NewMusicBox will webcast the 2003 CMA Commissioning Showcase as well as American music highlights from the CMA 25th Anniversary Marathon Concert later this year.]
In addition to these two events, demonstrative performances were scattered throughout the sessions dealing with the fusion of jazz and classical music, outreach through folk music and dance, family concerts, and acoustical ear training. Apart from performances, however, the sessions focused more on the business side of chamber music than the artistic one, which meant that new music was often left out of the picture.
In her membership address on the first day, CMA Chief Executive Officer Margaret M. Lioi summed up the conference's goals saying, "When we talk about skills, we're not talking about musical skills…" She went on to thank the musicians for their creativity, talent, and commitment, but acknowledged that, unfortunately, "these qualities aren't all it takes to be successful in the chamber music world." Sessions included the traditional fundraising, management, and grant-writing workshops, but this year, marketing dominated the discussions.
Conference-goers who attended sessions on everything from "The Core Values of Classical Radio" to adding jazz elements to a concert series were bombarded by statistics, figures, and results from all varieties of market research that attempted to quantify the chamber music audience in the U.S. Many sessions focused directly on marketing for presenting organizations and ensembles. For example, Eugene Carr, the president of Patron Technology, demonstrated how effective marketing can be produced on a small budget via the use of directed e-mail campaigns. In an extreme example of marketing importance, keeping up appearance was set equal to practicing an instrument when the all-female wind quintet Five underwent a three-session image makeover that involved brainstorming new names, getting a full-blown fashion makeover with New York stylists (including hair, clothes, and make-up), and new publicity materials tailored to the ensembles desired image. These sessions enthusiastically encouraged ensembles and presenters to update their product in order to keep up with an increasingly for-profit artistic community.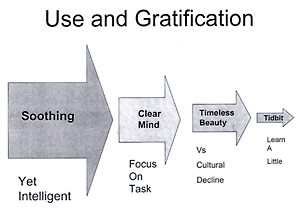 An excerpt from the PRPD Core Values of Classical Radio study
During the first morning of sessions, Marcia Alvar, president of the Public Radio Program Directors Association (PRPD), presented the results of the PRPD Core Values of Classical Radio study, which were rather disheartening for new music fans. The study was conducted via the use of focus groups and interviews of classical radio listeners and showed that most people who listen to classical radio are not musicians and that they listen because they find classical music "soothing yet intelligent," something that helps "clear the mind and focus," and a way to keep in touch with "timeless beauty" in a period of "cultural decline."
In a follow-up panel the next day, Peter Newman of KING-FM in Seattle presented a separate study that's findings showed listeners particularly liked the "greatest hits" variety of classical music and uptempo Baroque. New music as a category rated at the bottom of the list, although, surprisingly enough, participants in the study voted the second Razumovsky quartet as their least favorite individual selection. While many of the radio directors involved in these sessions (including Newman, Brenda Barnes—KUSC Los Angeles, and Thurston Briscoe—WBGO Newark) agreed that such research often drives their programming choices, jazz percussionist and composer Stefon Harris (from the audience) as well as panelist Martin Goldsmith, the classical director of XM Satellite, called for radio to perform a curatorial role, introducing listeners to new artists rather than simply giving them what they already know.
Despite the endless amounts of demographic information that permeated the sessions, there were some naysayers who rejected research as a way to further chamber music. Resisting the dependency on market research championed by his fellow panelists, Goldsmith insisted that, "Broadcasting is an art." Charles Walker, the founder of Neskowin Chamber Music in Oregon, stated emphatically, "I don't believe in market analyses," during a session about presenting music in smaller communities around the country. In yet another session, out-of-the-box thinking was deemed a necessity for the survival of chamber music ensembles after their grants run out. Ferdinand Liva, violinist in the DaPonte String Quartet of Damariscotta, Maine, affirmed this sentiment saying, "We've done everything wrong and will continue with our own off-beat way of doing things." Their "own off-beat way of doing things" involved commissioning works by David Del Tredici, Tom Myron, and Gia Comolli.
Despite some strong opinions against it, the point was clear: like it or not chamber music has to respond to the growing influence of market-driven models. An hour of private consultations was allotted to help ensembles and organizations formulate more individualized strategies.
In addition to the business training that was imparted on attendees, several sessions dealt with practical production concerns such as a session on acoustical ear training that taught musicians and presenters how to get the best sound out of a performance space and a discussion of recording engineering that stressed the integration of technology and performance.
On Friday night, the annual ASCAP reception provided attendees with ample food, drink, and socializing time. ASCAP composers introduced themselves one by one to those in attendance and the ASCAP-CMA Awards for Adventurous Programming were announced over the clamor of the crowd. On Sunday, it was BMI's turn to provide the social hour right before the 25th Anniversary Awards Banquet that presented pianist Richard Goode with the Richard J. Bogomolny National Service Award, CMA's highest honor. (Goode's extended collaboration with George Perle represents his largest contribution to contemporary music.) In addition, the American music championing Pacifica Quartet was honored with the bi-annual Cleveland Quartet Award, and Dr. Laura J. Thielke, director of the Walnut Hill School, received the Kay Logan Award for Excellence in Chamber Music Teaching. A complete list of awards that were given throughout the conference can be found below.
Overall, the conference provided the chamber music community with a place to gather to make important connections, sharpen their business skills, and enjoy great music together.
Complete list of awards:
CMA AWARDS
Richard J. Bogomolny National Service Award: Richard Goode
Cleveland Quartet Award: Pacifica Quartet
Kay Logan Award: Dr. Laura J. Thielke, Director of Chamber Music at Walnut Hill School
Citation for Excellence: Greenwood Music Camp, Cummington, MA
Distinguished Service Award: South Bay Chamber Music Society, Los Angeles, CA
CMA/WQXR Record Awards
Umoja
Imani Winds
IMANI 6227
The Shock of the Old
Common Sense Composers' Collective and American Baroque
Santa Fe New Music CD000513
Telemann: Chamber Cantatas & Trio Sonatas
Musica Pacifica
Christine Brandes, Soprano
Jennifer Lane, Mezzo-Soprano
Dorian DOR-93239
Cancionero: Music for the Spanish Court 1420-1520
The Dufay Collective
Avie AV 0005
mots d'amour
Bengt Forsberg, piano
Anne Sofie von Otter, Mezzo-Soprano
Nils-Erik Sparf, violin
Peter Jablonski, piano II
Deutsche Grammophon 289 471 331-2
Beethoven: String Quartets
Takács Quartet
Decca 289 470 847-2
CMA/ASCAP Awards for Adventurous Programming
FESTIVAL
1. Cleveland Museum of Art
2. Grand Canyon Music Festival
3. (tie) Chamber Music Festival of the East
3. (tie) Aspen Music Festival
PRESENTING 10 OR MORE CONCERTS PER SEASON
1. Miller Theatre
2. Maverick Concerts
3. Americas Society
PRESENTING 9 OR FEWER CONCERTS PER SEASON
1. Suffolk Community College
2. Mohawk Trail Concerts
SELF-PRESENTING ENSEMBLE
1. Present Music
2. Auros Group for New Music
3. (tie) Chicago Chamber Musicians
3 (tie) – San Francisco Contemporary Music Players
TOURING ENSEMBLES
1. eighth blackbird
2. Imani Winds
3. (tie) Amelia Piano Trio
3. (tie) Cassatt Quartet