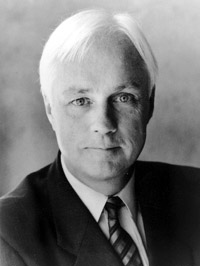 Bill Ivey
Photo by Max Hirshfeld
On April 24, National Endowment for the Arts Chairman Bill Ivey announced his resignation, effective September 30, 2001, eight months before the end of his four-year term. Ivey has submitted a letter to President George W. Bush informing him of his decision.
"My hope is that by announcing now that I will step down at the end of this fiscal year, the new administration will be able to move efficiently to choose new leadership for the Arts Endowment," Ivey stated. "I will continue to work aggressively with this Congress to complete the budget appropriations process for Fiscal Year 2002 and to ensure that there is a smooth transition within the Office of Chairman."
Ivey was unanimously confirmed as NEA Chairman by the United States Senate in May 1998. Since then, he has developed a new strategic plan for the Arts Endowment and has met with more than 250 members of Congress to discuss the crucial role of federal arts support for American artists, arts organizations, and communities. Through these efforts, Ivey achieved a $7 million funding increase, the first such increase for the NEA since 1992. The additional funding is earmarked for the Challenge America program, developed under Ivey's leadership to support arts education, services for young people, cultural heritage preservation, community partnerships and expanded access to the arts.
A folklorist and musician, Ivey is a staunch protector of America's living cultural heritage and a forceful voice on national arts policy. As Chairman, he has traveled extensively, giving over 100 speeches and meeting with leaders and representatives of cultural, business, education and civic groups including the U.S. Conference of Mayors, chambers of commerce and Rotary Clubs.
From 1971 to 1998, Ivey was Director of the Country Music Foundation, an accredited nonprofit education and research center in Nashville. He is the first Endowment Chairman who has developed and run a nonprofit cultural organization. Also a teacher and writer, Ivey holds degrees in history, folklore and ethnomusicology.
Ivey's background in the arts has been crucial to his success at the Endowment, according to John Sparks, Vice President for Government and Public Affairs at the American Symphony Orchestra League. "He came from the world of the arts. He was educated in the history of music. He ran and helped to found the Country Music Hall of Fame, but his roots go beyond country music. He understands and has a passion for [all of] the arts.
Sparks emphasized that Ivey's way with people has also been a key factor in his ability to run the Endowment. "These days, the Chairman of the NEA has to be able to sit in front of a senator, listen to a lot of difficult and often inaccurate claims, and then be able to respond in a constructive and civil manner, pointing out the facts, and helping the other person to understand his point of view." Ivey excelled at such work. "Bill Ivey has a manner that is reassuring to the different parties [who] have had to deal with the future of the NEA. He can get across his point without being 'in your face' about it. He speaks clearly, and he is friendly and unpretentious. He gave us a lot of confidence in his ability to deal with difficult situations."
"He was definitely the right person at the right time," Sparks concluded. "We will be sorry to see him go."
Beginning in October, Ivey plans to take some time to reflect on all he has learned as Chairman. "This will be my first real break from work in 30 years," he said. "I'm going to relax, begin several book projects and get ready to take on some new challenges right after the first of the year."