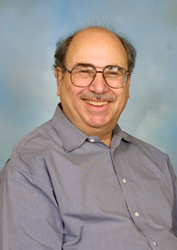 David Stock
Photo by Chris Grilli, Grilli Studios
Tuesday, June 8
An informal get-together for composers at the Church Brew Works; about 20 people appear, beyond expectations, to meet and start to get acquainted.
Wednesday, June 9
The first session for composers; we practically overflow the room.
When we first started talking about this conference at the press kickoff last Fall, we were trying to figure out how to integrate composers with the big guys; due to terrific efforts by Richard Kessler of AMC, Heather Hitchens of Meet the Composer, and John Nuechterlein of American Composers Forum, it seems to have worked! All three, plus Fran Richard of ASCAP, give everyone tips on how to make the best use of the meetings. It's a rare opportunity to be part of the conversation for all composers, as well as making contacts for ourselves.
The opening Plenary is a disaster, totally misconceived. For example, the Wheeling Symphony began with Ives' Variations on "America" (six minutes), then sat there while actors yakked away about the past—couldn't they have played again? I almost left early, as many did, but would have missed the only good part: two marching bands crisscrossing the hall in true Ivesian fashion—what a blast!
Wednesday evening: the first composers' concert, featuring Efrain Amaya and Jim Whipple, from the New Residencies project: Fine performances all around, especially from Patti Monson, who drove in from New York just to play Mathew Rosenblum's flute and tape piece.
Thursday, June 10
An ASOL panel on "Who Needs Orchestras?", led superbly by Arthur Miller (no, not THAT one!)…
Conductor Michael Morgan is very witty in making his points, even when he is asked to role-play.
The "case study" that starts things off features a foreign Maestro of a fictional city who barely speaks English; his European tour got rave reviews, but they only get 65 percent attendance at home. The Maestro feels it is beneath him to schmooze the patrons, mayor, etc, and threatens to go back to Europe if he doesn't get a new hall. Some stressed community involvement, but didn't specify how…
Joan Tower asked "Why is new music last on the list of topics?" (Are we surprised?) She stressed that we must give audiences permission not to like all new works, and that every orchestra needs a composer-in-residence.
Thursday, 12:30 p.m.: One of my personal highlights (although several colleagues agreed): My first chance to hear the Pittsburgh New Music Ensemble, which I founded, and from which I retired five years ago, in its new guise. (I was away for their first two summers.) It was brilliant playing, under the inspired direction of Kevin Noe, full of fun and surprises in terms of presentation. (I wish some folks from the earlier session, who were concerned about orchestras' unimaginative routine of concert presentation, were there) I felt like a proud papa who has sent his grown-up child into the world, and watched him grow.
Thursday afternoon: a conductors' session on thematic programming: very few composers there! With whom are they networking?
Thursday night: Pittsburgh Symphony concert… Highlight: Joan Tower's Tambor. Lowlight: David Amram's piece with Galway (the less said, the better….)
Friday, June 11
Lunch with Reza Vali, Mathew Rosenblum, and John Nuechterlein, to revisit the idea of having a Chapter of ACF in Pittsburgh. We stressed what an unusual situation we have, with good composers who not only get along, but support one another (What a concept…)
Friday afternoon: I try visiting the Chorus America hotel—a different world, where many people seem interested in new works. I made a few good contacts, even though I've written very little choral music
Later Friday: A session on collaboration at Dance/USA. Many composers appear at last. The dance world usually doesn't get the difference between true artistic collaboration between choreographer and composer and dance set to, say, Mozart! (Mozart can't fight back, to paraphrase a fellow composer). Still, it's a very stimulating session.
Friday, 5 p.m.: Presentation of awards to orchestras for adventuresome programming, etc. Fran Richard makes a fine (brief) speech; she never misses a chance to stress how the living composer is the heart of the enterprise. (Heather Hitchens does much the same in other venues.) The Pittsburgh Youth Symphony, my "alma mater", plays very well, even without their usual college students, ending with a socko Route 66 by Michael Daugherty.
Friday evening: Chamber music concert, with Renaissance City Winds, Chatham Baroque, and the Bellefield Singers, again featuring Amaya, Whipple, and excellent performances. Chatham Baroque plays my For Emily with great feeling, in memory of their departed colleague. This time a much bigger crowd than Wednesday, many people from the church (which, by the way, has fine acoustics).
Saturday, June 12
Morning: The first real session with all groups together. Pittsburgh's Mayor Murphy makes many friends with an impassioned speech about the importance of the arts, and their central role in the revitalization of cities.
Saturday, 10:30 a.m.: The biggest dud of the sessions, supposedly about high art vs. low art, a topic which is barely touched upon. I try hard to get the discussion back to where it's supposed to be, but, with an ineffective moderator and panelists with agendas, it's impossible; you can't win them all…
Noon: Networking lunch finds many of us composers talking to each other; many orchestra people seem to have fled.
1:30 p.m.: "Engaging the Public in New Work". Some very good ideas and philosophies, especially from George Steel of Miller Theatre and Joe Melillo of BAM.
5 p.m.: Closing session. As bad as the opening was, that's how good the finale is. Two actors read quotes from the sessions, brilliantly organized, and often very funny. Credits to Funders, hosts, etc., instead of being boring, are punctuated by three tap-dancers! And Bobby McFerrin is…what can one say? He is unique, sui generis, a genius (a word I rarely use).
So, what did I get out of all this? I met a lot of people; now I have a lot of follow-up to do. I had a great time, saw a lot of old friends and made new ones, found a couple of potential composers for my Duquesne Contemporary Ensemble, heard some good music, learned a lot. What more could one ask?