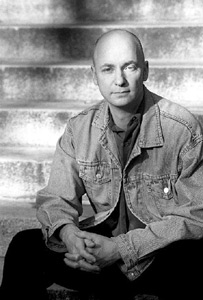 John Fitz Rogers
Photo by Andrew Haworth
Monday, June 7
I don't usually attend conferences, but the announcement of this year's National Performing Arts Convention caught my attention. I think it's a terrific idea for different performing arts organizations to come together to learn from and to talk to one another. And given continually challenged arts budgets and increasing conservatism in much cultural programming, I feel it's especially important that composers and other creative artists attend these kind of events.
I guess I don't really have specific expectations for the week. In addition to the broader National Performing Arts Convention (NPAC), I've also signed up for the meetings of the American Symphony Orchestra League (ASOL) and the Dance/USA Roundtable. I do wonder whether the composers who attend these meetings will feel like kids crashing a high school dance without a date or tourists visiting a somewhat inaccessible land. Nevertheless, I'll have scores and recordings of my orchestral works on hand as well as music that I think dance companies might want to hear. Beyond that, I hope to reconnect with friends and acquaintances, to take in as many sessions as time allows, and to talk with as many people as possible!
In addition to attending the convention as a composer, I'm also interested in the event as someone who presents music. I teach composition at the University of South Carolina School of Music and founded the Southern Exposure New Music Series at the university when I was hired a few years ago. We present many different kinds of music in the series but usually incorporate thematic programming and some educational component into each concert. Over the past three years, and despite a limited budget, we've garnered a loyal audience of a couple hundred patrons in Columbia, SC. I remain stubbornly optimistic in believing that much contemporary art can be made meaningful to a broader audience provided it's presented with thought, care, and enthusiasm. I hope that by attending NPAC's cross-disciplinary sessions such as "Engaging the Public in New Work" and by talking to other arts presenters and managers, I might learn new ways to be a more effective organizer and advocate myself.
Wednesday, June 9
Flew into Pittsburgh yesterday evening, and managed to survive (temporarily) lost luggage as well as a shuttle bus driver who drove 90 mph when traffic allowed. This afternoon I attended a pre-conference seminar titled "How You Can Get the Most Out of the Convention" sponsored by AMC, ACF, and Meet the Composer, followed by NPAC's opening plenary session at the massive David Lawrence Convention Center.
The pre-conference seminar was informative, and it was great to meet some of the nearly 80 composers present, all of whom seem very nice and excited to be here. Richard Kessler talked about the AMC's role in ensuring that composers could attend the convention, and Randall Davidson made an excellent point that in future meetings composers ought to be equal partners with the presenters rather than "supplicants." Everyone who spoke emphasized that our participation was "opening a door for composers for future years," and that no one knew exactly what to expect from the week. In a sense, we composers are representing our profession to people in the orchestral, dance, choral, and opera worlds, and I feel that carries a responsibility to be engaged, visible, and articulate without being overly shrill or pushy.
After the seminar I walked to the convention center to attend NPAC's opening multidisciplinary, what-the-hell-is-this "extravaganza." It was a well intentioned if hyperventilated affair, complete with orchestra, two choruses, string quartet, and dancers, plus myriad actors reciting innumerable, weighty quotes about the artist's role in society, blah, blah, blah. I did like the Charles Ives bit, and especially loved the moment when two marching bands crossed through the enormous hall playing two different tunes. I always wanted to hear that! But I'm quite sure Charlie would have a few rather pointed comments about this high falutin' muddle. Still, I was impressed at the crowd of nearly 4,400 people from all different disciplines. This convention is bigger than I imagined.
The day ended with a reception at Pittsburgh's gorgeous Benendum Center, where I plan to see Jake Heggie's opera Dead Man Walking on Friday. I've never been to Pittsburgh before, but it's a beautiful city with a vibrant cultural district, and the Benedum Center is an absolute jewel.
Thursday, June 10
I spent Thursday attending ASOL events and Friday at the Dance/USA Roundtable. Without exception, everyone I met at both conferences was very friendly, thoughtful about the issues at hand, and genuinely interested in me as a composer, and I can tell you that throughout both days I met many, many people. However, there were some notable differences between the two conferences as well.
Thursday morning I went to an ASOL forum that presented a large and distinguished panel with various problems faced by the fictional Midville Symphony. I was happy to see Joan Tower, Michael Morgan, and AMC's Molly Sheridan among the panelists, and I thought they all made insightful comments. But what really struck me about the general conversation was the vocabulary used: lots of terms like marketing, outreach, audience building, development, new music vs. standard repertoire, etc. Obviously these are important issues, but it seems to me that this vocabulary connotes a kind of fragmentation, and the terminology neither adequately nor directly addresses the problem of why a person who's never attended an orchestra concert should spend $40+ to go hear one and then keep coming back for more.
To be fair, a number of panelists did acknowledge this problem, but one glance at the ASOL's program booklet made the general institutional priorities of the conference clear. The Thursday afternoon sessions as well as nearly all of Friday's sessions were "restricted to delegates from League member orchestras who belong to the constituency specified in the listing." In other words, depending on who you were and who you worked for, you went to closed meetings with titles like Development, Managers, Marketing And Sales, Education And Community Relations, Trustees, and Public Relations, with a few meetings for Conductors, Conductors and Publishers, and Youth Orchestras thrown in. None of these meetings were open to their respective cross-disciplinary counterparts from opera, dance, or theater, let alone composers, which seemed like a missed opportunity given the purpose of NPAC. And as I learned, very few conductors and orchestra musicians actually come to ASOL conferences, and attendance by artistic administrators is declining. I understand that at a convention like this managers do need to meet with other managers, but I was also left with the impression that the conference's discussions of how to run American orchestras occur between business people who mostly talk to each other. Even looking at it strictly from a business standpoint, how can those discussions stimulate innovation, creativity, and "out-of-the-box" thinking? Where's the R&D?
However, what was heartening were my individual conversations with directors and managers of orchestras big and small, as well as an afternoon session titled "Breaking the Mold in Artistic Decision Making" that described how the St. Paul Chamber Orchestra is involving musicians, management, trustees, and composers in all aspects of artistic decision making. Throughout the day, everyone I spoke to—from composers to marketers to members of executive management—wants to do the right thing. We all want to see orchestras thrive and grow, and lots of people I met are open to new ideas, are doing innovative things, and are searching for ways to be actively involved with and within their respective communities. But having composers, conductors, and orchestra musicians—not to mention artistic counterparts from other disciplines—involved in a continuing, open, and frank conversation would definitely broaden the discussion, raise interesting questions, and bring forth new ideas. Would such talks be uncomfortable? Probably, but so what… Would everyone involved learn something? Without question! It's a good first step that composers are a (small) part of this year's ASOL conference and that ASOL is a participant in NPAC, but it's only a first step.
Friday, June 11
I registered at the Dance/USA reception desk before going to hear NEA Chairman Dana Gioia's talk in the morning, and what a reception I got! The half dozen people standing around the table all made a point of saying hello and how happy they were to have a composer there. In the main hall, there was a space for vendors' materials, and I asked if it would be ok for me to leave some CDs and info. No sooner had I put my materials out then several choreographers came over to talk. By that afternoon, nearly everything I left on the table was gone.
Most of the Dance/USA sessions were open to anyone registered for the conference, and after Gioia's talk, I went to a meeting titled "What to Say? Talking with Audiences about Dance." I thought it might be relevant to talking to audiences about music in general and contemporary music in particular. This session really was a "roundtable" discussion, with representative choreographers, dancers, mangers, presenters, and assorted business types all seated in a large circle. When the moderator asked if anyone else was present, I volunteered that I was a composer and got tons of smiles and "welcomes."
The session was great. Conversation touched on issues like "how can we help an audience develop an appetite to see and appreciate dance," but everything centered on the work itself and how to develop ways to foster trust, openness, and participation among artists, audience, and donors. Someone brought up the idea that the audience should "have permission" not to like what they see, but that shouldn't scare them from coming back to see dance again. This completely echoed what the conductor Michael Morgan said the previous day, and I couldn't agree more. After all, how many people see one movie they don't like and then say "Oh, this whole medium of film isn't for me." It's all about taking artistic risks, and letting the audience in on that.
After the meeting, I spoke with a prominent businessman and author of numerous business books who also serves as a trustee for many important cultural institutions and who's one of the keynote speakers for the Dance/USA closing plenary. We had a lively discussion and were in complete agreement that art—the work itself and the people who make it—must drive the business model used by cultural institutions and not the other way around. He should sit on the board of the Midville Symphony!
That afternoon, I and many other composers attended a session titled "Working with Musicians: Creating Dance and Music Collaborations." Members of the dance community who were present were thoroughly delighted (and surprised) that so many composers turned up, and once again a lively discussion ensued centered largely on the nature of dance/music collaborations. A couple of people also solicited my music after the session was over. So, to go back to my "kid crashing a high school dance without a date" analogy, here's the difference for me between my day at ASOL and my day at Dance/USA. In neither instance did I ever feel unwelcome, and everyone was friendly across the board. But while I was greeted politely at the formal ASOL dance, at the Dance/USA dance someone handed me a beer, yelled "We're so happy you've come!", and pulled me out on the dance floor.
Finally, in the evening I had the pleasure of seeing the Pittsburgh Opera's production of Dead Man Walking, which I found engaging and very moving. Jake Heggie and Sister Helen Prejean were both in the house, which was nearly sold out. All in all, a really stimulating day.
Saturday, June 12
The ASOL and Dance/USA conferences officially ended yesterday, and today was devoted to the National Performing Arts Convention. After the opening session, I attended a talk called "Art in a Changing World: Does Relevance Matter." One thing that has continually amazed me each day is that no matter which way I turn, I'm bound to run into someone incredibly interesting. I had a chance to talk with the cellist Matt Haimovitz before the session, and the guy who sat down next to me for the talk turned out to be a senior producer and arts correspondent for PBS. This kind of thing happened all week long.
The speakers for the morning meeting included Haimovitz, Jake Heggie, Michael Morgan, the dancer/choreographer Elizabeth Streb, Peter DuBois from the Public Theater, and Philip Kennicott, the culture critic for the Washington Post. Everyone had intelligent and thought provoking things to say, and I particularly liked Peter DuBois's comment that people at cultural institutions must know for themselves what's interesting about what they're presenting. That seems obvious, but it's not always true. Jake Heggie also talked about finding "resonance" at the deepest human levels both in creating and in presenting work.
In the afternoon, I attended "Engaging the Public in New Work," which was moderated by Heather Hitchens from Meet the Composer, and whose speakers included Joseph Melillo from BAM, Baraka Sele from the New Jersey Performing Arts Center, George Steel from the Miller Theatre, and Charles Wade, the vice president for marketing from the Atlanta Symphony.
Perhaps genetic engineering will allow us to clone these folks and place their artificial, enlightened progeny at cultural institutions around the country. I think George Steel pretty much summed up everything I had been thinking all week when he said that in programming his series at the Miller, his Priority #1 is to find music that excites him personally and to present it in a way that will make people say "Dude, you've GOT to go check out this concert!" Damn straight. That optimistic but powerful thought seems like a perfect way to wrap up the week.
Final Thoughts
Wow, and what a great week it was. It was jam-packed and I'm dog tired, but I also feel exhilarated. I made new friends, met many wonderful people from different fields, and heard good music. I also learned a lot, have a better sense of the business end of things, and met people in both the orchestral and dance worlds who are eager to collaborate with living composers and see value in doing so. I offer my sincerest thanks to everyone at AMC, ACF, and Meet the Composer for making our attendance possible, to ASOL and Dance/USA for giving me the opportunity to learn about your organizations and to talk with your members, and to the fine city of Pittsburgh for hosting us. I look forward to the 2nd National Performing Arts Convention in 2008.