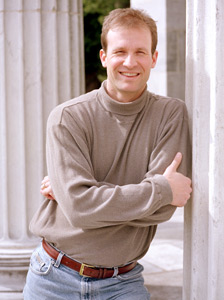 Jon Magnussen
Photo by Brian Inatsuka
Tuesday, June 8
I should be packing for the early morning departure to Pittsburgh for the National Performing Arts Convention, but I'm still burning demo CDs and finishing a one-page document outlining the specs for my opera-in-progress. Lots of questions on my mind. (How many CDs should I bring? Will this be a meat market? Will I like the meat? Who should see this proposal for the opera? Who shouldn't?)
I hope this conference is a good use of time. It's my first. I should really use the time to work on my opera. It's my first. And Gavan Daws' first. (Gavan is my librettist collaborator, and we're adapting Pulitzer prize-winner W.S. Merwin's epic poem, "The Folding Cliffs," for the operatic stage.)
We just had our first workshop at the end of April. Twenty minutes of music with singers André Solomon-Glover, Mary Nessinger, Scott McCoy, and James Schure, and there was a good energy about the piece. Gavan and I wanted to find out if we had something—or not. We do have something. So now we are readying to go to the next step: finding a company who is willing to act as the lead organization in a co-production. (How does one do this?)
That's what I hope to find at this convention. An interested company. Or at least I'd like to learn how to find a company. I also want to learn about opera production. What can I do as a composer of opera to ensure a good production? At the OPERA America convention, production issues will most likely be aired, and maybe I'll have a chance to ask questions. Will it be a safe place for questions? (I have a lot of questions.)
Chorus America is also having their annual convention at the same time (and Dance/USA and the American Symphony Orchestra League), and I have some choral/chamber ensemble works which need to get out there. Earlier I thought about renting a booth at the Chorus America site. Too pricy. Maybe I'll do that next year with another composer or two…
Frank Oteri called at the end of last week asking if I might write this diary for publication on NewMusicBox. I said "sure" without hesitation, but my heart was saying "wait a minute!" (My old French teacher, Yvonne Desportes used to say, "Il faut jamais dire 'non.'" Bless her heart, but I think she would have thought twice about this. I'm ambivalent. It's my first conference, so it feels a bit like a "first kiss" with the music business. And I'm not exactly Ned Rorem. We'll see what I write, and then decide whether it should be printed.)
Wednesday, June 9
Exhausting day. Drove to Pittsburgh without a hitch. Six hours, three Starbucks, one Burger King. Many tunnels. Arrived late to the composer orientation meeting—but still caught the tail end of the pep talk by Richard Kessler ("Here's your name tag. People will look at it for two seconds and decide if they should stay and talk or move on to the next person…") and Frances Richard ("Work for the common good of all composers. This is your big chance, team… For once—just this once—play like a team player."). They, along with Heather Hitchens, Frank O and Lyn Liston et al., set the tone: get out there and be a presence. And don't be afraid to ask questions.
Oh yes, did I mention that this is the first year composers have been invited to the party? And at a reduced rate (Thanks, Richard Kessler!)
Don't screw it up.
I spotted two composer friends at the meeting and was relieved to be able to hang out with them while I got my bearings. We traded CDs. I felt self-conscious. ("My, your bag is full of CDs.") You have to be an optimist, I guess. I found myself mumbling an apology about the press quotes I had put on the CD cover. It's just not easy. We're trained to write, to create—not to sell.
We were bussed to the main convention center for the opening event, and my friend introduced me to a couple of friends in the opera business. Later, they introduced me to a few of their friends. I met up with a dear colleague in dance, and after the opening event (which was interesting at times, but seemed very long), we went to dinner. Good time. Pittsburgh is beautiful. I hadn't expected to be taken by the "steel" city.
Thursday, June 10
Arrival at 9 a.m. for the general session of OPERA America, "Bringing Theater to the Opera Stage": interesting discussion on the state of the art. Is it a director's art form or a musical one? Is standing and delivering okay, or must we demand more from the singer? During the question period, I surprised myself and stood and delivered: "I am a composer and I have a question for Mr. Foglia: At which point were you as director invited to become part of the creative team?" He had come to Dead Man Walking after the first production, but for The End of the Affair had been part of the process from the beginning. From the beginning! Could this work? Or is it too many cooks in the kitchen?
Somebody saw me afterwards and said, "Oh, you're the composer. That was a good question." There you go. It wasn't a comfortable place to be, Fran. But, hey, I'm finding it's not all bad to be a bit bold.
Met up with a company director interested in my opera. We had been in touch the week before and had agreed have lunch or something. We set a date for 12:30 p.m.
In the meantime, I went to the exhibits where I met a composer friend who introduced me to another composer. (It's nice getting to know people here.) Both of them are published by the same publisher. We decide to go to Chorus America—about a ten-minute walk from OPERA America. There, we met two composer/choir directors. I perused the exhibits, gave my CD to a record label. Oops, time to run back to OPERA America for my lunch date.
(It's kind of a drag to have to split time between these conferences. There's also the America Symphony Orchestra League conference somewhere else in this town. Word has it that there aren't many conductors with jobs there. The cold, calculating composer says the odds are better at Chorus America. But should I still make an effort to go? I did have that performance in San Jose last year…)
Grabbed a cab and arrived two minutes late for lunch—oops. Found my lunch date perusing the exhibits. He and I go to the restaurant and get on well. He has good points to make about the project. He is interested and also very interesting—has lots of experience with new work, too. All very encouraging… He'll introduce me to a producing director who is involved in contemporary music theater. I promise to give him a CD of the work-in-progress. We'll keep the discussion going during the summer.
Went to two sessions after lunch… First was "Staying True to Artistic Vision During Tough Times." Hmmm. Balancing artistic vision with fiscal prudence. Very instructive. (It's really all about money.) Also interesting to note that, in general, the opera company staff must work harder to put on new opera than old. Another mark against new opera. But then, new opera is still being produced by some companies. It must be. The alternative is a stagnating art form.
On the way to the next session, I pass a familiar face. We both do a double take, and he remembers my name. (I'm so bad at names, and too embarrassed to look at his tag… oh well. I find myself fessing up and asking for his name.) We were at Juilliard together some eight years ago. Really fun to catch up for a couple of minutes. We exchange cell phone numbers and promise to get together later that evening.
Second session: "Co-Productions: A Thing of the Past?" Advantages of co-producing vs. producing oneself (and, interestingly, a third option from Kevin Smith at Minnesota Opera: co-produce with yourself, which—as I understand it—is basically to create a general infrastructure for new productions). Is it better to be the originating company (have more artistic input) or to be the last-producing company (enjoy a more polished end-product)? IMPORTANT: Whatever you do, make sure that the budget for a co-production of a new work includes financial backing for changes to be made between productions (this, from John Conklin the designer). I take note.
Question: "Why should a company invest in a co-production when the safer option might be to just wait and see if the new piece is any good—then rent it?" The answer from the panel, I think, was that there really is not an economic advantage to investing in a co-production of a new work. But—I think to myself—isn't there an economic advantage to being an exciting company? To creating a new production? The arts should be, among other things, thrilling. Why put on the same operas, over and over again, at the expense of new work? A company which builds a reputation for creating new and exciting opera—such as David Gockley at Houston Grand Opera, or Paul Kellogg at Glimmerglass and New York City Opera—makes their community feel much more involved in the larger opera world. It makes it exciting. There's a buzz in the air. And that buzz might very well translate into funding. No? (The optimist again, right?)
Off now to a showcase of new operas. A bus appears out of nowhere and brings us across town to the church where we file out and enter the space. (The conference is very well organized. Seems that a bus always appears when I have thoughts about going to an event elsewhere in the city.) The Pittsburgh Opera Center cast was very, very impressive. Seems like they are able to attract a lot of top-notch talent. I liked the work of Daniel Catan, Paula Kimper, and Lewis Spratlan. Catan's was the only work in Spanish. His scene had a beautiful sense of timing and an arresting musical language. Carolyn Betty, the soprano, is someone to hear. She has real dramatic presence, and a beautiful richness in her voice. (I should keep track of her. She might work well in my piece.)
One thing is clear: I must find out how to get a slot for my piece on this showcase next season. I take note.
Dinner alone. Nice to just be.
I call my old Juilliard acquaintance. We get together for drinks and catch up. He's general director of a small company in the northeast. Wow. A lot can happen in a short amount of time. He's interested in my project but makes it clear that his company is not in a position to do new work. But he's very intrigued by the project. He asks a lot of questions and gives great feedback. Perhaps there will be an opportunity to collaborate on something smaller than an opera? Yes, we both agree. I promise to send some CDs and scores.
It's late. I catch a cab back to my hotel and, exhausted, hit the sack.
Friday, June 11
Very difficult wake up. The late night was perhaps not a way to have that rested feeling. But then who in their right mind is going to drive six hours and devote four days' worth of time—and then not go out of their way to connect with others? No, it was exactly the right thing to do. Coffee will make all better. All better. I feel exhilarated by the atmosphere. But still exhausted…
Caught the shuttle again to the Hilton (OPERA America). On this second day, I see for the second time a fellow shuttle-catcher: a general director and conductor from a medium-sized company. He is talkative, friendly. His company does not do new opera. (When will I stop hearing this? It must be my yellow badge—the composers' color.) He gets most of his singers from the Boston and New York area. He's not had good luck with agents finding singers for him, though. His experience has taught him to rely on personal connections. This year they are expanding their season from one opera production and a concert, to two full productions. Onwards and upwards.
We arrive at the hotel, and I see my lunch date from the day before. I apprehensively give him the promised CD which contains some of the music from the opera in progress, performed at the workshop. I hope he likes it. Sure hope it's not a deal breaker (not that there is any deal at this point). I must call Gavan to tell him what's happening here in Pittsburgh. No time, though. Must learn and make connections with people. Will call him afterwards…
First session of the day: "Going Public: Assessing New Works." This one looks right up my alley. Lots of experience represented on the panel: Libby Larsen (16 operas), Jake Heggie (2 operas), and producers including Diane Wondisford (from Music Theatre Group who produced the amazing Juan Darien by Goldenthal/Taymor), Jonathan Eaton from Opera Theater Pittsburgh, Wayne Strongman from Tapestry New Opera Works in Toronto, and G. Schirmer composer representative Norman Ryan.
This panel was a gold mine. (If I had only been able to attend this panel, and not done anything else or met anybody else while here, the trip would have been worth it.) I got lucky, I guess.
This panel convinced me to ask Gavan for a libretto read-through this summer. Very important to have a dramatic sense of the piece and to know the timing of the language. Better to get the kinks out of the drama before setting the whole thing to music.
Here are some one-liners from the session: "The development of an opera is like a five-year small business." "When is the opera finished? After its third production." "Include everybody in the process. There are many stakeholders in opera." "A workshop is not about performance or showcase. It's very important to have a controlled environment for the workshop. Invite people you trust."
An interesting description of a workshop process that Wayne Strongman has developed: Serial monogamy. Four composers join four librettists and pair off. For 24 hours they work on a five-minute scene. Then they switch partners and do it again for 24 hours. And again and again. The work is not meant to be kept. It's about the process. And the process is very revealing. It allows the collaborators to get right to the dramatic core of what the scene should offer. I take note. Will tell Gavan.
And then, in terms of the collaboration with a designer: "Don't tell the designer what it should look like. Tell the designer how you want the audience to feel." (Let the designer do the designer's job.)
Then, a venture-capitalist spoke up: "Are there check points during the workshop process to ensure that the project is moving along the way it should, and have there been situations when the project has had to be cut off?" Yes, was the answer. That choice has had to be made on at least one occasion.
Ouch. Pray for rain and fertile ground.
Lunch with my composer friends. One flew all the way from the west coast, and we don't often see each other. Great to catch up and talk shop. He tells me that in his six-opera (!) experience, you can tell the length of the finished piece by multiplying the time of the libretto read-through by three. What a concept. That's valuable. I have this fear that Gavan and I are working on a project larger than what we expect. We are hoping it's a two-act work timing out at 90 minutes, not including intermission. Short. To the point. Not overstaying its welcome. But the story has such an epic quality it makes me wonder if we're not writing a bigger piece.
The libretto reading should clarify this.
After lunch I head for the session on commissioning children's opera. I had met the moderator on the first day, and had promised to go. So I went. It turned out to be less of a discussion, though, and more of a showcase of a few composers' work for children's opera. I'm not focused on writing children's opera, and I really felt that this last day must be seized. So I elect to slip out. Quietly.
It was raining. I had no umbrella, but luckily I had my raincoat on. Dress, by the way, was suggested as "business casual." Does this mean tie and jacket? No tie, just jacket? No jacket, just tie? I saw all of the above there. But I chose to wear tie and jacket, since I might run into someone for whom that might make a difference. (There were more ties with jackets than any other option.) Better to be overdressed and casual in manner, no?
So, here I am, running across town to get to the Chorus America panel on "Symphony/Opera Choruses: Working with Orchestras." I arrive, crack the door open, hear a discussion, and decide it's okay to slip into the room. Everybody is seated in a circle. Nice. I pull up a chair outside the circle. They are talking about budgets. And contracts. I should have read the small print description. I thought this would be a place where I might learn about programming choices, or find somebody interested in new work for chorus and chamber orchestra. (Yes, that cold, calculating composer again!)
Then it occurs to me that I should ask if all choruses have the same policy of limiting the use of archival recordings to "for study use only." Case in point: My Psalm was given a terrific performance at Carnegie Hall by the American Composers Orchestra with baritone John Hancock, the New York Virtuoso Singers, and conductor Steven Sloane. The archival recording, had it been a good one (which deliberately was not the case—Carnegie Hall policy), could have been a tool for me to garner further performances, had the policy allowed.
So again, I stand and deliver: "I'm a composer, and I'm interested to know…"
So did all choruses have this policy? No. Most of them did, but not all. I thought about pursuing the issue further by suggesting a variation to the policy which might work as a compromise. But I thought better of it. These people have come to talk about other issues. Better stop now before I annoy somebody.
(If we agree that new work is part of the equation for continued vitality of a performance organization, then perhaps this "for study use only" policy might be altered to allow limited not-for-profit use?)
Finally, amidst all of the marketing strategies to bring audiences in and keep them coming, Amy Kaiser, Director of Saint Louis Symphony Chorus, said: "The highest quality performance is really what keeps the audience coming in the door."
This is the essence. It's what it's all about. Not marketing. Not "for study use only." They'll come back if they're transported by the experience.
After the last questions, one conductor approached me to ask what my music is like. ("I just happen to have a CD for you…") Then I go out into the hall and make a phone call home. (I'd been playing phone tag with my wife, and here, finally, was a moment to be in touch.)
As soon as I get off the phone, one of the other people from the meeting approaches me, and asks: "Did you go to Cornell?" He, it turns out, was two years behind me, and now teaches and conducts at the University of Virginia. We talk for a while, exchange information, and promise to call each other the next day for possible get-together.
I'm exhausted. It's dinner time. The other conductor who first approached me is looking for someone to join him for dinner. I decline, apologetically.
I'm ready to have a moment of quiet and a meal to myself. I find a suitable restaurant, eat a decent meal, and then head to a coffee shop near the opera house. I'll be seeing Dead Man Walking and I'll need an extra pick-me-up. I open the door to the coffee shop and the place is practically empty, save two people. And the two people are: my lunch date from the day before, and his associate. Very nice. Even if I'm tired.
We sit and chat. They talk about productions, who has what rental for Tosca, etc. They say that my project has the ingredients for a successful NEA grant application. Wow. This is very heartening. I like them. Much to be done. All good.
We went to Dead Man. I had mixed reactions about the piece. It is quite gripping theater, though. I can see why the public seems to like the work. I don't quite know what to think about some of the balance issues. In a couple of places, the voices and even the orchestra are obliterated by the sound cues—the gates clanging, etc. There was a clear decision to depend on the surtitles. Is it smart to do this? Should a composer today always pay attention to balance issues? Somehow I'd like to believe that balance issues are still important.
I leave during the applause, not for lack of appreciation—it was a really good performance—but I need to get some rest. I'm driving home tomorrow and would like to arrive in one piece.
Saturday, June 12
Last day. Glad to be going home. Physically exhausted but feeling recharged in other ways. I check out of the hotel and drive to the convention center. I arrive minutes into the closing remarks by speakers including Steven Tepper from Princeton University's Center for Arts and Cultural Policy Studies, poet Dana Gioia from the NEA, and the fabulously inspiring mayor of Pittsburgh, Tom Murphy. I see Wayne Strongman from Tapestry New Opera Works on the way out, and stop to tell him how much I enjoyed his panel on "Assessing New Work." I tell him about my opera project and we talk about process (I, remembering his "serial monogamy"). He asks questions about my piece. Really good questions. There is a session beginning right then that I mean to attend, but this chance meeting is too interesting. What he has to say seems very important. I show him my proposal for the opera and we talk about the dramatic elements. Time flies. Before long people start milling about. It's time for lunch. I thank him and say I'd like to be in touch.
On the way to lunch, I run into Andrew Bales from Symphony Silicon Valley. (They premiered my Scenes in 2003.) It's great to catch up. We talk about programming and commissioning new work, and specifically how to plan well for a commission and premiere. (Our collaboration in 2003 had been hastily put together, and although it had come off rather well—thanks to the excellent preparation of the conductor, Paul Polivnick—it might have even been better.)
I go to a final panel on introducing new work, and here, finally, is the meat market that I have been waiting for. After the session, the panelists—who are mostly presenters—are besieged by composers, and CDs seem to be flying about. I met one of the panelists earlier this year, and feel I should go up and say hi. But the line is too long and I need to get on the road. I will email him later.
I see my conductor/Cornell friend again, on the way out. We will be in touch.
*
So. Was this a good use of time? Definitely. In fact, I feel like I've missed out on some great opportunities, not having gone to a convention earlier.
Did I find what I was looking for? An interested company? Maybe. Lots to work out before it's definitive. (To be continued…)
I'm looking forward to next year.