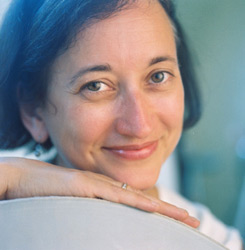 Mary Ellen Childs
Photo by Warwick Green
I'm attending NPAC in Pittsburgh as a guest of Meet The Composer's New Residency Conference, thanks to the generous support of the Heinz Endowments. I've just finished a three-year MTC Composer Residency in Minneapolis and each year the composers-in-residence gather together in a different city to compare notes and discuss issues. This year the conference is scheduled to coincide with NPAC. I'll be attending MTC meetings on Thursday and Friday mornings and choosing from the other NPAC offerings during the rest of the time. I thought I'd take this opportunity to get a flavor of these conferences and see if I think it would be worth a future trip, on my own dime.
Wednesday, June 9
Depart Minneapolis for Pittsburgh. I recognize a number of others on my flight who are headed for the conference. As I will later find, there's a huge representation of the Twin Cities art world in Pittsburgh for the weekend. Arrive in Pittsburgh in time for rush hour traffic. By the time I get checked into the hotel I've missed the afternoon composer's meeting hosted by the American Music Center, Meet The Composer, and the American Composers Forum, as well as the opening events, but the evening's new music concert is fruitful. Standout pieces by Mathew Rosenblum (Under the Rainbow performed by stellar flutist Patti Monson) and a work by Efrain Amaya, whose piece Maroon Dreams has convinced me that every woodwind quintet should include a cello—it changes the not-very-appealing woodwind quintet sound into a lovely, rich, and more varied ensemble.
The evening's concert is a great time to meet fellow composers and others in the new music world, including Pittsburgh composer David Stock (whom I haven't seen in 21 years—since the American Dance Festival in 1983, where he was music director and I had my very first paying commission); Matthew Rosenblum, whose music I've long admired but whom I'd never had the chance to meet until tonight; Pittsburgh music critic Andy Druckenbrod; representatives from MTC, AMC, and ACF; and fellow composers too numerous to list.
Thursday, June 10
As I'm leaving the hotel I run into Randall Davidson and together we find the subway (it's free downtown!) and head over to Chorus America's opening address by Libby Larsen, intriguingly titled "The Day the Concert Hall Fell Asleep and Woke Up As a Car Radio." It's a wonderfully thoughtful and engaging talk about where people are listening to music today. Her remarks are tailored for this group of choristers, but makes me think about my own work and how to find a wide audience. Like much of America, I listen to music more often on my car CD player than anywhere else, including live performances. If a performing group or composer wants to reach a wide audience, the concert hall isn't necessarily the best place.
Now over to the morning's MTC sessions. I always enjoy hearing about other composers' projects, and Beth Custer (San Francisco), Cary John Franklin (Minneapolis), William Cepeda (Puerto Rico), and Jim Whipple and Efrain Amaya (Pittsburgh) in turn talk about their current composer residencies. We talk through a working lunch.
After lunch I make a quick tour of the ASOL Exhibition hall, which is barely populated at this early afternoon hour. The most active spot is the composers' area, a comfortable corner furnished with sofas and stuffed chairs and I spent a stimulating half hour or so hanging out there.
Afternoon session at Chorus America led by Wayne Brown (NEA) and Philip Brunelle (Vocal Essence) introducing the impending NEA Choral Masterworks program. Funding has not yet been approved, but they outlined what they foresee the program to be, supporting choral groups to present American choral masterworks.
I stop by the Dance/USA conference. There are no afternoon sessions that I can attend, but I see and speak with several people. I spent the rest of the day in touch with people on an individual basis. Met with Ben Krywosz of Nautilus Music Theater, who will be commissioning an opera from me, spoke with my friend choreographer Claire Porter who is in town to present her work on the Dance/USA showcases, and finished preparing the "score" of my body percussion work Hands to give to Jim Whipple (Renaissance City Winds) tomorrow.
Friday, June 11
I take advantage of the early morning yoga offered by Opera America, a nice way to start the day.
Morning sessions again with the Meet The Composer group. Discussion turned toward issues of recording and documentation, the newly renamed and reworked MTC program Creative Connections (formerly the Meet The Composer Fund), and a handful of other topics. Several of us had attended yesterday's session on the NEA's American Masterpieces program and there was a discussion as to how and whether composers will have a voice in the selection of the American choral masterworks to be included.
I lunch with the Meet The Composer group, then head across downtown Pittsburgh to make a quick stop at the OPERA America conference, making a tour of the exhibition hall and taking special note of the composers' table, staffed by AMC's Lyn Liston. Then criss-crossing back once more to attend Dance/USA's session on Working with Live Music. This is a lively session that begins with several choreographers talking about their experiences working with live music, including someone from Hubbard Street and Alonzo King of LINES Ballet (SF). Without exception these are glowing reports of success, artistically and with the audience. The session is packed and I'm happy to note that composers are very well represented—there must be at least a dozen in the room.
Dinner with Jeff Bartlett, Artistic Director of the Southern Theater in Minneapolis, who is here attending the Dance/USA Round Table. Jeff is someone that I work with and see on a regular basis, though ironically, it's here away from home that we are able to sit down together for a long talk. This has been true with several of my meetings this weekend—away from home I have the chance to connect with a number of people from my own neighborhood in a way that I don't always have time for at home.
Saturday, June 12
I get a late start and miss the opening talk by Dana Gioia of the NEA. After two days of rain, it's beautiful and sunny out and so I take the opportunity instead to walk through Pittsburgh's culturally rich downtown to the convention center.
There are a number of simultaneous sessions to choose from and since no one topic calls out to me clearly I start by session-hopping until I settle upon one where the discussion is most interesting: "Art in a Changing World: Does Relevance Matter?" Speakers include composer Jake Heggie, Michael Morgan, Music Director of the Oakland East Bay Symphony, Choreographer Elizabeth Streb and cellist Matt Haimovitz, among others. I'm especially impressed with some of the discussion, so afterwards I introduce myself to some of the panelists, trade cards and comments.
Next I attend the session hosted by Minnesota Public Radio about their Classical Music Initiative—they are looking for proposals for new radio programming. The blurb in the brochure says "…because the way into the concert hall isn't always through the front door…" This is especially interesting in light of Libby Larsen's talk yesterday.
Lunch with Lyn Liston of AMC. Then, again, I spend some time jumping from session to session until I settle upon "Engaging the Public in New Work," moderated by MTC's Heather Hitchens and featuring George Steel (Miller Theatre, NYC) and Joseph Melillo (BAM, Brooklyn), among others.
The afternoon also holds…
…A short interview with Jody Dalton, who used to be with CRI, but is now a music critic in Albany, NY. He is writing a piece about composers at the NPAC conference for NewMusicBox…An impromptu meeting with Lise Houlton and Donna Bachman of Minnesota Dance Theater. We speak about the possibility commissioning a new work from me for choreographer Alonzo King. I'm very interested—especially after hearing him speak at yesterday's Dance/USA session on live music.
For me, the conference winds down with a wonderful dinner with Heather Hitchens, Mark Treviño (who have been so great and supportive during my last three years' New Residency stint in Minneapolis), and a handful of others.
On the plane home early Sunday I have a chance to reflect on the last few days. Being in this atmosphere with other artists and arts professionals has stimulated plenty of food for thought, led to some nice connections for current and future work, renewed old friendships and I hope begun some new ones. I don't know whether I'll make this a regular habit, but I'm glad I was here for this conference. I'm also pleased to know that there was a large representation of composers in attendance—reports have varied between 65 and nearly 100 composers—and I do think it's important for composers and other individual artists to have a strong voice at these events. I'm glad to have been part of that voice.