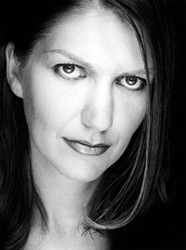 Sonia Jacobsen
Photo by Bill Wylie
The NPAC convention was supposed to be just a shot in the arm for me. I knew many composers were going to attend, so I thought it might be useful for me to rub shoulders with a few like-minded people and remind myself that I'm not all alone in this world of solitary work. If in addition I made a few useful contacts, that would be a plus. But I snapped into a different mindset upon arrival in Pittsburgh. The conference started for me as soon as I got off the plane. The only person I knew before going happened to be on the same flight from New York. She introduced me to an impressive number of important people who also happened to be on the same plane, so that before we even got to baggage claim, I had already made more contacts than I had anticipated for the whole stay.
Composers were going to be the outsiders of the NPAC convention, I thought. Mostly big organizations would be present (orchestras, dance troupes, choirs, opera companies, publishers, arts presenters and managers, journalists, grant making organizations, plenty of board members of diverse organizations…) Hardly any musicians or conductors were expected, so I thought the composers' presence would be quite marginalized. That we Wewore bright yellow badges so we could be recognized (and avoided) by artistic directors and conductors from far away, was the running joke. Conductors were poorly represented and they frequently got a bad rap. (The big name prima donna ones, at least.) But I don't think many of us expected to be able to plug our work to conductors at this conference anyway. For once, as a composer I felt part of a community. The vibe was great between all of us. There was no competitive attitude at all. On the contrary—there was a lot of solidarity, and that was not just related to us being the outsiders at the conference. There can be the tendency in networking moments like these, that people look at your badge and in two seconds decide if you are worth their time. I didn't experience that at all at this conference. I didn't find people were doing this to me, and I didn't do it to others. I find that after talking a while with someone who doesn't immediately look like someone of highest priority to meet, you find out they often are wearing several hats. I actually started making a sport out of finding out how many hats people were wearing. Including among us composers. A person displaying "Musician" on their badge might be an important board member of an orchestra, but gets a cheaper registration rate as a musician. A "Composer" might be a presenter of a new music concert series, a conductor, or have a day job as an arts administrator. A press person might be a board member of a grant giving organization. A dancer might be a choreographer looking to promote live music and new musical works/collaborations. A low-end administrator today might be a mover and shaker of tomorrow.
This was the first NPAC convention. The first time the annual conferences of especially the American Symphony Orchestra League, OPERA America, Chorus America, and Dance/USA were to take place simultaneously with cross-disciplinary sessions. So evidently there were some birth pains with respect to coordinating schedules. Hopefully they'll get things straight in four years at the next big convention. Our organizations (AMC, ACF, Meet the Composer, and ASCAP) made a real effort to carve out a place for us composers. That was really appreciated. To start with a rap session called "How You Can Get the Most Out of the Convention" was a brilliant idea. We got a good dose of really useful advice and had an opportunity to introduce ourselves to the group. For example Fran Richard from ASCAP said that the most important thing for us to do is call attention to our presence at the conference by participating in discussions, asking intelligent questions within the topic of the seminar and to show interest in understanding how they work.
You could easily imagine getting lost in a convention of 7,000 people, but it never felt daunting. Compared with IAJE (International Association of Jazz Education) conventions that I try to attend almost every year and which have similar attendance numbers, the NPAC convention had a mellow and quite human pace. An IAJE convention in 1999 showed me the networking value of such gatherings. I had never had an incentive to go to conventions before, not knowing that the who's who of the jazz industry would be present. I went the first time because I won a composition award and the newly commissioned piece would be performed at the opening ceremony in front of thousands of people. A great way to start out, because then people would come up to ME over the following days to congratulate me or comment on my piece. The following year I went back to cultivate some of the contacts I had made the year before, but already it was getting harder to make new contacts. The year after that, I felt I almost had to start from scratch. People change positions, you don't run into the same people that easily with so many participants… plenty of reasons to not be able to keep up the old contacts. And to make new contacts being incognito was a challenge. I sure wish someone had made a session in those days like the one we started out with at NPAC!
One of the discussions in this "how to" session was: Now we have our foot inside the door, how do we turn the tables so we are not in the weakest position? We are trying to 'sell' ourselves, and we don't have big institutional backing. One answer was to not try too hard to sell ourselves, but to show interest in the other person or the subject of the seminar.
There was in general a real effort to make people mix across disciplines. The opening plenary session for example had color-coded seats to mix us up. A multidisciplinary performance was put on with independent storylines crisscrossing with a common theme. This theme was roughly about how performing arts survive and have an impact under tough conditions. I guess it was meant to function as a reality check. That our conditions are not that bad and that we should stop whining. Or maybe I misinterpreted the play. Was the morale that sometimes adversity forces you to be creative, or rather that being creative helps you through tough times? Another interpretation: "If we have any energy left over after purely survival necessities, we can express our joy with art. If we need emotional help to get through hardship, practicing or experiencing art can help us through it." The show was rather vague and way too long, and actually not really appreciated by a lot of people. At least it was a bit thought provoking.
Thursday and Friday was primarily conferences and meetings for each of the participating organizations. A lot of these sessions were closed to the public even if we had registered for the day. This was a shame. There were a few of the closed sessions that I would really have found interesting. For example about programming (for public relations and artistic administrators only). I think it would have been useful for composers to find out how programming decisions are made.
One of the big open sessions within the American Symphony Orchestra League conference was: "Who Needs Orchestras?" In this session a panel was enacting a fictive orchestra in a fictive city to address typical challenges of an orchestra. The role of the music director in community involvement was discussed. A typical issue: The conductor doesn't want to have to do this work (without an additional zero on his salary) or even spend much time in the hosting community. He just wants to fly in to conduct a concert and fly out. The orchestra is paying a fortune for an elusive front figure and they want him to be visible in the community, to explain the music to the audience etc. Now for that extra zero, the orchestra could hire a lot of composers to do the talking… But I guess the mysterious aura of the Maestro is what they want to touch.
Another issue was choice of repertoire, appealing to a larger audience, being relevant. Accessibility of the repertoire is often misunderstood as music whichthat people without much classical music listening experience can understand. I personally believe it is more a question of aesthetics. I see a major conflict between programming the music whichthat the donors want (same old, same old easy going classics), and what will excite a younger audience. This has much more to do with aesthetics than with comprehension. More on this later in connection with another seminar following up on this topic…
A session named: "Breaking the Mold in Artistic Decision Making" was a fresh insight to leadership issues. The Saint Paul Chamber Orchestra was the successful model, and their innovative management strategies were discussed. A very dynamic managing director showed how a healthy corporate attitude can give results. I hear all the time that the bean counters are ruining the music industry because they only worry about short-term financial gain instead of investing in the future. This is definitely shortsighted. But I must say, through observations and discussions at this convention, I am now beginning to think that a heavy bureaucratic institution like a major orchestra would be lucky to find a really good managing director from the corporate world, who can see the whole picture and really shake up the system, provoke the old habits—even if it gets uncomfortable. Often these heavy institutions are missing the point and not visionary enough. The conclusion of this session was not to take the Saint Paul Chamber Orchestra's business model and copy it, but to employ their way of questioning everything in their management structures and habits. The only rethinking of repertoire in the discussion, was related to the choice of conductors. Instead of getting one music director to be equally good in early music and the classic repertoire as well as music of our time, they chose to get different conductors to come in and conduct music of their specialty.
After just one day of peeping into the heavy institutional world of large established orchestras (whew!) how refreshing it was to see an exceptionally refreshing approach to performance by the Pittsburgh New Music Ensemble! In a very small performance space (maybe four rows of chairs) in awith an artsy-kitschy decor which reminded me of some happening but low down art galleries in Williamsburg (Brooklyn), this group played a truly fantastic concert! This was definitely a musical highlight for me. Not only was their choice of repertoire great, but they also incorporated lots and lots of humor and unpretentious attitude. The show was extremely creatively staged without becoming gadget oriented. For example a 'janitor' just has to finish sweeping the floor before the concert and he needs to move the piano. Everyone finally moves out of the way for him and this comedy turns into a dance piece with him and his oversized broom. This little happening conveniently masked an interruption associated with instrument setup changes. Another cute happening was a bass player from the Pittsburgh Symphony Orchestra who wanted to jam along as a warm-up before the big concert later the same evening. He then plays Tom Johnson's piece Failing which is a monologue accompanied by himself on bass, about not being able to find the balance between talking and playing. A very fun piece.
The symphony concert in the beautifully restored Heinz Hall was quite frankly so-so in my opinion. Quite a standing ovation was given, though. Had Joan Tower's piece not been absolutely superb, the concert would have been utterly boring. I must say, the conductor Tortelier surely knew how to bring clarity to the piece. On the other hand his interpretation of more easily digestible fare like Debussy's Prelude to the Afternoon of a Faun and Richard Strauss's Suite from Der Rosenkavalier was borderline cheesy. The choice of repertoire was surprising considering that the audience was a sophisticated audience consisting of mainly music professionals. It's a challenge as a conductor to find a balance between how to make a difficult work be understood by the audience, vs. elevate a very accessible piece above the banal. It's a matter of taste. I'm sorry, but I thought this conductor (Tortelier) not only emphasized the banal, he made it sound corny.
Friday was another day with not so much going on for us composers. After an awards ceremony with Chorus America for adventurous programming, where Fran Richard from ASCAP asked all the composers to stand up to be greeted, many of us gravitated towards the lounge area in the exhibit hall. It was a place where we could display our promotional material and just hang out. The cross-disciplinary sessions were reduced to just one day: Saturday. It would have been far more interesting for us composers, had these sessions been spread throughout the conference. So we actually had quite a bit of down time both Thursday and Friday, whereas on Saturday there were too many sessions going on simultaneously that I wanted to see. Never mind. We ended up spontaneously improvising a composers' roundtable, planning for our next opportunity for a similar gathering. (There's a conference in February in L.A. for orchestra librarians, with some interesting opportunities for composers. We were brainstorming about what to add to the conference to make it even more appealing for composers to attend. Even if the general subject/purpose of a conference might not be directly intended for us composers, it will attract the kinds of people we work with and getting to know these people's attitudes, constraints and interests, we will be better equipped to approach and work with them.) The discussion also turned to subjects like the Internet II,Internet2, we talked about paper size and printers for orchestral parts, about collaboration fiascos (librettists, stage directors for opera), and about some opera management episodes.
One of the highlights of the seminars was in the Dance/USA conference: "Working with Musicians: Dance and Music Collaborations." Many composers were present and the debate actually got a bit heated in a productive way. We as composers were provoking the dancers about choreographing to existing music, suggesting that they should collaborate with us while we are alive instead. Some of my potentially best contacts from the entire convention were made at this session. We'll see. Just keeping the irons in the fire…
Here's a quote from my notes from a fundraising session: "Ask for money, I'll give you advice. Ask for advice, I'll give you money." Adopt a mentor. Ehhh…. Okay.
A couple of operas were running during the conference. Friday night I went to see Jake Heggie's Dead Man Walking. I was pleasantly surprised, but I didn't go there expecting a big deal. It was safe, but you can't really blame them for that, considering the expense of an opera production. It was like a good film.
Saturday was the big interdisciplinary day. A lot of people came to the conference for just this one day, it seemed. At breakfast in my hotel, I met a couple of people from a major grant giving foundation. It was extremely interesting for me to learn about their perspective. More on that later…
Here's a quote from my notes on a session named "Does Relevance matter?": "If you keep your doors completely open, pigeons fly in. But the higher barriers to get in, the more exclusive you become to the risk of being completely irrelevant." Proposals included educating the audience with pre-concert talks and similar. Conductor Michael Morgan (who was highly visible on quite a few panels) says he doesn't talk about technical stuff, but how he feels about the music. Being inclusive is not just about ethnic/cultural differences, but also generational/cultural differences. A young Afro-American dancer commented from the audience and gave a good example of this. She talked about two different generations of hip-hop listeners, herself and her students. She doesn't understand what her students hear in their kind of hip-hop, and they don't get what she hears in her kind of hip hop. Compare this to older generations of classical music concert-goers vs. classical music students. Tastes and aesthetics obviously differ. Just ask the young musicians what in classical music feels relevant to their generation. Accessibility is more about resonance than about relevance. Someone on the panel claimed that relevance is an overrated concept. Art is not safe. When it's safe, it's boring.
Everyone came with a wide openwide-open attitude towards meeting new people. I definitely did not observe an old boys' network where people stuck to people they knew from previous conventions. There were many opportunities where we were encouraged to mingle. I appreciated the way the lunch session was organized today: Round tables were dispersed through the hall displaying signs with areas of interest, for example creation/performance, technology, management, education…) and people made the effort of sitting down at tables where they knew no one. Nicely done. Another plus was having gaps between sessions where after the panel discussions could continue informally. The schedule was not hectic like some other conferences (IAJE in particular). And the sessions were not too short either.
So many interesting sessions were going on simultaneously Saturday afternoon. Since we could purchase recordings of the sessions we missed, I chose a seminar where there would be demonstrations, as opposed to subjects where the information could readily be researched online. For example "Going it Alone: Funding Strategies for the Independent Artist" would have been interesting also, but considering I couldn't be in more than one place at a time, I guessed I could find out most of that information through NYFA, Meet the Composer, and similar. So I chose to go to "Art into Technology: Technology into Art," but this was a bad choice. 10 yearTen-year old technology was demonstrated, where sensors on a dancer's elbows and knees would trigger the next notes in a MIDI file according to her movements. The presenters' excuse was that you have to play an instrument for at least 10 years to master it also was a bit lame. Afterwards composer Subotnick did a demonstration of children's sequencing software "Making Music." Although a fine product that I'll probably get for my daughter, it was inappropriate for this convention.
So I split and caught the end of a session about new works. Here I heard some strong and very idealistic statements from a couple of movers and shakers in the music world in NYC. Wow, it's nice to know that we have a few people like that around. George Steel (Miller Theatre) and Joseph Melillo (BAM) in particular said some good things. I was surprised, though, to find out that the Atlanta Symphony has a board on the wall with a list of composers they like and a list of composers they don't like. Hmmm, a blacklist??? I can imagine once you are on it, it would be hard to get your name removed.
The last session I went to was "What the Funders are saying". We looked at some statistics over the last few years. A typical non-profit organization has 50 percent in earned income, 10 percent from government sources and 40 percent from private contributions. It was quite interesting to look at how different fields' funding has changed over the last couple of years. I wish they had shown a recipient break-down between large institutions vs. small projects. The median grant is $25,000. It's a thorny subject for the large grant givers. They are not able to give to small institutions, it would disrupt their continuity.institutions as they do not have the accounting or financial monitoring systems in place. Smaller project funding gets trickled down through re-granting. These large foundations rely on medium organizations to know what's going on.
I ran into my friends from breakfast from the major foundation (which I won't mention by name) again at a restaurant that evening. I told them that I thought some statistics were missing and that I have an impression that the numbers are giving a skewed impression of not much having changed proportionally since 2001. Out of the little money that is left, what percentage goes to the big established organizations? The street level feeling is that there is absolute no money left for new or smaller projects. How can the arts world rejuvenate if only the heavy organizations (who are not very forward thinking) are the ones that are sitting on all the money? Apparently the reason the big foundations only look at applications from the majors (in fact it is frequently application by invitation only!), is to give these big structures some continuity. I see their point, but then why wonder why the machinery is so heavy. It all comes down to the bottom line. The small guys can't afford the good fundraisers and don't have the experience and contacts.
I came to the conference with two main goals: First, to get a shot in the arm to and realize I'm not alone in the world. And second, to understand the psychology of my 'opponents'. Mission accomplished.
The Saturday night closing session took place in yet another beautifully restored historical performance hall. My compliments go to Pittsburgh's rejuvenation of the cultural district of downtown area. One cultural institution next to the other from the convention center designed by Rafael Viñoly all the way down the river to the park at the tip of the peninsular where two rivers join together.
Underneath the convention center's overpass was a fabulous fountain I had heard people talk about but not realized what the big deal was till I walked down myself at the very end of the conference. Two very long waterfalls on each side of a meandering path through terraced pools leading towards the river. The noise from the gushing of water was deafening, washing away the tiredness from the last few days on the way to the closing session.
Bobby McFerrin did his usual audience engagement thing, getting the whole hall to sing along. There were definitely a lot of professionals in the audience. "Don't forget the joy in the music," he warned. His performance was preceded by some observations—sometimes quite provocative—from the last few days.
A beautiful evening—very relaxing after a few days of miserable rain (with inappropriate clothes on my behalf—I shouldn't have listened to the forecast…) A perfect evening for dinner at a sidewalk café. Convention participants were letting their hair down, removing ties, replacing suits with polo shirts. Socially it was a very pleasant convention, I am not alone in commenting on this.
In conclusion, I met many contacts, enjoyed a variety of performances, and learned about advances in the field. The convention was an invaluable experience that I hope to repeat in the future.