I've been going to conferences, mostly of the ASOL, and various symposia and retreats, even leading some of the latter, for more years than I want to remember and it just seemed that the energy around NPAC was way more palpable and positive than most.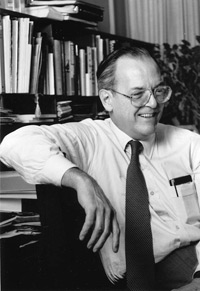 Albert K. Webster
Photo by Chris Lee
The ASOL conference has become a welcome occasion to hear the host city's orchestra and I'm happy to note that they usually play some contemporary music, often by an American. This year it was good to hear Joan Tower's Tambor and David Amram's Giants of the Night so excellently done by the Pittsburgh Symphony. The combined gathering that was the NPAC gave even more opportunities for there was music going on all over town. Choral singing has been a vital part of my life, it's what brought me to study with Nadia Boulanger and she turned me from a study of physics to orchestra management. I'm sorry I had to miss the famous Mendelssohn Choir's concert. But I was really blown away by the Pittsburgh Opera's production of Jake Heggie's Dead Man Walking. I'm really grateful for that.

It was exciting to know that all those other folk, chorus folk, dance folk, opera folk, theater folk and composers and critics and lord knows who all else were there. It was a really good gathering, but more than that it was a beginning of a broader dialogue. You just had to think beyond your own comfortable mindset.

I don't really know what people felt was accomplished at the joint sessions on Wednesday afternoon or on Saturday, and unfortunately I had to miss Bobby McFerrin's brilliant (I'm told) work Saturday afternoon, but I felt really good that it was all going on. There seemed to be a churning, a spirit of inquiry, that I've often found missing.

Regrettably the congenital carpers had a field day with the Opening Plenary session which was appropriately billed as a work in progress. Actually I was angry at many of my colleagues who leapt on the bandwagon of criticism of that effort. Not that there wasn't a lot that one could criticize, but hey, it was an experiment, a rehearsal, and a sometimes stunning attempt to show how powerfully the various disciplines could speak together. What first attempt at anything is perfect? We ought to be grateful to all who struggled to put the whole NPAC affair together, help enunciate the lessons from this first experiment and move on in confidence to make it better next time.

Saturday on impulse I did something that I wouldn't ordinarily have dreamed of doing, but it was right there in front of me—I went to a panel presentation about rather dry research on the power of the arts in educating our children. Research! But that's clearly what's needed to bring the school systems to action. One apt bromide from the bureaucrats will suffice as to the why of it all: "In God we trust, all others bring hard data." A fascinating new world for me.

All this comes from one who is usually behind the scenes and comfortable in familiar worlds. I wonder why many turned up their noses and weren't there and I wonder what others thought.


***
Albert K. Webster
is currently an arts consultant based in New York City and treasurer of the AMC Board. Formerly, he was executive vice president and managing director of the New York Philharmonic.