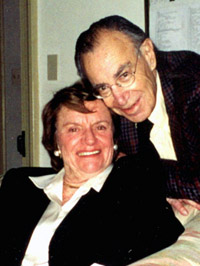 June and John Hechinger
Photo courtesy of the Hechingers
John and June Hechinger have once again demonstrated their commitment to American composers and the creation of new music. Through their support, Music Director Leonard Slatkin and the National Symphony Orchestra have announced a new series of commissions: The Hechinger Encores.
The funding will support the commissioning of works from up to six composers each year over a three year period. The composers commissioned for the first season are Roberto Sierra, Jefferson Friedman (Read more), Michael Abels (Read more), Tina Davidson (Read more), and Daniel Ott.
When announcing the program, Slatkin noted that the concept was the reverse of the Hechinger-commissioned Fanfares that opened each of the 24 subscription concerts during the 1995-96 season. "We are now embarking on a new project that reverses the idea, a series of pieces intended to be played at the end of the concert," he said in a statement. "Each [composer] has been told the nature of the project and given details of what is on the program, should they choose to incorporate elements of the works already played. As far as we can tell, this has never been done before." In the spirit of an encore performance, he added, "We're not announcing the dates ahead of time, because we'd like to keep the elements of surprise and anticipation at work."
Since 1984, the John and June Hechinger Commissioning Fund for New Orchestral Works has supported the creation of new orchestral works to be premiered by the NSO. June Hechinger spoke to NewMusicBox last August about the fund, explaining: "In the early 1980s, we read an article in The New York Times Magazine about the need for younger American composers to find support for their music. So we said, something has to be done….As American citizens, we felt it was important to focus on American composers. There is nothing else that has given us so much pleasure."
NSO President Robert C. Jones speaks fondly of the Hechingers: "Their support is a model of its kind: their gifts have made nearly 50 orchestral works possible; their enjoyment of the performing arts is contagious to all who meet them; and their generosity, flexibility, and example have made it possible for the National Symphony Orchestra to live up to its name in a very important way, developing American artistic resources."
Stephen Albert
Symphony,River Run(Pulitzer Prize winner)
1984-5
Aulis Sallinen
Washington Mosaics
1985-6
Jon Deak
Jack and the Beanstalk, Concerto for Contrabass and Orchestra
1989-90
Richard Wernick
Piano Concerto
1990-1
Augusta Read Thomas
Air and Angels
1992-3
Morton Gould
Stringmusic (Pulitzer Prize winner)
1993-4
Stephen Hartke
Ascent of an Equestrian in a Balloon
1995-6
Cycle of 25 Fanfares

Roberto Sierra, Saludo
David Sampson, Hommage JFK
Bruce Adolphe, Wind Teaser
Robert Rodr&iactue;guez, Fanfare for Four Trumpets and Four Conch Shells
Augusta Read Thomas, Manifesto
Ron Nelson, Fanfare for the Kennedy Center
Jeffrey Mumford, within a cloudburst of echoing brightness
Samuel Adler, A Festive Proclamation
David Winkler, Fanfare for World Peace
Judith Shatin, Hearing the Call
Michelle Ekizian, Slow Apocalypse
Christopher Theofanidis, Metaphysica
George Tsontakis, Perpetual Angelus
Truman Harris, Prelude
Paul Epstein, Fanfare
Stephen Danker, Fanfare
Brent Michael Davids, Canyon Sunrise
William Komaiko, Oléo
Libby Larsen, Strum
Robert Moran, Obrigado
Anne LeBaron, American Icons
Jonathan Bailey Holland, Signals
Kevin Putz, Continuo
Andreas Makris, JFK Commemorative

1995-6
Peter Schickele
Songlines
1996-7
Ron Nelson Panels
(Epiphanies II)
1996-7
William Bolcom
Sixth Symphony
1997-8
John Corigliano
D.C. Fanfare
1997-8
John Corigliano
A Dylan Thomas Trilogy
1998-9
Michael Daugherty
UFO, A Concerto for Percussion and Orchestra
1998-9
Richard Danielpour
Voices of Remembrance
1999-2000
Michael Kamen
The New Moon in the Old Moon's Arms
1999-2000
Michel Camilo
Tango for Ten
1999-2000
Roberto Sierra
Fandangos
2000-1
Joan Tower
Percussion Concerto
2001-2*
George Tsontkis
Percussion Concerto
2001-2*
* scheduled