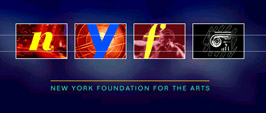 New York Foundation for the Arts
Artists' Fellowships, a program of the New York Foundation for the Arts, recently awarded nearly $1.1 million to 167 artists throughout New York State, including eighteen composers. Recipients of the 156 Fellowships of $7,000 each (several collaborations) were chosen from over 4,000 applicants in the categories of architecture/environmental structures, choreography, fiction, music composition, painting, photography, playwriting/screenwriting, and video.
One of the largest sources of support for individual artists in all disciplines, Artists' Fellowships invests in creative potential. The program provides merit-based awards to originating artists in sixteen disciplines, eight per year over a two-year cycle. Fellowship applications are reviewed by separate peer panels for each category. Each panel is comprised of an average of five practicing artists working in that specific discipline. The panelists this year for music composition were Lyndon Achee (Brooklyn), Kitty Brazelton (Manhattan), Jonathan Golove (Buffalo), Reggie Nicholson (Bronx), and Alice Shields (Manhattan). The Artists' Fellowships are awarded solely on the basis of the work samples submitted by the applicants. The awards provide discretionary funds that Fellows may use to support the advancement of their careers in any way they deem appropriate. Since its inception in 1984, NYFA's Artists' Fellowships has awarded more than $17 million to 2,787 New York State artists.