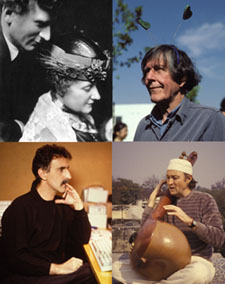 Clockwise from upper left: Percy & Rose Grainger from The Noble Savage; John Cage from West Coast Story photo/Eva Soltes; Terry Riley from In Between the Notes 1986 Other Minds; and Frank Zappa from West Coast Story photo/Eva Soltes.
For years documentarians have been interviewing American composers and creating in-depth specials for film and European TV. Charles Amirkhanian, executive director of the San Francisco-based new music organization Other Minds, is tired of waiting to see these innovative portraits of U.S. artists here in the States. "I keep wondering when the 'Petroleum' Broadcasting System is going to do something like airing these things," he says, "and I realize 'never' is the answer."
Instead of waiting, he has taken it upon himself to bring these films to the public's attention. Other Minds has put together a three-day film festival, "Eyes and Ears," which will run November 8-10 at the historic Castro Theatre in San Francisco and include showings of films representing a cross-section of American Maverick composers (see below). In addition, the festival will also feature performances of some of the featured composers' works specially arranged for the theater's giant Wurlitzer organ by house organist David Hegarty.
The impetus for the festival originated with Australian filmmaker Peter Duncan's feature film chronicling the life of Percy Grainger. Released in 1999, the film was never distributed in the US. Amirkhanian saw it Italy. "I thought, wow, here's the most amazing thing that ever happened—a fictionalized life story about a maverick composer who lived in America in a feature-length film. It's a dynamite film with a great deal of substance to it about his life and music."
Originally Amirkhanian thought he would pair the film with a concert of Grainger's music, but the idea quickly grew. Volunteer Bernard Kyle offered to organize a festival of composer-related films and the event turned into a three-day affair complete with guest lecturers and directors.
Another piece of luck came when Amirkhanian approached house organist David Hegarty about playing during the festival. As it turns out, Hegarty is a fan of Percy Grainger's music. While in New York, he met with Stewart Manville who runs the Grainger archive, borrowed some scores, and arranged it specifically for the occasion. He did similar work with music of George Antheil. He will play his versions of both men's work as a compliment the films about them. Amirkhanian calls Hegarty the "the glue that will hold this all together. The guy's just been so into it it's been amazing. It will be new music out of an old theater organ."
This project is in step with Other Minds' other advocacy activities, picking up the slack for what's absent in the general musical landscape. Public Broadcasting should be doing it and if they were we would have no need to for this festival, but the fact is that American composers just don't exist on American television," Amirkhanian explains. "They don't call us non-commercial for nothing. I can't think of any serious composers who are known to more than 1 percent of the population right now. Not even John Adams is a household name." Still, Amirkhanian wishes that didn't keep these types of films off PBS. "That's really their mandate but they can't do it because they're watching the bottom line too."
Still, despite a perceived lack of interest from the public, the preliminary response has been very positive. People from all over the world have begun asking if Other Minds can send them a selection of the films, but legal issues and materials (most of these films are not available on video) would make that very difficult. Suggestions are also already coming in for a fete next year, but first they'll have to wait and see the receipts from this one and find out just how much the public likes it's composers ten feet tall on the silver screen.
For a complete schedule and ticketing information see:
http://www.otherminds.org/shtml/Eyesandears1.shtml
FRIDAY NOVEMBER 8
7:00 pm ZAPPA IN RETROSPECT
FRANK ZAPPA: Phase Two–The Big Note (2002)
(Preview of a "work in process") video documentary by Frank Scheffer for Dutch television station VPRO a comprehensive overview of Frank Zappa's unique achievements
9:30 pm DJ SPOOKY LIVE PERFORMANCE
Rebirth of a Nation (A work in progress, Take One)
DJ Spooky has digitized and re-composed D.W. Griffith's notorious silent film Birth of a Nation (1915). He creates a new soundtrack in real time for audiences on both Friday and Saturday nights.
SATURDAY NOVEMBER 9
11:00 am FROM LUNGS TO MICROCHIPS
TERRY RILEY: Music with Balls (1969)
one of the most revolutionary Hi-band videos ever made for TV. Minimalist composer Terry Riley and sculptor Arlo Acton join Executive Producer Jim Newman onstage for a personal appearance.
PANDIT PRAN NATH: In Between the Notes (1986)
Travel to India to discover the roots of the legendary Indian singer, Pandit Pran Nath (1918-1996).
THEREMIN: An Electronic Odyssey (1995)
Russian inventor Leon Theremin with his amazing electric synthesizer. Preceded by composer Joel Davel, performing on Donald Buchla's "Lightning" digital controller, the latest incarnation of touchless musicianship, pioneered by Theremin.
3:00 pm WOMEN ON THE VERGE
KARLHEINZ STOCKHAUSEN: In Absentia (2000)
Haunting images by the Brothers Quay match the claustrophobic score by Stockhausen, taking us on a hypnotic journey into the mindscape of a woman gone mad. Directed by The Brothers Quay.
BJÖRK: Dancer in the Dark (2000)
With the Icelandic singer songwriter Björk and her music, Danish filmmaker Lars van Trier turns upside down the musical film's trademark notion that music redeems us from the horrors of the real world. Film theorist Marilyn Fabe (UC Berkeley), who has devised an entire course around this motion picture, introduces the movie and fields questions afterwards.
7:00 pm A RARE ZAPPA CLASSIC
FRANK ZAPPA: Baby Snakes (originally released 1979)
This rarely-shown film by Frank Zappa oscillates madly between a 1979 performance of his band and the outrageous psychedelic clay animation of Bruce Bickford.
9:30 pm DJ SPOOKY LIVE PERFORMANCE
DJ Spooky's Rebirth of a Nation (A work in progress, Take Two)
SUNDAY NOVEMBER 10
11:00 am GOOD GUYS AND BAD
GEORGE ANTHEIL: Bad Boy of Music (2000) U.S. Premiere.
This fictionalized dramatization of Antheil's life (1900-1959) by German filmmaker Michael Meert contains rare footage of the audience riot at Antheil's first Paris concert in 1923, attended by Satie, Pound, Joyce, Picabia and Picasso.
Followed by a medley of Antheil's film music arranged for this event and performed by David Hegarty.
WEST COAST STORY: Frontiers of New Music (1986)
Rare footage of pioneer California composers Lou Harrison, John Cage, Henry Cowell, and their spiritual descendants Robert Erickson, Morton Subotnick, Pauline Oliveros, Terry Riley, Daniel Lentz, Paul Dresher, John Adams, Janis Mattox, and others present—a capsule overview of a revolution that rocked the classical world. Special guests Dresher, Lentz, Mattox, and others will take questions following the film.
2:30 pm A MAVERICK FROM MELBOURNE
PERCY GRAINGER: The Noble Savage (1986) U.S. Premiere.
Documentary on virtuoso pianist and composer Grainger (1882-1961) evokes the composer's fascination with English folk music.
Followed by the world premiere of a medley of Grainger's greatest works arranged for the giant Wurlitzer organ by the Castro's David Hegarty.
PERCY GRAINGER: Passion (1999) U.S. Premiere.
Australian filmmaker Peter Duncan exposes the most challenging details of the secret life of Percy Grainger, including his lifelong involvement with flagellation. Passion portrays the repressive Victorian atmosphere, Grainger's pianistic fireworks, and the unbridled sexual lashing sessions of Karen and Percy. Director Peter Duncan, our visitor from Sydney, will answer questions following the screening.
7:15 pm ZAPPA IN RETROSPECT
FRANK ZAPPA: Phase Two–The Big Note (reprise)
10:00 pm A RARE ZAPPA CLASSIC
FRANK ZAPPA: Baby Snakes (reprise)