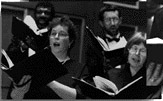 Cantata Singers
Photo by David Tucker
The National Foundation for Jewish Culture has awarded a Susan Rose Recording Fund grant to the Boston-based Cantata Singers and Ensemble for their recent recording of John Harbison's Four Psalms. The Susan Rose Recording Fund for Contemporary Jewish Music is a new grants program of the National Foundation for Jewish Culture that seeks to make available original works by contemporary composers exploring the Jewish experience. Established in 1999 to address the difficulty faced by many composers and performers in having commissioned works performed beyond the premiere performance, the Susan Rose Fund provides a subsidy for the recording of new works in order to facilitate their circulation among performers and to provide greater access to the public.
In its initial year, one grant of $10,000 was awarded to Alla Borzova to record, with tenor Paul Sperry and the New York Virtuosi Chamber Symphony, her song cycle Mother Said, based on Hal Sirowitz's collection of poetry of the same name. Due to the success of the initial year of the grant, the fund increased its award to $20,000.
Proposals were evaluated by an artistic advisory panel chaired by Omus Hirshbein, Executive Vice President of the New York Chamber Symphony. Hirshbein considers the grant "exceedingly valuable," and devoted eight or nine hours winnowing down the applications before the panel first met. "It was a tiring experience, but I feel richer for it," Hirshbein stated. "The whole issue of what is Jewish music, and what is not, and how they overlap, I find fascinating," he went on. "As chair of the panel, I wrestle with questions about the mission of the National Foundation for Jewish Culture in going forward with such a program. Is it for Jews only? Is it for anyone who writes music that is connected with Jewish history?"
"The reward of receiving a grant like this is not limited to the sum of money itself, but also the affirmation that it offers," explained the Cantata Singer's Music Director, David Hoose. The grant serves as a "formal affirmation of both the strength of the piece and the strength of the performing forces," something that becomes particularly important as they negotiate with a record company. "Recording is a scary proposition for any company," Hoose admitted. "It involves risk-taking, and it is in a certain sense charity. So where they put their money and effort is something that they have to consider very carefully."
Harbison's association with the Cantata Singers dates back twenty years, when he served briefly as music director. Hoose's personal association with Harbison dates back to his days as a horn player, when he played under Harbison as a conductor. It was in his wind quintet that Hoose got to know Harbison's well-known work for that instrumentation, performing it "forty or fifty times." Since then, Hoose has conducted many of Harbison's works, including the violin and piano concertos, Emerson and Diotima. The Cantata Singers commissioned Harbison in 1986 for Flight into Egypt and later recorded it on New World Records under Hoose's direction. Flight won Harbison the 1987 Pulitzer Prize. Hoose has also conducted a number of area premieres of Harbison's music, including the Boston premiere of Four Psalms in November 2000.
"I have always found his music extraordinarily compelling," Hoose commented. "The music is powerful — it doesn't fade after a few hearings." Hoose considers Four Psalms to be Harbison's greatest work to date. "It contains some very radical ideas, both in his juxtaposition of the texts, and in his approach to the performing forces. He takes a step in a [new] direction that was motivated by the real challenge of addressing issues of modern and ancient Israel."
Four Psalms was commissioned by the Israeli Consulate of Chicago to celebrate the fiftieth anniversary of the founding of the State of Israel; the work was premiered by the Chicago Symphony Orchestra in 1999. In Four Psalms, Harbison applies fragments of conversations and "journalistic" commentary by Israelis and Americans (in Hebrew and English) about daily life and current conditions in Israel to traditional Psalm texts.
"It is remarkable how skillful John is at writing in such a way that singers and instrumentalists alike believe that he was born to write for them. That's a unique kind of position – nobody says that about Bach!" Before the Cantata Singers and Ensemble had even performed the piece, Harbison himself identified the possibility that they might be eligible for the Susan Rose grant. The grant helped to substantially cut the cost of making the recording.
"We chose a piece that we thought would have a future," Hirshbein concluded. "We rewarded the idea of a Jewish text being set, so that it would receive a wider dissemination. It was the most skilled piece of work, and I think the piece is going to have legs."