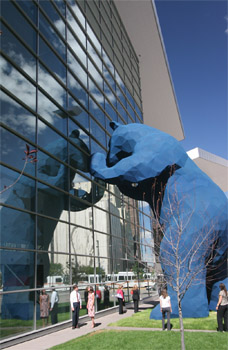 Hey, what's going on in there? Denver welcomes 3,000+ National Performing Arts Convention attendees.
Photo courtesy NPAC-Denver Convention and Visitors Bureau
If you can't find your favorite performing artist or arts presenter this week, check to see if they have packed their bags and headed for Denver. Don't worry, they'll return to you at the end of the week—hopefully armed with some new ideas and new connections formed during the National Performing Arts Convention 2008.
Designing this gathering was a huge endeavor that was years in the making. Now we are at the gates, and Denver has signaled they are ready for all 3,000 of us to land. During the week we'll be putting our heads together across performing arts disciplines to hash out how we can work together effectively as a larger unit, where our focus should rest and what our goals should be, as well as strategies for achieving the aims we set. It's more than a generalized hope; a major part of the convention will be a highly organzied 21st Century Town Meeting: Building a Performing Arts Community, complete with four lead-in caucuses and American Idol-style voting opportunities.
In addition, there will be sessions—many, many sessions. Break-out groups, workshops, and art-making sessions led by guest artists. (If you've ever wanted to see the executive director of your local orchestra get in touch with his inner hip hop artist, this might be your chance.) All this and plenty of meetings, exhibits, networking opportunities, live performances (it's why we do what we do, after all), and a few parties.
Since many readers are special fans of the new music scene, you might want to jot down these particular highlights in the conference programming, including a special orientation to help you get your bearings and the presentation of the preliminary results of Taking Note, an in-depth survey of new music activity in the United States.
There's so much going on this week in Denver, in fact, that whether you're actually in town for the gathering or not, you're bound to miss something. We'll do our best to keep you up to date with daily reports posted here on NewMusicBox, so check back often. Also, ArtsJournal will be featuring commentary from 20 attendees on their own NPAC blog, and I'll be trying to keep up with the action by posting those reports over at Mind the Gap.
Buckle up, kids. This promises to be quite a ride.