NEA Names Seven New Jazz Masters
October 6 was a great day for jazz in our nation's capital. National Endowment for the Arts Chairman Dana Gioia announced the induction seven 2006 Jazz Masters. Big band composer/arranger/pianist Toshiko Akiyoshi, trombonist Curtis Fuller, pianist Ramsey Lewis, vocalist Jimmy Scott, tenor saxophonist Frank Wess, and alto saxophonist Phil Woods were each acknowledged. In addition, jazz writer and educator Dan Morgenstern, director of the Institute of Jazz Studies at Rutgers University, was selected in the jazz advocacy category.
According to Gioia, "The jazz world has come to regard the NEA Jazz Masters Award as its equivalent of the Pulitzer Prize." And, in fact, the only jazz composition to be honored with a Pulitzer Prize in Music thus far is Wynton Marsalis's Blood on the Fields, which received the award in 1997. Since 1982, the Endowment has conferred the Jazz Masters Award on a handful of individuals whom they describe as "living legends who have made major contributions to this distinctively American art form." Only living musicians or jazz advocates may be honored as NEA Jazz Masters. To date, there have been 87 recipients of the award.
The announcement was made during a concert of the Duke Ellington Jazz Festival at Washington DC's Lincoln Theatre. The news was made all the more poignant as a result of the involvement of two previously named NEA Jazz Masters—Paquito D'Rivera (2005) and Roy Haynes (1995)—in the musical performance on stage.
The seven new NEA Jazz Masters will officially receive their awards at a ceremony and concert held in New York City on January 12, 2007, during the annual conference of the International Association for Jazz Education. Newly named NEA Jazz Masters are provided with a one-time fellowship of $25,000. To help musicians receiving this honor make further connections with the American people, the Arts Endowment significantly expanded the program in 2004, and, in 2005, established the NEA Jazz Masters Initiative. The initiative encompasses the award program itself; NEA Jazz Masters On Tour, sponsored by Verizon, which is creating performance opportunities in all 50 states for NEA Jazz Masters, coordinated by Arts Midwest and supported in part by Chamber Music America through a generous grant from the Doris Duke Charitable Foundation; NEA Jazz in the Schools, developed in partnership with Jazz at Lincoln Center and generously supported by the Verizon Foundation; and radio and TV broadcast projects featuring NEA Jazz Masters. The Arts Endowment has also collaborated with the Verve Music Group on CD and digital compilations and has produced illustrated publications with profiles of all the NEA Jazz Masters.
***
Richard Wernick and Michael Harrison Honored at Carnegie Hall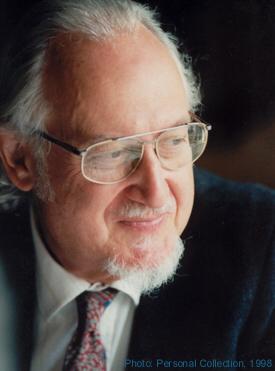 Richard Wernick
Photo courtesy Theodore Presser Company
Richard Wernick was named Composer of the Year at the Classical Recording Foundation's fifth annual awards ceremony at Carnegie's Weill Recital Hall on October 10. The award was presented to Wernick by classical guitarist David Starobin, who is also the founder of Bridge Records. Starobin praised Wernick for music that is both well-crafted and emotionally riveting and described his output as all-too rare in this era of commercialism.
Following the presentation of the award, Starobin was joined on the stage of Weill Recital Hall by baritone Patrick Mason and percussionist Daniel Druckman for the world premiere performance of Wernick's Tristram Redux. An influential composer and longtime composition professor at the University of Pennsylvania (1968-1996), Wernick (b. 1932) is the only ever two-time first-prize recipient of the Friedheim Award and was given the Pulitzer Prize in Music in 1977 for his composition, Visions of Terror and Wonder, for mezzo-soprano and orchestra.
In addition, composer Michael Harrison received the 2006 Classical Recording Foundation Award. Philip Glass, who presented the award, described Harrison as following in the footsteps of American mavericks such as Charles Ives, Harry Partch, John Cage, and Morton Feldman. Harrison played three short excerpts from his 75-minute solo piano composition Revelation, for which the piano is retuned in a special just intonation tuning of his own design. The Foundation Award to Michael Harrison will provide partial funding for a new, commercially distributed recording of Revelation that will be released by Cantaloupe Records in early 2007.
Other award winners were cellist Zuill Bailey, pianist Simone Dinnerstein, and the Daedalus String Quartet. The Classical Recording Foundation was launched by Grammy-winning record producer Adam Abeshouse, who serves as the organization's executive director.
***
Paul Moravec Honored in Lawrenceville
On October 5, composer Paul Moravec received the 2006 Aldo Leopold Award from the Lawrenceville School, from which he graduated in 1975. The award, also known as the Lawrenceville Medal, has been presented annually since 1991 to an alumnus or alumna in recognition of "brilliant, lifelong work in a significant field of endeavor" and is dedicated to the memory of Aldo Leopold, distinguished environmentalist and author, who graduated from Lawrenceville in 1905. Attendees of the award ceremony were treated to Moravec's Pulitzer-winning composition, Tempest Fantasy, in a performance by Trio Solisti with clarinetist Garrick Zoeter.
Founded in 1810, the Lawrenceville School offers a comprehensive, college preparatory education for students in grades nine through twelve. Lawrenceville's 800 boarding and day students come from 33 states and 24 countries. The school is located on 700 acres in the historic village of Lawrenceville, New Jersey.
—Edited by Frank J. Oteri