United States Artists Launches Fellowship Program: $50K to 50 Artists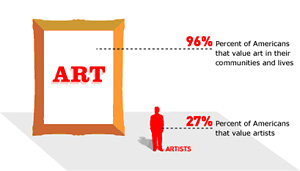 Image by Intersection Studio, © United States Artists. Statistics from the Urban Institute report "Investing in Creativity."
How many Americans love art? Ninety-six percent. But only about a third value the artists that create it. It's a perplexing situation that United States Artists has set out to correct. The new granting organization was created to provide direct support to living artists, as well as advocate for them and their role in the social and economic health of our nation.
Begun with $20 million in seed funding from The Ford Foundation, the Rockefeller Foundation, the Prudential Foundation, and the Rasmuson Foundation, United States Artists has created USA Fellows, an annual program where at least 50 outstanding American artists will each receive $50,000. Through this program, USA provides a structure for private donors, corporate philanthropies and foundations to come together to form a permanent endowment that will support individual artists in perpetuity. Arts patrons Agnes Gund of New York, Eli and Edythe Broad of Los Angeles, the Todd Simon Foundation of Nebraska, and Target Stores have already committed to underwriting USA Fellowships for the coming years.
There is no application process; the artists are selected through a nomination process. The first set of recipients will be announced on December 4, 2006, in a ceremony to be held at Jazz at Lincoln Center in New York City.
***
Schwantner Signs With Schott Helicon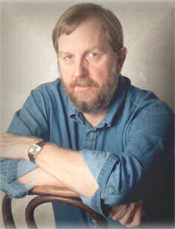 Joseph Schwantner
Schott Music has announced that Joseph Schwantner has signed an exclusive publishing agreement with Schott Helicon. The deal comprises all current and future compositions, as well as a number of works from Schwantner's back catalog, including Angelfire, Beyond Autumn, Recoil, and September Canticle. A new engraving of Schwantner's solo marimba work Velocities and his Percussion Concerto, in a reduced version for solo percussion and two pianos, are both slated for publication by Schott Helicon in the coming months.
Schwantner won the Pulitzer Prize in 1979 for his orchestral work Aftertones of Infinity. Highlights of the 2006-07 season for the composer include eighth blackbird's premiere of his Rhiannon's Blackbirds—a work they commissioned and will include on their nine-month United States tour—and a new work for flute quartet for the 25th anniversary season of Flute Force.
***
Can Orchestras Find New Reasons To Record?
What are the benefits of doing electronic media work for orchestras in the absence of large checks from record companies and radio stations? A seven-member panel of musicians and other experts in orchestral electronic media address this question and related issues during a virtual panel discussion at Polyphonic.org, Sept. 11-15.
Milwaukee Symphony Orchestra violist and ISCOM Chairman Emeritus Robert Levine moderates the featured panel, which includes Laura Brownell, director, Symphonic Services Division, AFM; Bradford Buckley, musician, St. Louis Symphony, ICSOM Chairman emeritus; Paul Frankenfeld, musician, Cincinnati Symphony, Secretary-Treasurer, Local 1 AFM; John Kieser, director of operations and electronic media, San Francisco Symphony; Stephen Lester, musician, Chicago Symphony, Orchestra Committee Chair, Chicago Symphony; Fiona Simon, musician, New York Philharmonic, Orchestra Committee Chair, New York Philharmonic; and David Patrick Stearns, music critic, Philadelphia Inquirer.
Drop by and add your two cents to the conversation here.
***
Rufus Reid Wins $20,000 Sackler Prize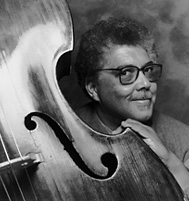 Rufus Reid
Jazz bassist Rufus Reid has won the 2006 Raymond and Beverly Sackler Prize in Composition, a commission and premiere performance program administered by the University of Connecticut. Finalists for the 2006 Prize were composers Vince Mendoza, Ed Neumeister, and John Hollenbeck. This year's jurors were Slide Hampton and Craig Urquhart.
In addition to Reid's prolific work as a touring performing and recording artist, he is also a noted educator and served as director of the Jazz Studies and Performance program at William Paterson University until 1999. Most recently, he was recognized with the Charlie Parker Composition Award through the BMI Jazz Composer's Workshop for his composition, "Skies Over Emilia," and the International Society of Bassists honored him with the Distinguished Achievement Award for his lifetime commitment to teaching and the furthering of his instrument.
The prize was established through a gift of Raymond and Beverly Sackler as part of "a broader structure promoting innovation, inventiveness and the creative spirit within the School of Fine Arts," explains David G. Woods, dean of the School of Fine Arts. Past winners have been Gabriela Frank, Karim Al-Zand, Orianna Webb, and Stacy Garrop.
***
Reich Named Praemium Imperiale Laureate
The Japan Art Association has selected composer Steve Reich as their 2006 Praemium Imperiale Laureate in music. The award, now in its 18th year, recognizes artists for their achievements, the impact they have had internationally on the arts, and for their role in enriching the global community. Awarded in the five disciplines of painting (Kusama Yayoi), sculpture (Christian Boltanski), architecture (Frei Otto), theatre/film (Maya Plisetskaya), and music, the laureates each receive an honorarium of 15 million yen (around $131,000).
***
Davidson Institute Announces 2006 Fellowships
The Davidson Institute, founded in 1999 to support the talents of "profoundly intelligent young people" has announced its annual slate of awarded fellowships. This year's recipients include four teenage musicians (no, not Jay Greenberg):
Heather Engebretson (15, Tuscaloosa, Alabama; vocalist, $50,000 scholarship)
Stephanie Chen (17, Austin, Texas; pianist, $25,000 scholarship)
Travis Johnson (13, Milwaukie, Oregon; classical guitarist, $10,000 scholarship)
Drew Peterson (12, Oradell, New Jersey; pianist, $10,000 scholarship)
Though none of these young artists self-identify as a composer just yet, Sarah Hiller, the Davidson Institutes PR representative made some phone calls to find out if any of them are aspiring music writers. The response was particularly revealing of the tenuous nature of an artist's early development. According to Peterson's mother, he recently wrote a trio for piano, cello, and clarinet, and "his conducting teacher keeps telling him that it should be played and that he should definitely be known as a composer. But Drew keeps saying it isn't quite finished yet."