Eternal Summer Camp: Hagen Named Lifetime Yaddo Member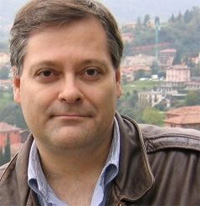 Daron Hagen
Composer Daron Hagen has been awarded lifetime membership in the Corporation of Yaddo, which oversees one of the oldest artists' retreats in the United States. The honor is given only occasionally in appreciation of a member who has demonstrated "exceptional commitment and service" as a way of recognizing "its most beloved and vital members."
Daron Hagen was a guest at Yaddo for the first time in 1984, and has been a member since 1994. Yaddo is governed by 91 members usually elected to staggered terms, from which group it draws its board of directors.
Peter Gould, chairman of board of directors of the Corporation of Yaddo, notes that Hagen "has been a tireless advocate for Yaddo and, as curator of the Yaddo/Copland Concerts, he has revivified a tradition of supporting contemporary American music that dates back to Aaron Copland's famous American Festival of Music concerts held at Yaddo in the 1930s. This election to lifetime membership signifies the Corporation's recognition of those efforts on both their parts. We are proud and honored to have Daron as part of the Yaddo family."
***
Free Money
SoundExchange, the organization charged with administering royalties from digital transmissions, has released a list of artists and labels for whom they have unpaid royalties. They have published a list on their website containing the names of all reported sound recording copyright owners who stand to lose royalties if they do not register with SoundExchange by December 15, 2006.
***
2006 Gramophone Awards Announced—with Bonus Statistical Survey Results
Claudio Abbado and the Berlin Philharmonic Orchestra have won Gramophone's Record of the Year Award 2006 for their performance of Mahler's Symphony No 6. The rest of the similarly, um, adventurous list (with iTunes links) is here.
In addition to these awards, Gramophone and New York-based radio station 96.3 WQXR-FM announced four winners of the first annual WQXR Gramophone American Awards. They characterize these new honors as recognizing "the year's best recording achievements by American artists and in American repertoire, with a special award for an individual who has made an outstanding contribution to the world of classical music." Ahem. The first batch of honorees—exclusively made up of living composers—includes:
Peter Lieberson and Lorraine Hunt Lieberson:
Rilke Songs, The Six Realms & Horn Concerto (Bridge)


Dawn Upshaw:
Osvaldo Golijov – Ayre (Deutsche Grammophon)


Steve Reich:
You Are (Variations) (Nonesuch)
Mark Morris was given a Special Recognition Award "in gratitude for invaluable contribution to classical music and musicians."
*
What's a glitzy awards ceremony without statistics? Gramophone also released the results of a survey of classical music buyers. Some fun facts included in the summary:
30 percent of classical music buffs who don't already have an MP3 player say they will buy one in the next year


Buying downloads is more likely to stimulate than threaten the CD market, with only 6 percent of downloaders saying they would buy fewer CDs next year.


Classical downloaders over 50 years old kept pace with younger fans—each group bought an average of 11.5 downloads last year. The over-50s also demonstrated an inclination towards contemporary music for their first download, with Sir Peter Maxwell Davies running neck and neck with Beethoven.


Old habits die hard, however: 83 percent of classical music buyers still listen using traditional audio equipment—though by that they mean CD players and such, not necessarily victorolas.
—Edited by Molly Sheridan