Gabriela Lena Frank is Benificiary of 2007 Joyce Award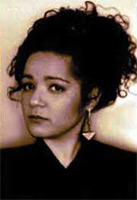 Gabriela Lena Frank
The Indianapolis Symphony Orchestra has received a $50,000 grant from Chicago's Joyce Foundation for the commission of a new work by composer Gabriela Lena Frank.
Frank's piece, which is envisioned as "a multi-movement piece for full orchestra," will receive its premiere during the ISO's 2008-09 season. Frank, whose previous work has drawn on the folk art, music and mythology of Latin America, will base this new work on interactions with Latino immigrants living in the Indianapolis area. The ISO is one of five Midwestern cultural organizations receiving a 2007 Joyce Award, given to groups promoting the works of individual artists of color.
EC Schirmer and LLF Sign Publishing Agreement
The Lotte Lehmann Foundation has announced a publication and print music distribution agreement with ECS Publishing covering all print music publications of the Lotte Lehmann Foundation's VoxNova Media division. Each work will be published in printed format by ECS as part of a series identified as "The Lotte Lehmann Foundation VoxNova Editions" and will be made available by E.C. Schirmer for sale as a printed edition throughout the world.
Beginning in the Spring of 2007, VoxNova will make available as PDF downloads for sale on the Internet from the VoxNova website these newly-edited and engraved critical editions. The Editorial Committee of VoxNova, under the direction of composer, flautist, educator and Lehmann Foundation board member Su Lian Tan, is currently accepting submissions not only from living composers of vocal music, but also from foundations and the estates of composers seeking to bring back into print historically important compositions that have fallen out of print. For more information, please visit the VoxNovaMedia website.
Multi-Media Symphony Adds Yet Another Medium
On Thursday, January 25 at 7 p.m., the opening performance of composer Michael Gordon's multi-media symphonic work Decasia, which is taking place in New York at the Angel Orensanz Center, will be streamed live onto mobile phones. This "live-to-phone event" is available on select Windows, Sprint and Cingular phone models, with service provided by iProgram. The piece, which combines film projections by Bill Morrison and music by Gordon, was premiered in Switzerland. For additional information, please visit the Decasia website.
(Edited by David Allen)