2008 NEA Jazz Masters Announced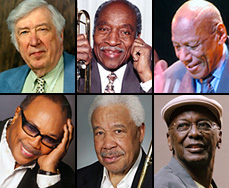 Upper row (left to right): Gunther Schuller (photo by Bachrach); Joe Wilder (photo by Joseph R. Wilder); Candido Camero (photo by Yaritza Acosta)
Bottom row (left to right): Quincy Jones (photo by Michael Coakes); Tom McIntosh (photo by Robert Marchioni); Andrew Hill (photo by Jimmy Katz)
Candido Camero, Quincy Jones, Tom McIntosh, Gunther Schuller, Joe Wilder, and the late Andrew Hill have joined the National Endowment for the Arts' list of Jazz Masters. The accolade, which was first bestowed in 1982, is the United States government's highest honor for jazz and includes a $25,000 fellowship along with opportunities to participate in other NEA-sponsored promotional and performance activities. NEA Chairman Dana Gioia announced the induction of these six 2008 honorees on October 2, 2007 during a press conference held in Jazz at Lincoln Center's Dizzy's Club Coca Cola in New York City, in advance of a more formal announcement at the 2008 conference of the International Association for Jazz Education (IAJE) which will be held in Toronto in January, where each of the recipients will receive an official plaque acknowledging their induction.
During the press conference, Gioia lauded each of the recipients for their unique contributions to the development of the American art form: Andrew Hill was celebrated for 40 years of composing, performing, recording, and mentoring young musicians. Candido Camero was credited with being the first percussionist to bring conga drumming to jazz. Quincy Jones was hailed as a renaissance man of music: an impresario, conductor, record producer, musical arranger, film composer, and trumpeter. Joe Wilder was acknowledged for his reputation as a popular soloist and sideman as well as his long career in television, while Tom McIntosh was singled out for his unique voice as a composer and arranger for Dizzy Gillespie, James Moody, and others, as well as for Hollywood movies, including Shaft. Gunther Schuller, this year's recipient of the A.B. Spellman NEA Jazz Master Award for Jazz Advocacy, was praised as a leader in both the classical and jazz traditions, contributing significant musical compositions and writings to expand jazz's horizons.
Andrew Hill was notified of his receipt of the award shortly before his death in April 2007. His wife, Joanne Robinson Hill, acknowledged the honor on his behalf. All of the other newly named NEA Jazz Masters were in attendance. Sixteen previously named NEA Jazz Masters were also on hand for the announcement including Ron Carter, Jimmy Heath, and Ahmad Jamal. In addition to celebrating the new honorees, the crowd at the club also heard a performance by 2005 NEA Jazz Master George Wein and the Newport All Stars in celebration of Wein's 82th birthday.
Bang on a Can Announces 2008 People's Commissions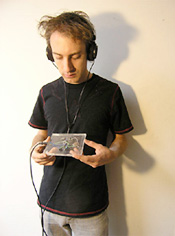 Tristan Perich
Photo by Katie Shima
Tristan Perich, Ken Thomson, and Erdem Helvacioglu have been chosen as the three composers who will receive 2008 Peoples' Commissions from Bang on a Can. The Bang on a Can All-Stars will premiere these commissions in concert on February 13, 2008, in a program at Merkin Concert Hall in New York City which will later be broadcast as part of WNYC's New Sounds Live over the radio and online.
New York-based composer and artist Tristan Perich works with simple forms and structures. His 1-Bit Music, which was released in June 2007 on Bang on a Can's CD label Cantaloupe Music, is an album of lo-fi digital electronic music that is generated by electronics packaged in a standard CD jewel case. Brooklyn-based clarinetist, saxophonist, and composer Ken Thomson, is a co-founder of the punk/jazz band Gutbucket, who have released three CDs thus far on Cantaloupe Music. He has just completed a commission from the American Composers Orchestra which will premiere at Carnegie Hall's Zankel Hall on October 19. Turkish electroacoustic composer Erdem Helvacioglu, whose music for solo acoustic guitar and live electronics was released on the New Albion CD, Altered Realities, is currently working on his PhD in electroacoustic composition at Istanbul Technical University.
The People's Commissioning Fund, first established by Bang on a Can in 1998, pools together the contributions of hundreds of people to commission works from adventurous composers. Donations range from $5 to $5,000. Over 500 people currently contribute to the fund which has now commissioned a total of 26 composers including Eve Beglarian, Carla Kihlstedt, Annea Lockwood, Ingram Marshall, Miya Masaoka, Marc Mellits, Thurston Moore, Matthew Shipp, and J.G. Thirlwell. According to BoaC co-founder David Lang, "We designed a program that would draw our listeners deeper into the creative process, allowing them to become individual givers directly in touch with the act of commissioning, regardless of wealth. It is you and me who are the commissioners of new music, not a large foundation, not a government agency, not a major corporation."
Marian McPartland to be Elected to the National Radio Hall of Fame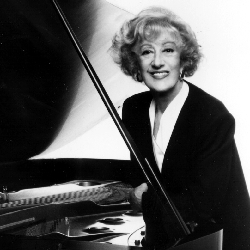 Marian McPartland
Photo by Barbara Bordnick, courtesy of Marian McPartland
On November 3, 2007, pianist, composer, educator, and radio personality Marian McPartland will be inducted into the National Radio Hall of Fame in a ceremony hosted by Sean Hannity of ABC Radio and Fox News Channel at Chicago's Renaissance Hotel. McPartland is being honored for her nearly 30 years at the helm of National Public Radio's popular program Piano Jazz. Also being inducted are sports commentator Jerry Coleman, singer/comedian Jimmy Durante, groundbreaking African-American writer/producer Richard Durham, and rock radio pioneer Dan Ingram.
Piano Jazz, a Peabody-award winning broadcast produced by South Carolina ETV and Radio, is the longest running jazz program on NPR and is heard by over a quarter million listeners each week. First broadcast in 1978, Piano Jazz, which is now also on Sirius Satellite Radio, has featured more than 500 guests spanning a broad range of jazz styles.
In addition to her radio activities, the 89-year-old McPartland has just completed a new jazz piano trio album for Concord Records as well as a new work for piano and orchestra—created in honor of environmentalist Rachel Carson, author of Silent Spring—which she will premiere with the University of South Carolina Symphony Orchestra, conducted by Dr. Donald Portnoy, on November 15 in Columbia, South Carolina.
Boosey & Hawkes Now Represents Charles Mingus
Music publisher Boosey & Hawkes has just announced that it will now be representing the music of Charles Mingus as part of its growing jazz catalog. Through an agreement with Jazz Workshop, Inc., Boosey & Hawkes is currently the agent for synchronization and choreographic uses of Mingus's compositions and anticipates making certain works available for rental in the near future. Boosey & Hawkes represents the rights to Mingus's works throughout the world with the exception of Japan and certain territories in Europe. Jazz Workshop, Inc. will continue to handle all other rights to the Mingus catalogue directly.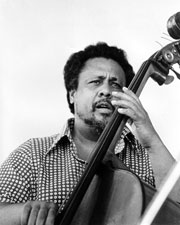 Charles Mingus
Photo courtesy Jazz Workshop, Inc.
Composer and bandleader Charles Mingus (1922-1979) was a virtuoso bass player and an accomplished pianist whose music frequently challenges genre specification. At a memorial following Mingus's death, Steve Schlesinger of the Guggenheim Foundation remarked, "I look forward to the day when we can transcend labels like jazz and acknowledge Charles Mingus as the major American composer that he is." In the liner notes to his 1971 release Let My Children Hear Music, Mingus described being influenced by classical composers such as Ravel and Stravinsky, adding, "In my young days, we were raised more on classical music than on any other kind."
Boosey & Hawkes General Manager Marc Ostrow stated, "It is only fitting that the music of Charles Mingus should live alongside the masterworks of Bartók, Bernstein, Copland, Stravinsky, and Andrew Hill." (All of whose music is published by Boosey & Hawkes.) Sue Mingus, Charles' widow and the director of Jazz Workshop, Inc., added, "We're delighted to know that the massive repertory of Charles Mingus—one of the largest, most varied, and most personal bodies of composition in music—will be in excellent hands." Boosey & Hawkes launched its jazz initiative in 2006. The publisher now represents pianist/composers Chick Corea, David Benoit, and Andrew Hill, and also serves as worldwide agents for the Second Floor Music catalogue, which features some of the best-known compositions of the bop and post-bop eras.
musicFIRST Coalition Rejects Broadcasters' Call for Additional Hearings
The musicFIRST Coalition has officially rejected a recent request made by the National Association of Broadcasters (NAB) for additional hearings on the relationship between artists and labels which could ultimately determine whether or not sound recording copyright owners (SRCOs)—e.g. recording artists and record companies—are entitled to a performance right royalty when their recordings are broadcast over commercial radio. The musicFIRST coalition, whose acronym stands for "Fairness in Radio Starting Today," is a lobbying group representing the interests of individual recording artists as well as the American Federation of Musicians of the United States and Canada (AFM), the American Federation of Television and Radio Artists (AFTRA), the Music Managers' Forum, the Recording Academy, and the Recording Artists' Coalition. NAB is a trade association that advocates on behalf of more than 8,300 free local radio and television stations and broadcast networks before Congress, the Federal Communications Commission, and the Courts.
The request for additional hearings was contained in a October 3, 2007, letter by NAB President and CEO David K. Rehr, addressed to House Intellectual Property Subcommittee Chairman Howard Berman (D-CA). In the letter, Rehr stated:
A hearing that includes the Recording Industry Association of America and the four major record labels would allow members of the Subcommittee to explore more thoroughly the typical business practices of the recording industry and the dynamics of the relationships between the performers and the record labels. If the goal is to improve the circumstances of performers and build the cadre of music into the future, the relationship between performers and record labels also bears examination.
On October 9, 2007, musicFIRST delivered the following response in a letter to both Berman and congressman Howard Coble (R-NC):
As representatives of tens of thousands of performers, we believe that every industry that derives profit from our creative work should share some of that value with us. Yes, that means record labels. But it also means corporate radio. Radio has built a twenty billion dollar industry based on advertising revenue that it generates because its listeners tune in to our music. It is only fair that the creators of the music, songwriters and recording performers, should share in that value. The new digital music services like internet and satellite radio pay performers. Now it finally is time for corporate radio to compensate performers, too. The NAB's decades of free riding off our work should finally come to an end.
Prior to 1995, SRCOs in the United States were not able to collect royalties on performing rights. Only creators of the music and lyrics being performed and the owners of that music, e.g. composers, authors, and publishers, and their heirs, were eligible for such royalties, which are collected by three performance rights' organizations in the United States: ASCAP, BMI, and SESAC. Under the Digital Performance in Sound Recordings Act of 1995 and the Digital Millennium Copyright Act of 1998, SRCOs, were also granted a performance right in sound recordings. As a result, SoundExchange, a non-profit performance rights organization that collects royalties on the behalf of SRCOs, was founded in 2000 and collects royalties on digital transmissions of music, e.g. satellite and internet radio. The goal of the musicFIRST Coalition is to secure royalties from radio broadcasts of recordings on terrestrial radio which currently pays performance rights to creators and publishers via ASCAP, BMI, and SECAC, but not to SRCOs.
(Compiled and edited by Frank J. Oteri)