Elliott Carter Receives BSO's Horblit Award Weeks Before 99th Birthday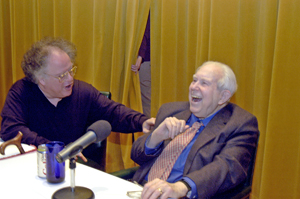 (L to R) James Levine and Elliott Carter
Photo by Whitney Riepe
Elliott Carter has been named the recipient of the Boston Symphony Orchestra's Mark M. Horblit Award for distinguished work by an American composer. Carter, less than one month shy of his 99th birthday, accepted the $5000 prize from BSO managing director Mark Volpe on November 16 at 4 p.m. during a ceremony hosted by Harvard University's Department of Music which also featured a panel discussion with Carter, BSO music director James Levine, and Professor Anne Shreffler, who is currently compiling a volume of Carter's correspondence.
Upon receipt of the award, Carter exclaimed, "What you have given is not to me, but to my music; my music can't speak, but my music is very grateful." At one point during the ensuing discussion, Levine surprised Carter and the entire audience by sitting down at the piano to give the U.S. premiere performance of Carter's 2007 solo piano composition Matribute. The award followed the world premiere performance of Carter's new Horn Concerto by James Sommerville and the BSO, under the direction of Levine, on November 14.
Previous recipients of the Horblit Award, which was established in 1947 by the late Boston attorney Mark M. Horblit to "foster and promote the writing of symphonic compositions by composers resident in the United States," include Aaron Copland, Walter Piston, Ned Rorem, Donald Martino, Earl Kim, and Leonard Bernstein, who received the award in 1949 at the age of 31. The award was not been given since 1993, when it was received by John Corigliano. The 2007 award is Carter's second Horblit Award; he received the first in August of 1988 (several months before he turned 80) at the Tanglewood Music Center's annual Festival of Contemporary Music.
Morten Lauridsen and Les Paul Among 2007 National Medal of Arts Honorees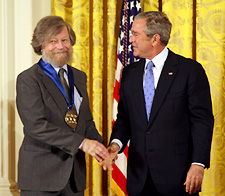 Composer Morten Lauridsen and President George W. Bush
Choral composer Morten Lauridsen and electric guitar innovator Les Paul were among the 2007 National Medal of Arts Honorees announced by President George W. Bush in an East Room ceremony at the White House on November 14. The National Endowment for the Arts manages the National Medal of Arts nomination process and notified the artists of their selection to receive a medal, the nation's highest honor for artistic excellence.
The other recipients this year are: painters George Tooker and Andrew Wyeth; N. Scott Momaday, author, essayist, poet, professor, and painter; R. Craig Noel, director of the Old Globe Theatre in San Diego; and arts patrons Henry Steinway and Roy R. Neuberger. Also receiving an award from the President will be Erich Kunzel, conductor of the Cincinnati Pops Orchestra and a 2006 National Medal of Arts recipient who was not able to attend last year's event.
Musical America Announces 2008 Awards
Pianist Charles Rosen, Atlanta Symphony Music Director Robert Spano, and the San Francisco-based men's chorus Chanticleer will be among the honorees receiving 2008 Awards from Musical America in a special ceremony at Lincoln Center on December 13. In addition, Paris-based Finnish post-spectralist Kaija Saariaho has been named 2008 Composer of the Year, and Russian soprano Anna Netrebko was awarded the top honor, Musician of the Year.
Rosen, named Instrumentalist of the Year, was lauded for his multiple careers as a pianist, author, and scholar, and for his advocacy of contemporary composers including Stravinsky and Carter. Spano, named Conductor the Year, was hailed for "his richly inventive programming, "commissioning countless new works," and for possessing "all the right qualities to bring an American orchestra success: solid musicianship, intellectual curiosity, and a palpable enthusiasm that is contagious on both sides of the footlights." Chanticleer, the 2008 Ensemble of the Year, was praised for their "unique sound and distinctive style" as well as for commissioning 60 new works.
Musical America, which was founded as a weekly newspaper in 1898, began the tradition of choosing an annual Musician of the Year in 1960, concurrent with the publication of their first annual directory—now an industry-standard reference guide to artists and performing organizations worldwide. Awards for Instrumentalist, Conductor, Composer, and Vocalist of the Year date from 1992; the Ensemble of the Year category was added in 1995.
(Compiled and edited by Frank J. Oteri)