New Music News Wire
Mason Bates is Next California Symphony Young American Composer-in-Residence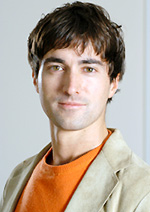 Mason Bates
Photo by Mike Minehan
The California Symphony has announced the appointment of Mason Bates as Young American Composer-in-Residence for the three-year period 2007-2010. The Young American Composer-in-Residence Program, a feature totally unique to the California Symphony, offers emerging composers the coveted opportunity to develop, refine, and premiere a new work during each year of the residency.
Mason Bates (b. 1977), a recipient of both a Rome Prize and a Berlin Prize, has worked in a wide variety of genres including orchestral, chamber, theatrical, and electronic composition. He has been commissioned by the Los Angeles Philharmonic, the National, Phoenix, and Oakland symphonies, and his alma mater, The Juilliard School. Bates is currently on the roster of Young Concert Artists and enrolled in a doctoral program at the University of California, Berkeley.
Launched in 1991, the Young American Composer-in-Residence has garnered national attention for its one-of-a-kind "orchestra-as-laboratory" residency approach, and catapulted all previous participants to international success. The California Symphony facilitates the composition process by providing several taped rehearsals of the commissioned work, along with feedback from the musicians. This process is a tremendous benefit, since composers rarely have the opportunity to hear their new works far enough in advance to make meaningful revisions prior to a public premiere. The program is supported by the National Endowment for the Arts, the Aaron Copland Fund, the BMI Foundation, and others. Previous Young Composers-in-Residence at the California Symphony have been Kamran Ince, Kevin Puts, Pierre Jalbert, Christopher Theofanidis, and Kevin Beavers.
Phyllis Chen Named Concert Artist Guild's 2007 New Music/New Places Fellow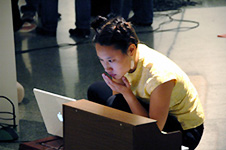 Phyllis Chen
Phyllis Chen has been named the 2007 Concert Artists Guild New Music/New Places Fellow. CAG President Richard Weinert made the announcement as part of CAG's Awards Showcase program on October 24 at Carnegie's Weill Recital Hall. The New Music/New Places initiative places roster artists performing concert music in nontraditional settings to build new audiences and better reflect the diversity of the current performance landscape.
Phyllis Chen's artistic pursuits take her in numerous directions as a pianist, toy pianist, composer, and performance artist. Since finding the toy piano, Chen has been offering original multimedia compositions using toy pianos, electronics, and video. She is a member of the International Contemporary Ensemble (ICE), a Chicago and New York-based group dedicated to the performance and promotion of new works. Her traditional credits include honors at the International Bartok/Kabalevsky Piano and the Coleman Chamber Music Competitions. Chen hosts her own radio program, The Toad's Wart, on Indiana University's radio station as she completes her DMA under the tutelage of André Watts.
Concert Artists Guild is an arts service organization whose mission is to discover, nurture, and promote young musicians. Since its founding in 1951, over 500 instrumentalists, singers, and chamber ensembles have received career services from CAG. Other 2007 CAG competition award recipients include: soprano Sarah Wolfson, who was awarded first prize; harpist Bridget Kibbey; pianist Daria Rabotkina; and the Carducci String Quartet. All recipients additionally received Management Awards which offer performance opportunities on the CAG 2008-09 New York concert series as well as two-year management contracts with CAG. The 2007 competition began in March with over 350 applicants submitting recordings. From that initial number, close to 90 soloists and ensembles were invited for live semifinal auditions held in New York. Performing in front of judges from their fields, twelve finalists were invited to perform on October 23. A distinguished panel of judges heard each finalist perform a twenty minute recital program.
Ambrose Akinmusire Wins Thelonious Monk Competition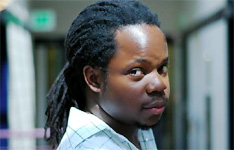 Ambrose Akinmusire
Trumpeter Ambrose Akinmusire is the first prize winner of the 20th annual competition of the Thelonious Monk Institute of Jazz. The announcement of the prize, which comes with a $20,000 scholarship, was made during a star-studded concert held at Hollywood's Kodak Theatre on Sunday, October 28, 2007, which also featured a tribute to the institute's chairman Herbie Hancock.
Ambrose Akinmusire was born in Nigeria and grew up in Oakland, California. He began playing piano at age four, drums at age 11, and trumpet at age 12. Akinmusire attended Berkeley High School and then moved to New York to attend the Manhattan School of Music. At the Manhattan School, he studied with Steve Coleman and in 2001 began touring and recording with him. Ambrose, who is now 25 years old, has toured with Herbie Hancock and Wayne Shorter throughout Vietnam and India. He has also performed and recorded with artists such as Joe Henderson, Christian McBride, Aaron Parks, Joshua Redman, and the San Francisco Jazz Collective.
Each year the institute attracts young jazz musicians from all over the world to compete for a series of scholarships. This year's competition, for jazz trumpeters, was judged by Quincy Jones, Herb Alpert, Terence Blanchard, Hugh Masekela, Clark Terry, and Roy Hargrove. Ambrose Akinmusire, Michael Rodriguez, and Jean Caze were selected from a group of ten outstanding young jazz trumpet players following the semifinals of the competition, which were held on Saturday, October 27 at Schoenberg Hall on the University of California, Los Angeles campus. Second place winner Jean Caze received a $10,000 scholarship, and third place winner Michael Rodriguez received a $5,000 scholarship.
(Compiled and edited by Frank J. Oteri)