ASCAP & Lehmann Foundation Announce Winners of Art Song Competition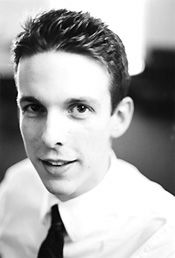 Zachary Wadsworth
Frances Richard, ASCAP Vice President and Director of Concert Music and Linn Maxwell, President of the Lotte Lehmann Foundation (LLF) announced the winners of the second ASCAP/Lotte Lehmann Foundation Art Song Competition on November 16. The competition, named for German-American soprano and vocal pedagogue Lotte Lehmann (1888-1976), was established to encourage and recognize gifted young composers under the age of 30 who write for voice.
The First Prize ($3,500) has been awarded to Zachary Wadsworth, age 24, of Richmond, VA. Wadsworth will receive a commission to write a song cycle for voice and piano to be published by E.C. Schirmer. The commissioned song cycle will be performed in three major American cities. Second Prize ($1,000) was awarded to Allen McCullough, age 29, of Lansdowne, PA and Third Prize ($750) was awarded to Ryan Gee, age 29, of Austin, TX. Both Second and Third Prize winners receive commissions to compose an art song for voice and piano. The Damien Top Prize ($500) was awarded to Isaac Shankler, age 28, of Los Angeles, CA. The Damien Top Prize is a commission to set a poem by Andrée Brunin to be premiered at the 2008 Albert Roussel International Festival in France.
The competition judges were composers Susan Botti, William Rhoads, Su Lian Tan, and pianist/conductor, Scott Dunn.
The Lotte Lehmann Foundation, founded in 1998, is devoted to the preservation of Lehmann's artistic and teaching legacy, and to her commitment to educating the public to appreciate art song—music written for classically trained voice and piano, set to pre-existing poetry. ASCAP, established in 1914 as the first U.S. Performing Rights Organization, represents over 8.5 million copyrighted musical works of every style and genre from more than 300,000 songwriter, composer and music publisher members.
BMI Foundation Receives $250,000 Donation, Awards 1st Evelyn Buckstein Scholarship
The BMI Foundation, Inc. announced on November 21 that Evelyn Buckstein, BMI Assistant Vice President and Counsel and BMI Foundation Board Member, has established an endowed fund of $250,000 to create the Evelyn Buckstein Scholarship program. The recipient of the first scholarship is Charmel Rogers, a junior music major at City College of New York (CCNY). Rogers, who is a primarily self-taught guitarist and keyboardist, will receive a full tuition scholarship for the 2007-2008 academic year. After years of performing experience, Rogers has chosen to return to school in the CCNY jazz program to deepen his musicianship and be exposed to new ideas, including composing.
Evelyn Buckstein's bequest, the largest single donation in the Foundation's 22-year history, will provide scholarships for talented students attending college in the New York City area who hope to become professional songwriters, composers, performers or music teachers. In addition to the new scholarships, Evelyn Buckstein previously established the Foundation's Jerry Harrington Musical Theatre Awards, an annual program to acknowledge outstanding creative achievement of participants in the BMI Lehman Engel Musical Theatre Workshop.
The BMI Foundation, Inc. is a not-for-profit corporation founded in 1985 to support the creation, performance, and study of music through awards, scholarships, commissions, and grants. Tax-deductible donations to the Foundation come primarily from songwriters, composers and publishers, BMI employees, and members of the public with a special interest in music. Because both the Foundation staff and the distinguished members of its advisory panel serve without compensation, over 95% of all donations and income are used for charitable grants.
Herb Alpert Foundation Pledges $30 Million for UCLA Music Department
The Herb Alpert Foundation has given the University of California, Los Angeles (UCLA) a $30-million endowment pledge to establish the cross-disciplinary UCLA Herb Alpert School of Music, officials announced on November 16. The endowment will join UCLA's currently separate departments of ethnomusicology, music, and musicology, creating a single department for the study and performance of music of all genres.
A panel comprising faculty members from each of the merging departments has been assembled to plan curriculum changes before the year's end, which in addition to courses integrating the study of various music disciplines, will include classes about the music business, music in the public sector, and music and health. The Alpert School, which will be inaugurated in 2008, will be housed in existing facilities in the university's Schoenberg Hall. Timothy Rice, a professor in the department of ethnomusicology since 1987, has been named the first director of the new school which will be a division of UCLA's School of Arts and Architecture (UCLA Arts), which will remain under the leadership of Christopher Waterman, who has served as Dean of UCLA Arts since 2003.
The Alpert Foundation's endowment, which according to Waterman is expected to generate approximately $1.4 million annually over the course of its three-year disbursement, is the largest single gift to music education in the western United States. Among other gifts, the foundation, which will have distributed about $100 million by the end of the year since its founding in 1988, annually presents unrestricted grants to five mid-career artists (the Alpert Awards in the Arts, administered by California Institute of the Arts) and scholarships to four college-bound students (Emerging Young Artists Awards, administered by the California Alliance for Arts Education). Alpert additionally has funded a variety of programs across the country in support of jazz performance and education.
Six Musicians Among 2007 USA Fellows
Six musicians—Don Byron, Michael Doucet, Leila Josefowicz, Jason Moran, John Santos, and Evan Ziporyn—were among 50 recipients of 2007 fellowships from the United States Artists Foundation. The $50,000 fellowships, which are awarded in the categories architecture/design, crafts/traditional arts, dance, literature, media, music, theater arts and visual arts, are selected after nominations by an anonymous committee. To be eligible, artists must possess "expert artistic skill," have "received artistic education or training (formal or informal)," "attempted to derive income from those skills" and "been actively engaged in creating artwork and presenting it to the public."
The United States Artists Foundation was established in response to the Urban Institute's 2003 study of the support structure for U.S. artists with $20 million in seed money from the Ford, Rockefeller, Prudential, and Rasmusen Foundations in September 2005. The foundation began awarding $50,000 fellowships to artists in all disciplines in December 2006. Among the 2006 music awardees were John Luther Adams, Bill Frisell, and Ali Akbar Khan. In addition, Meredith Monk received a fellowship in 2006 for theatrical arts. Among the 2007 fellowship recipients in other discipines are choregraphers Bill T. Jones and Shen Wei, visual artists Uta Barth, Gary Simmons, and Ann Hamilton, director/playwright Tina Landau, filmmaker Julie Dash, and poet John Haines.
For further information about United States Artists, visit their website. The complete text of the Urban Institute's 2003 study, "Investing in Creativity: A Study of the Support Structure for U.S. Artists" is available as a PDF download.
(Compiled and edited by Frank J. Oteri)