Carlos Sanchez-Gutierrez wins 2008 Barlow Prize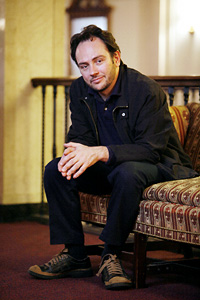 Carlos Sanchez-Gutierrez
Carlos Sanchez-Gutierrez has been awarded the 2008 Barlow Prize to compose a new work for percussion ensemble. The award of $10,000, which was sought after by a total of 327 composers applying from nearly two dozen countries, will fund the commissioning of a work scheduled to premiere in 2009.
Born in Mexico City in 1964, Carlos Sanchez-Gutierrez studied composition with Henri Dutilleux, Jacob Druckman, and Martin Bresnick. He serves as Composer-in-Residence at the Morelia International New Music Festival in addition to similar duties with the Binghamton Philharmonic. Past awards include prizes from the Koussevitzky, Guggenheim, Fromm, and Rockefeller foundations. He holds an Associate Professorship in Composition at the Eastman School of Music in Rochester, New York.
In addition, out of 135 applications for our General and LDS commissioning programs, the endowment granted $76,000 to twelve composers who will write works for the following:
Robert Beaser (Boston Youth Symphony)
Ross Bauer (New York New Music Ensemble)
Eric Moe (Boston Modern Orchestra Project)
Ronald Smith (Del Sol String Quartet)
Christopher Tignor (Brooklyn Rider String Quartet)
Peter Gilbert (Michael Norsworthy, clarinet)
Lawrence Moss (Left Bank Concert Society)
David Sanford (Duo D'amore)
Matthew Barnson (Sospiro Winds)
Ethan Wickman (Avalon String Quartet)
Bruce Polay (Lynn University Conservatory String Quartet)
Peter McMurray (Willow Flute Ensemble)
The judging panel included the Endowment's Board of Advisors: Melinda Wagner, Claude Baker, Lansing McLoskey, Daniel Gawthrop, and Steve Ricks. John Costa served as a guest judge. Three representatives from the performing consortium associated with the 2009 premieres of Carlos Sanchez-Gutierrez's new work for percussion ensemble also collaborated in the deliberations: Ray Dillard (Nexus–Tornoto, Canada); Anders Loguin (Kroumata–Stockholm, Sweden); and Adam Sliwinski (So Percussion–New York City, USA).
Next year's Barlow Prize will be a major new work for string quartet. Further details will be announced after the first of the year.
Zizi Mueller Named New Director of Composers & Repertoire at Boosey and Hawkes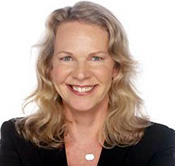 Zizi Mueller
Flutist Zizi Mueller has been named the new Director of Composers & Repertoire at Boosey and Hawkes, Inc., the New York-office of the London-based publishing firm whose roster of American composers includes John Adams, Elliott Carter, Aaron Copland, Chick Corea, Andrew Hill, Meredith Monk, Steve Reich, and Igor Stravinsky.
Mueller has commissioned and performed new works by a spectrum of international composers throughout the Americas and Europe and is the Founder and Artistic Director of the new music group MOSAIC. She has also served as a recording producer for a variety of new music recordings: Steven Mackey's Heavy Light; Whispers, a CD of Sebastian Currier's chamber works; the recording of Margaret Brouwer's orchestral works with Evelyn Glennie, Gerard Schwarz and the Liverpool Philharmonic; and a DVD of music and video of works by composers Rand Steiger and Sebastian Currier, to be released by Bridge Records later this year.
In her new role, Mueller will be responsible for overseeing all promotion and publicity activities in North and South America, covering the full range of Boosey & Hawkes repertoire as well as catalogues that B&H represents on an agency basis. She will liaise with key composer estates and manage the New York company's roster of composers, including their future projects and commissions. She will also work closely with Janis Susskind, the group's overall Publishing Director, in developing the catalogue and identifying new talent. Zizi Mueller succeeds Helane Anderson who left B&H earlier this year to become Artistic Administrator of the Los Angeles Philharmonic. In addition, Trudy Chan's role in the New York office has expanded. Now Senior Promotion Executive, Chan—who has worked at B&H since 2004—will continue to handle responsibilities she has undertaken since Anderson's departure.
Fromm Music Foundation Announces 2007 Commissions
The Board of Directors of The Fromm Music Foundation at Harvard University has announced the recipients of the 2007 Fromm commissions. A total of 13 composers out of a total of 224 applications have been awarded:
Steve Antosca (Rosemont, MD)
Tamar Diesendruck (Los Angeles, CA)
Mark Engebretson (Greensboro, NC)
Joel Feigin (Goleta, CA)
David Glaser (New York, NY)
Shirish Korde (Cambridge, MA)
Paul Lansky (Princeton, NJ)
Lei Liang (San Diego, CA)
Philippe Manoury (San Diego, CA)
Tamar Muskal (New York, NY)
Allan Schindler (Fairport, NY)
Suzanne Sorkin (Wynnewood, PA)
Du Yun (New York, NY)
In addition to the commissioning fee of $10,000, a subsidy is available for the ensemble performing the premiere of the commissioned work.
Founded by the contemporary music patron Paul Fromm (1906-1987), the Fromm Foundation has commissioned more than 300 new compositions and has sponsored hundreds of new music concerts and concert series since its inception in 1952. Originally based in Chicago, the Foundation was moved to Harvard University in 1972 where it remains to this day. The Fromm Commissions represent one of the principal ways that the Fromm Music Foundation seeks to strengthen composition and to bring contemporary concert music closer to the public. Among a number of other projects, the Fromm Music Foundation also sponsors the annual Fromm Contemporary Music Series at Harvard and supports the Festival of Contemporary Music at Tanglewood.
2008 Grammy Finalists Announced
The National Academy of Recording Arts and Sciences (NARAS) has announced the finalists for the 2008 Grammy Awards.
This year's nominees for Classical Album of the Year include two discs devoted exclusively to contemporary American music: Joan Tower's Made in America, featuring performances by the Nashville Symphony conducted by Leonard Slatkin (Naxos American Classics); and Peter Lieberson's Neruda Songs, written for and sung by mezzo-soprano Lorraine Hunt Lieberson shortly before her death in a live performance with the Boston Symphony Orchestra conducted by James Levine (Nonesuch). Neruda Songs, which was awarded the 2008 Grawemeyer Award for Music Composition earlier this week, and Made in America, from Tower's same-titled disc, were also nominated for Best Classical Contemporary Composition along with Jennifer Higdon's Zaka (which was recorded by eighth blackbird), David Chesky's Bassoon Concerto, and Northern Concerto by Spanish composer Joan Albert Amargós. Lorraine Hunt Lieberson's performance of Neruda Songs has also been nominated for Best Classical Vocal Performance.
The Joan Tower disc was the only disc featuring American repertoire to be nominated for Best Orchestral Performance, although a disc devoted to concertos by Miklós Rózsa in performances by Anastasia Khitruk and the Russian Philharmonic Orchestra conducted by Dmitry Yablonsky (Naxos American Classics) as well as a disc featuring a performance of Samuel Barber's Violin Concerto by Canadian violinist James Ehnes with the Vancouver Symphony Orchestra conducted by Bramwell Tovey (CBC Records) have both been nominated in the category of Best Instrumental Soloist(s) Performance (with Orchestra). Strange Imaginary Animals, a disc of performances by eighth blackbird featuring Higdon's Zaka has been nominated for Best Chamber Music Performance. Nominees for Best Classical Producer of the Year include: Blanton Alspaugh (Stephen Hartke: The Greater Good and Rider On The Plains: Cello Concertos By Virgil Thomson And Charles Fussell) and Judith Sherman ( From Barrelhouse To Broadway: The Musical Odyssey Of Joe Jordan and Strange Imaginary Animals, eighth blackbird).
The Turtle Island String Quartet's disc of arrangements of music by John Coltrane has been nominated for Best Classical Crossover Album. Albums by Will Bernard, Brian Bromberg, Eldar, Herbie Hancock, and Jeff Lorber have been nominated for Best Contemporary Jazz Album; albums nominated for Best Large Jazz Ensemble Album are Terence Blanchard's A Tale Of God's Will (A Requiem For Katrina) (Blue Note), The Bob Florence Limited Edition's Eternal Licks & Grooves (Mama Records), The Bill Holman Band's Hommage (Jazzed Media), Maria Schneider's Sky Blue (ArtistShare), and the Charles Tolliver Big Band's With Love (Blue Note).
Nominees for Best Musical Show Album are: Scott Frankel and Michael Korie's Grey Gardens and Duncan Shiek's 2007 Tony Award-winning Spring Awakening, plus cast albums of revival productions of Stephen Sondheim's Company, Marvin Hamlisch and Edward Kleban's A Chorus Line, and Leonard Bernstein and Stephen Sondheim's West Side Story. Scores by James Newton Howard (Blood Diamond), Javier Navarrete (Pan's Labyrinth), John Powell (Happy Feet), Gustavo Santaolalla (Babel), and Howard Shore (The Departed) have been nominated for Best Score Soundtrack Album For Motion Picture, Television Or Other Visual Media.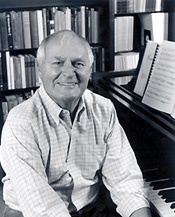 H. Wiley Hitchcock
H. Wiley Hitchcock (1923-2007)
American musicologist H. Wiley Hitchcock died on December 5 after a long battle with cancer. Hitchcock was founder of the Institute for Studies in American Music at Brooklyn College of the City of New York (1971) and co-editor, with Stanley Sadie, of the New Grove Dictionary of American Music (1986). A lengthy conversation with Hitchcock was first published on NewMusicBox in December 2002 and can still be accessed here.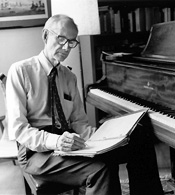 Andrew Imbrie
Andrew Imbrie (1921-2007)
NewMusicBox has also just learned of the passing of American composer Andrew Imbrie. Imbrie's extensive compositional output includes three symphonies, three piano concertos, concertos for violin, cello, and flute, five string quartets, a requiem and two operas. Although atonal in harmonic disposition, Imbrie eschewed serialism. A longtime member of the music department of the University of California, Berkeley, he taught composition, theory, and analysis there from 1949 until his retirement in 1991.
(Compiled and edited by Frank J. Oteri)