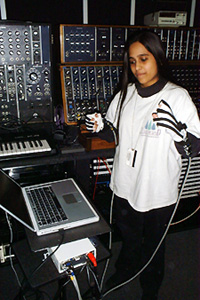 Asha Srinivasan
Photo by Craig Sapp
Winner of BMI Foundation's Inaugural Women's Music Commission Announced
Asha Srinivasan, a DMA student in composition at the University of Maryland, won the first Women's Music Commission, sponsored by the BMI Foundation. From a group of 74 female composers between the ages of 20 and 30, Srinivasan was chosen to receive $5,000 to commission a new work for the New York-based Orchestra of St. Luke's (OSL).
Srinivasan, who holds degrees from Goucher College and the Peabody Conservatory, combined Indian classical music with Western and electronic styles in her previous work, and she is currently a teaching assistant in electronic music composition. Her piece for the Women's Music Commission will be premiered in June at a showcase concert of female composers.
Joan Tower, OSL Composer-in-Residence, and Elizabeth Ostrow, OSL Director of Artistic Planning, served as the artistic coordinators for the project. The judges for the competition were Margaret Brouwer, Chester Biscardi, and Joan La Barbara, with the final winner chosen by a panel comprised of the Orchestra of St. Luke's artistic personnel.
In addition to awarding Srinivasan, the panel also cited three honorable mentions: Alexandra du Bois, a Juilliard graduate student previously awarded a commission for the Kronos Quartet; Hannah Lash, a graduate student at Harvard University and the Cleveland Institute of Music; and Wang Jie, a New York-based composer originally from Shanghai.
Douglas Henderson among grant recipients from Foundation for Contemporary Arts
Douglas Henderson, a New York-based sound artist, was one of three composers to receive individual grants of $25,000 each from the Foundation for Contemporary Arts.
Henderson specializes in electro-acoustic sound installations and sound-producing sculptures, and he has collaborated with dance groups and choreographers to write scores for modern dance performances. Most recently, his sound installations have been on display in Germany, Denmark, and galleries in New York City.
The Foundation for Contemporary Arts awards these individual grants to "outstanding or unusually promising artists." The other two grant recipients in music are Yuko Nexus6, a composer of digital and interactive music from Japan, and Jennifer Walshe, a vocalist and composer of vocal, choral, and chamber music from Dublin, Ireland.
Schirmer Appoints New Vice President
G. Schirmer/Associated Music Publishers has named Kristin Lancino its new vice president. Lancino has worked as an independent arts consultant since 2000, working with such institutions as the 92nd Street Y and the Chamber Music Society of Lincoln Center. Prior to that, she worked for 15 years at Carnegie Hall, serving as director of education and director of artistic planning. At Schirmer, she will take over the position held for the last twenty years by Susan Feder.
(Edited by Dave Allen)