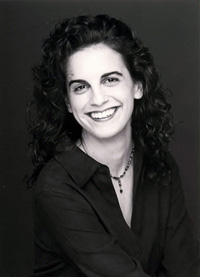 Stacy Garrop
Photo courtesy Dallas Symphony Orchestra
Stacy Garrop Wins First $10K Detroit Symphony Lebenbom Award for Female Composers
Stacy Garrop has been named the winner of the first-ever Elaine Lebenbom Memorial Award for Female Composers sponsored by the Detroit Symphony Orchestra. In addition to a $10,000 prize, Garrop will also receive a commission for a new work to be premiered by the DSO in May 2008. Garrop was selected from a field of 192 applicants from 17 countries who submitted work to the inaugural competition.
Garrop, a professor of composition at Roosevelt University in Chicago, has previously written music in choral, chamber and orchestral settings, and her orchestral works have been performed throughout the Midwest by groups including the Minnesota Orchestra, the Omaha Symphony, and the Civic Orchestra of Chicago.
The Lebenbom Award was established in honor of Elaine Lebenbom, a Detroit-area composer, poet and teacher whose music the DSO had previously performed. The Award is the only symphony-sponsored contest specifically for women.
John Cage Trust Finds New Home at Bard College
The John Cage Trust has officially become a resident organization of Bard College. The Trust has held the rights to the late composer and philosopher's works, both published and unpublished, since shortly after his death in 1992.
Bard, a liberal-arts college with approximately 1,600 students in Annandale-on-Hudson, N.Y., recently established a Conservatory of Music, and the addition of John Cage's works and writings will allow the school, according to college president Leon Botstein, "to develop new and innovative educational and performance programs reflective of Cage's groundbreaking work and extraordinary life."
Upon relocation to Bard later this year, Dr. Laura Kuhn, who co-founded the Trust with Merce Cunningham, Anne d'Harnoncourt, and David Vaughn, and who also serves as its director, will assume the position as the John Cage Professor of Performance Arts and will teach courses to Bard students.
Zipper and Trapani Selected for Gaudeamus Music Week 2007
Works by American composers Hillary Zipper and Christopher Trapani have been selected for performance at the 2007 Gaudeamus Music Week, to be held September 3 through 9 in Amsterdam. Gaudeamus jury members chose Zipper's string quartet A field guide to falling snow and Trapani's Sparrow Episodes, a composition for an ensemble of sixteen players, out of more than 380 entries from 54 countries. Zipper and Trapani's works are in the chamber music division of the competition and are among 17 works that will be considered for the Gaudeamus Prize, which carries with it an award of 4,550 Euro and a commission for a new ensemble work. The 2007 jury was Kevin Volans (South Africa/Ireland), Yannis Kyriakides (Cyprus/Netherlands), and Mary Finsterer (Australia).