Boosey & Hawkes Signs Jazz Composer Andrew Hill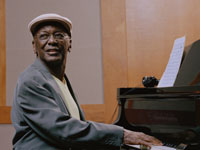 Andrew Hill
Photo by Jimmy Katz, courtesy Boosey & Hawkes
Jazz great Andrew Hill has been signed by music publisher Boosey & Hawkes. Hill's reputation as a composer, pianist, and bandleader was established by a series of landmark 1960s recording sessions for Blue Note. Hill's latest recording, Time Lines, released in 2006, was named Best Jazz Album by Downbeat. In recent years, Hill received the 2003 JAZZPAR Award, and has been a four-time winner of Jazz Composer of the Year Award from the Jazz Journalists Association.
"Andrew may not be a household name, but he is extremely well regarded in the jazz community: a musician's musician, or more to the point, a composer's composer," according to Marc Ostrow, general manager of Boosey & Hawkes, Inc., the New York-based affiliate of the British company. "Signing an artist like Andrew sends a powerful signal to the jazz community that we, B&H, classical music folks, really know the jazz repertory and are committed to the genre. We happen to represent a classical repertoire, but we are as adept as anyone, probably better, at managing the registration and collection of mechanicals and small rights, the bread and butter of a jazz composer. And because we do not have an extensive pop catalog to generate income, we must seek every penny for all our composers and are used to doing so with very proactive registration and royalty tracking personnel. While financial considerations are always there, particularly given the current climate within the music industry, artistic considerations remain paramount for us."
Boosey & Hawkes launched its jazz division in spring 2006 by signing Chick Corea and David Benoit and soon entered an agency agreement with Second Floor Music, a straight-ahead jazz publisher which represents more than 3500 titles. B&H will co-publish Hill's Jazz Fund Catalog, which includes nearly 80 compositions, and will administer any works Hill writes within the next several years.
Daron Hagen Receives Commission from Seattle Opera
Daron Hagen has been commissioned by the Seattle Opera to write a new work for the company's 2009-10 season. In collaboration with librettist Gardner McFall, Hagen will author Amelia, an opera based on a story by Stephen Wadsworth which draws upon themes of flight. The two-act opera will be premiered at Seattle's Marion Oliver McCaw Hall in May 2010.
Amelia is set during a 30-year period from 1966 to 1996 and will address man's fascination with flight, including the myth of Icarus and Daedalus, and the use of flight for exploration, adventure, and war. Hagen began the concept for the opera in 2003, and his interest in the theme of flight has influenced his work since then. In his 2005 song cycle, Flight Music, for treble chorus and string quartet, Hagen set words spoken by famed pilot Amelia Earhart.
Paul Moravec Appointed to Princeton's Institute for Advanced Study
Pulitzer Prize-winning composer Paul Moravec has been named Artist-in-Residence for the Princeton, N.J.-based Institute for Advanced Study. Upon starting in the position on July 1, Moravec will introduce new works and lead the Institute's annual concert series. In addition to directing the IAS concert series, Moravec will also be working on his first major opera, as well as a new piece for the Orpheus Chamber Orchestra.
The Institute for Advanced Study houses theoretical research and scholarship in historical studies, mathematics, natural sciences, and social sciences. Scientists and scholars such as Albert Einstein and J. Robert Oppenheimer have served on its faculty. The artist-in-residence program was introduced to bring noted composers into the Institute's rigorous intellectual atmosphere. Robert Taub became the Institute's first artist-in-residence in 1994 and served in the position until 2001. Jon Magnussen has held the position since 2000.
Eleven Composers Receive 2007 Guggenheim Fellowship Awards
Eleven composers have received 2007 John Simon Guggenheim Fellowship Awards. They are among 81 award recipients in the creative arts, and part of a group of 189 individuals receiving awards totaling $7.6 million.
The Fellowship winners in music composition are:

Guggenheim Fellows are chosen based on "distinguished achievement in the past and exceptional promise for future accomplishment." For more information on the award recipients and a list of the Fellowships' Board of Trustees and Selection Committee, please see the Guggenheim Fellowship's website.