20 Composers Honored by American Academy of Arts and Letters
A total of 20 composers were honored by the American Academy of Arts and Letters at its annual Ceremonial in New York on May 16, 2007. Honors included the presentation of 15 cash awards totaling $165,000. Among the nine new members inducted into the Academy, which also inducts writers and visual artists, was 2005 Pulitzer Prize-winning composer Steven Stucky. In addition, British composer Harrison Birtwistle was inducted as a foreign honorary member.
The Academy's Award in Music was awarded to four composers this year who each received $7500: Leonardo Balada, Mason Bates, Chester Biscardi, and Ben Johnston. Richard Rodgers Awards for the Musical Theatre, which support professional staged readings of new musical theatre works, were given to Barry Wyner for his musical Calvin Berger and to composer Paul Libman and lyricist Dave Hudson for their musical Main-Travelled Roads. Jeffery Cotton received the Walter Hinrichsen Award, established by the C.F. Peters Corporation for the publication of a new work by a gifted American composer.
George Tsontakis was formally acknowledged as the recipient of the previously announced Charles Ives Living Award which gives a talented composer an income of $75,000 per year for a period of three years (totaling $225,000). Charles Ives Fellowships of $15,000 were awarded to Arlene Sierra and Aleksandra Vrebalov. Charles Ives Scholarships of $7500 were awarded to David Fulmer, Trevor Gureckis, Dan Visconti, Jay Wadley, Zachary Wadsworth, and Orianna Webb. Two $15,000 Goddard Lieberson Fellowships were awarded to Seung-Ah Oh and Shih-Hui Chen.
Tobias Picker Named Artistic Advisor to Dicapo Opera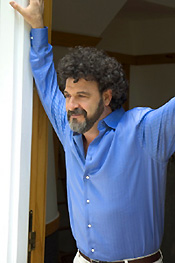 Tobias Picker
Michael Capasso, general director of Dicapo Opera Theatre, has announced that beginning with the 2007-08 season, composer Tobias Picker, whose Thérèse Raquin was presented by Dicapo in its New York premiere this past season, will be Artistic Advisor of the company. In this newly created role, Mr. Picker will advise on repertoire and artistic planning.
"In the past several years we have been adding more contemporary music to our schedule," said Michael Capasso. "We had an especially positive response to this season's Thérèse Raquin performances, so we are delighted that Tobias Picker is joining us here at Dicapo."
Dicapo Opera Theatre, co-founded in 1981 by Michael Capasso and Diane Martindale, is the only professional non-profit opera company in New York City—aside from the Metropolitan Opera and New York City Opera—presenting a full season of opera productions, musical theater, concerts, and other events in its own facility, located on the lower level of St. Jean Baptiste Church on East 76th Street. The company's presentations range from traditional repertoire to rarely performed operas, and at least one contemporary work each season. Among Dicapo Opera Theatre's offerings in 2007-08 will be two concerts of music by Mr. Picker. In future seasons, Dicapo will present the New York premiere of Mr. Picker's Fantastic Mr. Fox, based on the Roald Dahl book of the same name, and new productions of his acclaimed first opera Emmeline and An American Tragedy.
$35 Million Increase in NEA Funding Approved
A $35 million increase in funding for the National Endowment for the Arts (NEA) has been approved by the U.S. House of Representatives' Interior Appropriations subcommittee. This increase is significantly higher than the modest $4 million increase proposed by the President and represents a much more substantial restoration of NEA funds than has been proposed by the House committee since the NEA sustained a 40% budget cut more than a decade ago.
Members of the House Interior Appropriations Subcommittee are: Ed Pastor (D-AZ), John Doolittle (R-CA), Todd Tiahrt, (R-KS), Ben Chandler (D-KY), John Olver (D-MA), Jo Ann Emerson (R-MO), Tom Udall (D-NM), Maurice Hinchey (D-NY), John Peterson (R-PA), Virgil Goode, Jr. (R-VA), James Moran (D-VA), and Norman Dicks (D-WA), who serves as Chair.
The current funding level for the National Endowment for the Arts is $124.4 million. Despite incremental increases in funding, the NEA has never recovered from a 40% cut in FY96. The subcommittee's approval is the first major step towards setting the NEA's FY08 funding level. In the coming months, the full House will finalize its funding bill, and the Senate will begin crafting its funding recommendations.
– FJO