2007 ASCAP Foundation/Morton Gould Young Composer Awards Announced




The 2007 ASCAP/Morton Gould Young Composer Award Winners
On May 24, 36 composers under the age of 30 received ASCAP Foundation Morton Gould Young Composer Awards, including thirteen composers between the ages of 12–18.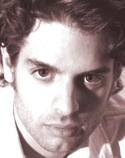 Eli Marshall
Eli Marshall (b.1977) picked up this year's Leo Kaplan Award—which is given to "the top recipient" of the ASCAP Foundation Morton Gould Young Composer Awards Program among composers between the age of 18 and 30—for his piece, Unde Pendet Æternitas for Solo Tenor and Orchestra. Marshall, who is originally from Maine, has been living and working in Beijing for the past four years and has won several ASCAP Young Composers' Awards, in addition to winning a Fulbright Scholarship and the Lotte Lehman Foundation Competition Damien Top Prize. He recently co-founded the Beijing New Music Ensemble and has undertaken many projects of musical exploration throughout China.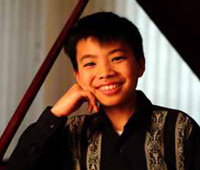 Kit C. Armstrong
Kit C. Armstrong (b.1992) won this year's Charlotte V. Bergen Scholarship, awarded to the top recipient among composers aged 18 or younger, for his piece Struwwelpeter for Viola and Piano. This marks his fifth consecutive ASCAP Young Composer Award. Armstrong has been composing since 1998 and has written numerous piano sonatas, string quartets, two piano quintets, and a symphony, Celebration, composed when he was only 7 years old. Armstrong has also toured extensively as a concert pianist, has played with the Baltimore Symphony Orchestra, and has performed Beethoven's Piano Concerto No. 1 under Sir Charles Mackerras. Armstrong is currently enrolled in the Royal Academy of Music and the Imperial College in London.
This year's recipients of the 2007 ASCAP Foundation Morton Gould Young Composer Awards are: Mason Bates of Oakland, CA; William David Cooper of New York, NY; Anthony Cheung of New York, NY; Jacob Cooper of New Haven, CT; Christopher Dietz of Ann Arbor, MI; Michael Early of Princeton, NJ; Reena Esmail of New York, NY; Sean Friar of Pacific Palisades, CA; Ryan Gallagher of New York, NY; Cory Hibbs of Baltimore, MD; Takuma Itoh of Ann Arbor, MI; Angel Lam of Baltimore, MD; Xinyan Li of Kansas City, MO; Eric Lindsay of Los Angeles, CA; Eli Marshall of Freedom, ME; Missy Mazzoli of Brooklyn, NY; Clint Needham of Bloomington, IN; Adam Schoenberg of New York, NY; Zhou Tian of New York, NY; Zachary Wadsworth of Richmond, VA or New Haven, CT; Derrick Wang of New Haven, CT; Jie Wang of New York, NY; and Xi Wang of Ithaca, NY.
Special prizes are awarded to young composers between the ages of 12 and 18; this year's recipients are: Kit Armstrong, age 14, of Los Angeles, CA, who also was awarded the 2007 Charlotte V. Bergen Scholarship; Anderson F. Alden, age 15, of Santa Monica, CA; Tim Callobre, age 13, of Pasadena, CA; Anthony Duarte, age 16, of Interlochen, MI; Max Grafe, age 18, of Wallkill, NY; Gabrielle Haigh, age 14, of Cleveland Heights, OH; Sunbin Kim, age 16, of Ringwood, NJ; Jeremiah Klarman, age 14, of Chestnut Hill, MA; Elizabeth Ogonek, age 17, of Garfield, NJ; Edward Poll, age 18, of Bryn Mawr. PA; Armand Ranjbaran, age 17, of Garden City, NY; Thomas Reeves, age 12, of New York, NY; and Conrad Tao, age 12, of New York, NY.
Named after composer Morton Gould (1913-1996) who served as the president of both ASCAP and the ASCAP Foundation from 1986 until 1994, the Morton Gould Young Composer Awards are supported by the Morton Gould, Norworth, and DeVries funds, as well as the software company Sibelius. The awards total at over $45,000, and were judged this year by composers Samuel Adler, Kathryn Alexander, Derek Bermel, Chen Yi, Sebastian Currier, Charles Fussell, and Christopher Theofanidis.
In addition to the Young Composer Awards, ASCAP also presented awards to: David Del Tredici (the Aaron Copland Award); Frank J. Oteri (the Victor Herbert Award); Gil Rose, of the Boston Modern Orchestra Project; and the Imani Winds wind quintet (Valerie Coleman, flute; Toyin Spellman-Diaz, oboe; Mariam Adam, clarinet; Jeff Scott, French horn; and Monica Ellis, bassoon).
On June 5, Tower Records announced that its legacy will live on in the form of their online business, Tower.com, Inc. Tower Records, the media clearinghouse that for years committed itself to stocking classical music, world music, and other extensive genres not usually found at such large retailers, will retain their wide selection on their website, although the generous musical advice usually offered by Tower's classical section employees will be surely missed. Unfortunately, tower.com has yet to develop a functional search engine specifically for classical music, which does not conform to the ubiquitous "artist/album" criteria that classify the entire website's contents. Despite the difficulty in locating specific recordings, tower.com still offers one of the largest selections of classical music available online.
Mark Feldman, Cynthia Hopkins Honored with 2007 Alpert Awards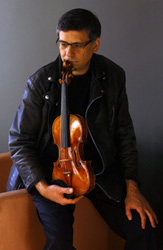 Mark Feldman
Violinist and composer Mark Feldman, along with four other "daring artists in the fields of dance, film, music, theater, and visual arts," was recently awarded with an Alpert Award for Music of $75,000. Feldman has collaborated and recorded with dozens of notable composers and performers, including John Abercrombie, Lee Konitz, John Zorn, Michael Brecker, Dave Douglas, and Johnny Cash. He has been commissioned to compose violin concertos by both the Netherlands Radio Philharmonic and the WDR Radio Orchestra of Cologne, with whom he has performed numerous times.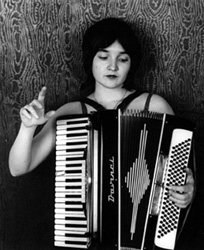 Cynthia Hopkins
Cynthia Hopkins, whose recent work, Must Don't Whip 'Um, premiered at St. Ann's Warehouse in January 2007, won the Alpert Award for Theater, though her performances often incorporate dance, video art, live and recorded music, and other multimedia elements. Hopkins was also supported by the Bang on a Can People's Commissioning Fund in 2005, and her operetta, Accidental Nostalgia, has been performed at several venues, including Mass MoCA. According to her website, the funding of the Alpert prize will help her produce a new work, entitled The Success of Failure; or, The Failure of Success (Part III of The Accidental Trilogy).
The Alpert Award in the Arts, endowed by Herb Alpert in association with the California Institute of the Arts, is awarded annually to artists in five different areas of artistic production; Feldman and Hopkins, along with the other recipients, each received unrestricted grants of $75,000. The amount of this year's prizes has increased from $50,000, and the five recipients are all, coincidentally, based in New York. Winners of the award will hold week-long teaching residences at CalArts. Other recipients of this year's Alpert Awards include Jeanine During (Dance), Jacqueline Goss (Film/Video), and Walid Raad (Visual Arts).
—Compiled by Ted Gordon