Kirsten Volness
Kirsten Volness Wins BMI Foundation's 2nd Annual Women's Music Commission
The BMI Foundation announced today that Kirsten Volness has been named the winner of the their second Annual Women's Music Commission. Ms. Volness will receive $5,000 to create a new work to be premiered by the Colorado Quartet at Symphony Space in New York City in May 2008.
In making the announcement, BMI Foundation President Ralph N. Jackson said that "the commission commemorates both the 25th Anniversary of the Colorado Quartet and the 30th Anniversary of Symphony Space, and celebrates both organizations' long and outstanding commitment to American composers and new music."
The BMI Women's Music Commission is a competition open to American women composers between the ages of 20 and 30, was judged under pseudonyms. A total of 54 entries were received from across the United States. The judges for the competition were Lisa Bielawa, Shafer Mahoney, and Joan Panetti, with the final winner chosen by the members of the Colorado Quartet and Laura Kaminsky, Curator of Music Programs at Symphony Space, who served as Artistic Coordinator for the Women's Music Commission project.
Kirsten Volness (b. 1980) is currently completing a DMA in Composition at the University of Michigan. She already holds an MM from U. Mich. and has worked there with Bright Sheng, William Bolcom, Betsy Jolas, Michael Daugherty, Karen Tanaka and studied electronic music with Evan Chambers and Erik Santos. She received a Bachelor of Arts, summa cum laude, from the University of Minnesota where she studied with Judith Lang Zaimont. Her electronic work has been performed at numerous festivals including Bourges, SEAMUS, Electronic Music Midwest, and Third Practice. Her acoustic work has been performed by the Ann Arbor Symphony Orchestra, featured at the Montreal Fringe Festival and presented at various concerts throughout the US, Europe, and Australia.
Former New Albion Manager Heads to Cleveland Museum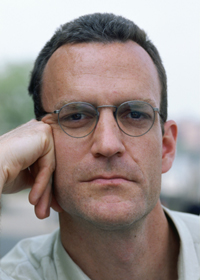 Tom Welsh
Photo by Ellen Kaplowitz
The Cleveland Museum of Art (CMA) has appointed Thomas M. Welsh as associate director for music, effective July 1, 2007. Welsh formerly managed New Albion Records and led Elision Fields, an artist management company and record label based in San Francisco where his roster included Terry Riley, Stefano Scodanibbio, Brandon Ross, Harriet Tubman, and Matthias Ziegler. In his new position at CMA, Welsh will be responsible for the programming of CMA's Western classical music series.
"Tom comes with a deep understanding of music's evolution from the 10th to the 21st century. Not only does he possess a great passion for music from Bach to Reich, but he also has the ability to convey this passion to others. This, I believe, will play an important role in the future of the CMA's venerable music programming," said Massoud Saidpour, CMA director of performing arts, music and film.
Welsh has written extensively about music for print publications and online magazines as well as a book forthcoming on University of California Press, and has been a guest on numerous panels and conferences internationally. The Cleveland Museum of Art is one of America's foremost museums, with a permanent collection that includes more than 42,000 works of art spanning more than 6,000 years.
SoundExchange Reconsiders New Royalty Rates
The new royalty rates for internet radio scheduled to take effect on Monday, July 16, 2007, will not be enforced by SoundExchange, a nonprofit performance rights organization jointly controlled by artists and sound recording copyright owners, which had been lobbying heavily for the rate increase. Jon Simson, executive director of SoundExchange, announced during a Congressional Hearing on July 12 that SoundExhange would postpone imposing the rate hike, at least temporarily, after the after the U.S. Court of Appeals for the District of Columbia denied motions to force a postponement. The new rates, which were to be paid by webcasters on a song-per-song basis as well as on the basis of listening hours, included minimum payments across the board and were retroactive to January 1, 2006.
Many broadcasters have claimed that the proposed new rates would have forced them out of business. SoundExchange is still in negotiations about a new royalty scheme, arguing that internet radio broadcasters need to pay higher royalties. In the interim, they have offered to extend 1998 royalty rates for small commercial Internet radio companies.
Compiled by Ted Gordon and Frank J. Oteri