Copland House Declared National Historic Landmark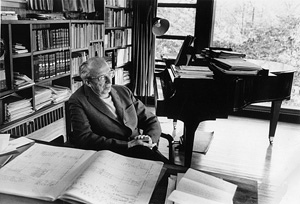 Aaron Copland at the work desk in his studio (c. 1970)
Photo: courtesy Copland House, Inc.
United States Secretary of the Interior Dirk Kempthorne has declared the restored Cortlandt Manor, New York, home of American composer Aaron Copland a National Historic Landmark. Landmark status is bestowed on properties deemed to be "nationally significant and possessing exceptional value or quality in illustrating or interpreting the heritage of the United States." Fewer than 2,500 places across the country bear this national distinction, and Copland House is the only site so honored in America associated with a classical music figure. Copland House was the composer's residence for the last thirty years of his life (from 1960 until his death in 1990) and is currently celebrating its 10th anniversary of concerts and residencies.
Nine composers have been awarded all-expenses-paid residencies at Copland House this season, selected from over 100 applicants in 31 states: Yu-Hui Chang (37, now living in Arlington, MA), Christopher Dietz (31, Ottawa Hills, OH), Du Yun (31, New York, NY), Geoffrey Gordon (40, Cedarburg, WI), Mark Kilstofte (50, Greenville, SC), Lei Liang (37, San Diego, CA), Justin Merritt (33, Northfield, MN), Stephen Andrew Taylor (43, Urbana, IL), and Ushio Torikai (56, New York, NY). The residencies will afford these composers an opportunity to focus uninterruptedly for periods of three to eight weeks on their creative work. Works expected to be created at Copland House by these composers will range from a piece for solo flute by Du Yun commissioned by the Fromm Foundation to operas by Stephen Andrew Taylor (based on the sci-fi novella Paradises Lost by Ursula K. Le Guin) and Geoffrey Gordon (inspired by the early 20th century Irish playwright J. M. Synge's early In the Shadow of the Glen).
Copland House, a prairie-style 1940s home, is surrounded by three acres of woodland near the Hudson River, and located in northern Westchester County, one hour north of New York City. While Copland lived there, he worked on his last major compositions—including Connotations for the Lincoln Center Inauguration, Inscape, the score for the film Something Wild, Emblems for wind ensemble, and the Duo for flute and piano—as well as authored his two-volume memoirs and many articles. From Rock Hill, he traveled the globe as a guest conductor of leading symphony orchestras and a revered elder statesman of American music. The house was a destination for two generations of composers, who ventured there for Copland's advice, support, and friendship, as well as countless scholars, journalists, musicians, dignitaries, and others.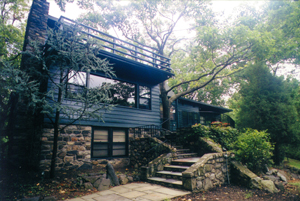 Copland House
Photo: Marion Gold, courtesy Copland House, Inc.
The successful effort to preserve Copland's home and honor his extraordinary musical and personal legacies began soon after his death with a grassroots coalition of local citizens and Town of Cortlandt officials. The house became operational as a creative center for American music 10 years ago. Copland House is the only composer's home in the U.S. devoted to nurturing and renewing America's musical heritage through a broad range of musical, educational, public, informational, and electronic-media programs. These include a composer residency program, a touring resident chamber ensemble called Music from Copland House, in-school activities for students from 2nd grade through college, recordings, broadcasts, internet projects, lectures, master classes, workshops, exhibits, and film screenings. A 501(c)3, not-for-profit organization, all programs are supported by the nationwide Friends of Copland House. Copland House is open to the public by appointment only.
"Aaron Copland was among the most beloved and profoundly influential musical figures in American history," said Copland House Artistic and Executive Director Michael Boriskin. "Beyond being one of our greatest composers, as well as a formidable pianist, conductor, author, lecturer, mentor, and institution builder, Copland's historic importance rests on his essential role in helping to define and give voice to the sound and spirit of what he called 'a recognizably American musical idiom' in concert, ballet, opera, and film. His home and the many programs originating there embody his peerless, lifelong advocacy of American composers and their work. Few honors during our 10th Anniversary season will be more meaningful than this landmark designation."
Huang Ruo Wins Luxembourg Composition Prize
Huang Ruo's MO: Concerto for Sheng and Chamber Ensemble won first place in the 2008 Luxembourg International Composition Prize and has also received a Special Audience Award. This is the first time a composer based in the United States has ever been a top prize winner or even a finalist in the competition, which is now it its seventh year.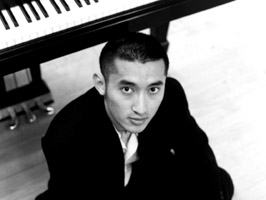 Huang Ruo
photo by Nuiko Wadden
Huang Ruo, born in 1976 on China's Hainan Island, received both a traditional and western education in the Shanghai Conservatory of Music, where he was admitted into the composition program at the age of 12. After winning the Henry Mancini Award at the 1995 International Film and Music Festival in Switzerland, he moved to the United States for further education. Since then, he has gotten a BM degree from the Oberlin Conservatory of Music and a MM degree from the Juilliard School, and is working with Samuel Adler at the Juilliard School approaching a Doctor of Musical Art degree in Composition program. Huang is currently a composition faculty member of the SUNY Purchase. A CD of his music, performed by the International Contemporary Ensemble, is available on Naxos American Classics.
The Luxembourg International Composition Prize includes a cash prize of 3000 € and a commercially released CD recording of a performance of the work along with works by the other finalists who also received cash prizes: Lan-chee Lam of Canada (2nd place, 2000 €), Kee Yee Chong of Malaysia (3rd Place, 1000 €), and Xiaozhong Yang of China (4th place, 500 €). For this year's competition, composers from all over the world—without age limitation—were invited to submit new 8-to-10 minute works for chamber orchestra and sheng, a traditional Chinese mouth organ with a history going back 300 years. There is no entry fee. Composers from a total of 42 countries on six continents participated.
The compositions were judged by an international jury consisting of: François Bousch (France), Wing Wah Chan (Hong Kong), Cord Meijering (Netherlands), Wu Wei (China), and Marcel Wengler (Luxembourg). The judges selected the four finalists in a preliminary round. These four works were then performed at Luxembourg's Centre des Arts Pluriel Ettelbruck by the Luxembourg Sinfonietta conducted by Marcel Wengler with Wu Wei as sheng soloist on October 18, 2008. The judges announced the order of the prizes following the performance.
Claire Chase Wins Concert Artists Guild International Competition
On October 22, winners of the 2008 Concert Artists Guild International Competition were announced at CAG's annual awards showcase at the Kosciuszko Foundation in New York City. They are American flutist Claire Chase and the all-Canadian Afiara String Quartet. Winners of the annual competition join the CAG artist roster and receive two-year management contracts. Chase, as first place winner, will additionally receive the Victor and Sono Elmaleh Award which includes a cash prize of $5,000.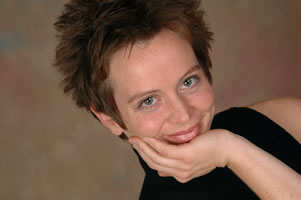 Claire Chase
Claire Chase is active as a soloist, chamber musician, recording artist, cultural producer, and arts entrepreneur. As the executive director of the International Conptemporary Ensemble (ICE), Chase has been a passionate leader and innovator in 21st-century music performance, producing as well as performing in events presented in a range of venues from the stages of the world's most important concert halls to warehouses, galleries, clubs, and public spaces. Over the past ten years, she has given world premieres of over 100 new solo works for flute, many of them tailor-made for her unique performance style. Her extensive discography includes recordings with various groups on the Tzadik, Bridge, and Naxos labels, and her debut solo album, aliento, which features world premiere recordings of works for flute and electronics, will be released in March 2009 on New Focus Recordings.
The 2008 CAG Competition began in March with about 350 applicants submitting recordings. From that initial number, over 70 soloists and ensembles were invited for live semi-final auditions held in New York. Performing in front of a panel of judges from their fields, eleven finalists were invited to perform at the finals on October 21. A panel of judges heard each finalist perform a twenty-minute recital program. The finals jury included Max Barros, pianist; William Boughton, music director, New Haven Symphony; Linda Chesis, flutist; Dean Corey, president and artistic director, Philharmonic Society of Orange County; Jennifer Koh, violinist; Neale Perl, president, Washington Performing Arts Society; Shauna Quill, executive director, The University of Chicago Presents; Ann Schein, pianist; Astrid Schween, cellis, Lark Chamber Artists; and Limor Tomer, executive producer for music, WNYC Radio.
3rd American Composers Invitational at the Cliburn 2009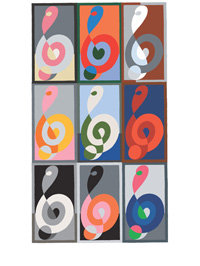 Official 13th Van Cliburn Competition Artwork
Design by Ivan Chermayeff
Incorporating Treble Clefs by Josef Albers, 1932
Courtesy of the Josef and Anni Albers Foundation
Image courtesy Van Cliburn Foundation
Audiences for the 13th Van Cliburn International Piano Competition (Cliburn 2009)—at Bass Performance Hall in Fort Worth, Texas from May 22 to June 7, 2009—will hear winners from not one, but two competitions. During the semifinal round, each competitor will perform one of the winning works from the foundation's third American Composers Invitational (ACI).
The Van Cliburn Foundation's longstanding commitment to promote and support classical pianists has always included the genre of contemporary composition as part of the competition, which has been held every four years since 1962. Beginning with its first competition and continuing through the tenth competition in 1997, the foundation commissioned a work by an American composer, which all semifinalists were required to play. Samuel Barber, Aaron Copland, Leonard Bernstein, and John Corigliano were among the acclaimed composers who penned works for the Cliburn Competition. At the suggestion of Corigliano, the foundation established the American Composers Invitational as part of the 11th competition in 2001, to seek out a broader range of works from a new generation of composers.
Van Cliburn Foundation Commissioned Works (1962-1997)
1962 Lee Hoiby: Capriccio on Five Notes
1966 Willard Straight: Structure for Piano
1969 Norman Dello Joio: Capriccio on the Interval of a Second
1973 Aaron Copland: Night Thoughts
1977 Samuel Barber: Ballade
1981 Leonard Bernstein: Touches
1985 John Corigliano: Fantasia on an Ostinato
1989 William Schuman: Chester: Variations for Piano
1993 Morton Gould: Ghost Waltzes
1997 William Bolcom: Nine Bagatelles
ACI Grand Prize Winners (2001-)
2001 Lowell Liebermann: Three Impromptus
2005 Sebastian Currier: Scarlatti Cadences + Brainstorm
The American Composers Invitational begins with the selection of a nominating committee of music industry professionals. Committee members recommend American composers to be invited to submit solo piano scores of approximately eight to twelve minutes in length. The works are reviewed by a jury, which selects up to five compositions. The selected works are then sent to the competitors, who are asked to choose one work to perform as part of their semifinal round program. Each composer whose work is performed during the semifinal round receives a cash prize. A grand prize is awarded to the composer whose work is selected by the greatest number of semifinalists. While the initiative provides exposure to the work of American composers, it also underscores the importance of creating music that appeals to performers.
The deadline for composers to submit works for the 2009 Invitational is December 15, 2008. In March, the thirty young pianists selected to participate at the 13th Van Cliburn Competition will be asked to choose their preferred ACI score for inclusion in their semifinal round performance. All prizewinners of the third American Composers Invitational will be named during the announcement of the semifinalists on May 27, 2009.
Details Announced for World's First Global Musical Instrument Museum in Phoenix
Details about the Musical Instrument Museum (MIM)—scheduled to open in Phoenix, Arizona, in spring 2010—were announced during a ceremony at Steinway Hall in New York City. Tony Bennett served as master of ceremonies.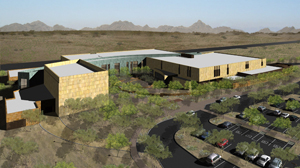 Rendering of MIM viewed from the Northwest
Courtesy: RSP Architects
According to Founding Board Chairman Bob Ulrich, MIM plans to exhibit several thousand instruments and has already acquired more than 2,000. MIM, which he described as the first truly global museum of its kind, will be housed in a 190,000-square-foot building—including 75,000 square feet of gallery space—designed by award-winning architect Richard Varda and the Minneapolis and Phoenix firm RSP Architects. By November 2008, the structural steel frame of the museum will be completed, and by spring 2009, the entire building will be enclosed.
Highlights of the collection include Israeli shofars, wind instruments made from ram horns and played during Jewish High Holy Day ceremonies; a ntan drum from Ghana used in popular bands in the early 1900s, when the region was known as the Gold Coast; a settawiyya from Egypt, thought to be one of the oldest types of flutes in the Nile region; and an American Rickenbacker A-22 Electro Hawaiian "Frying Pan" lap steel electric guitar, one of the first electric guitars ever built and one of the best-sounding steel guitars ever produced.
MIM has assembled a Curatorial Council composed of representatives from some of the most important musical instrument collections in the world to provide input on its curatorial vision. Council members include: Cynthia Adams Hoover, curator emeritus, Musical Instruments Division of Cultural History, Smithsonian Institute; J. Kenneth Moore, Frederick P. Rose curator in charge, Department of Musical Instruments, Metropolitan Museum of Art; Darcy Kuronen, curator of musical instruments, Museum of Fine Arts, Boston; Gary Sturm, chair, Smithsonian Institution, National Museum of American History, Division Of Music, Sports and Entertainment; Patricia Grazzini, associate director and chief operating officer, Minneapolis Institute of Arts; Eric De Visscher, director, Musée de la musique, Paris; and Margaret Downie Banks, senior curator of musical instruments, National Music Museum, University of South Dakota. In addition to acquiring objects through purchase and gifts, MIM's curatorial staff has traveled extensively to collect instruments and artifacts that convey the diversity of cultures and global musical practices. Recent acquisitions have come from a Kazakh yurt in Mongolia, the Carpathian Mountains in Ukraine, and the countryside of Sri Lanka.
But MIM will be much more than just a series of visual displays of artifacts. With the use of technologically advanced wireless headsets and high-resolution video screens, museum guests will be able to not only see instruments, but also to hear their sounds and observe how they would be played in their original settings. The museum's Experience Gallery will additionally offer visitors the opportunity to touch and play some of the instruments. Museum guests will also have a unique view into how instruments are made through long-term exhibitions created in partnership with some of the world's most famous instrument makers. A Steinway workshop will demonstrate the company's manufacturing process with tools and materials used in the Steinway & Sons factory. It will include two grand pianos in various stages of production along with video segments capturing the craftsmanship that goes into the instruments. A C.F. Martin & Co. workshop will feature workbenches, tools, unfinished guitars, and materials used to make acoustic guitars in their Pennsylvania factory, and a Fender workshop will illustrate the techniques used to create the company's electric guitars. Windows into the museum's working conservation laboratory will also allow guests to see the ongoing process of collection maintenance. In addition, the museum building will also house a recording studio and a state-of-the-art, intimate auditorium for concert performances.
(Compiled and edited by Frank J. Oteri)