Elliott Carter Appointed to Carnegie's Debs Composer's Chair for 2008-09 Season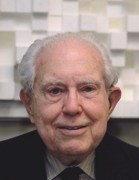 Elliott Carter
Photo by Jeffrey Herman
In another surprising development in Elliott Carter's centenary year, Carnegie Hall has appointed Carter to its Richard and Barbara Debs Composer's Chair commencing in the fall of 2008. The appointment, which was officially announced during a press conference previewing Carnegie Hall's 2008-09 concert season, coincides with the programming of a wide variety of Carter's music in celebration of his 100th birthday which is December 11, 2008.
Carter, who was in attendance at the announcement, simply stated in typical jocular fashion, "I expect a big birthday cake!"
The Composer's Chair was established at Carnegie Hall by the late Judith Arron in 1995 and was renamed the Richard and Barbara Debs Composer's Chair in 1999. Originally a four-year composer residency, the duration of the position was shortened to one year in 2007. Previous holders of the chair have been Ellen Taaffee Zwilich (1995-1999), Pierre Boulez (1999-2003), John Adams (2003-2007), and Thomas Adès (2007-2008).
BMI Awards Zavin Scholarship to High School Senior Composer Akiva Zamcheck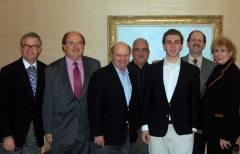 Pictured (l-r): BMI Foundation's Ralph N. Jackson and Gary Roth, Jonathan Zavin, BMI Composer-in-Residence at LaGuardia High School James Pugliese, Zavin Award winner Akiva Zamcheck, Joshua Zavin, and the BMI Foundation's Jean Banks.
The BMI Foundation has named Akiva Zamcheck the recipient of the third annual Theodora Zavin Memorial Scholarship. The award, given for outstanding achievement in composition, is presented annually to a graduating senior at LaGuardia High School of Music and Art & Performing Arts in New York City. Zamcheck received a $2,000 scholarship to further his musical education. The scholarship was established through the generosity of family and friends to honor the memory of Theodora (Thea) Zavin, Founding President of the BMI Foundation.
Zamcheck, LaGuardia High School class of 2007, is a guitarist and composer from the Bronx. He attended the Mannes Prep School, where he studied the classical guitar with Srdjan Berdovic and Frederic Hand, and music theory with Deborah Jamini. At LaGuardia he studied composition with Jim Pugliese and he is now attending Bowdoin College, where he will continue his studies of harmony and organ with the organist Ray Cornils. Akiva's compositions have been largely devoted to adapting old and ancient styles in modern musical languages. His current project is creating a group of Madrigals set to portions of Herman Melville's Moby-Dick.
Sphinx Commission Consortium Highlights Composers of Color
The Sphinx Organization has announced a 14 orchestra commissioning consortium aimed at bringing more music by Black and Latino composers to the concert hall. Sphinx's founder and president Aaron Dworkin announced the new initiative, called the Sphinx Commissioning Consortium (SCC), at the Sphinx Competition Finals Concert in Detroit on January 27.
According to Dworkin, compositions by Black and Latino composers currently account for less than 1% of classical music performed each year. As a group, the SCC will commission a new orchestral work from a Black or Latino composer annually. Each member orchestra will perform the commissioned piece during the concert season following its completion. Through their joint financial commitments, the SCC will have resources exceeding $70,000 each year to cover commissioning fees along with other costs associated with each new work.
In addition to Sphinx, who will serve as the program's administrator, SCC's founding members include: the Alabama Symphony Orchestra, Baltimore Symphony Orchestra, Chicago Sinfonietta, Cincinnati Symphony Orchestra, Detroit Symphony Orchestra, Grand Rapids Symphony, Nashville Symphony, New Jersey Symphony Orchestra, Pittsburgh Symphony Orchestra, Philadelphia Orchestra, Richmond Symphony, Rochester Philharmonic Orchestra, Virginia Symphony Orchestra, and New World Symphony. Sphinx was established in 1996 with a mission to increase Black and Latino participation in music schools, as professional musicians, as classical music audiences, and to administer youth development initiatives in underserved communities through music education. In addition to the annual Sphinx Competition for young Black and Latino string players, the organization's educational programs reach over 35,000 students across the country annually.
Boosey & Hawkes adds Paquito D'Rivera and Vernon Duke to Publishing Roster
As part of its growing jazz initiative, Boosey & Hawkes, Inc. last week announced the addition of the catalogues of Paquito D'Rivera and the late Vernon Duke to its publishing roster.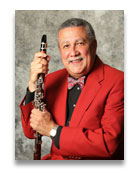 Paquito D'Rivera
Photo by R. Andrew Lepley
Fluent in multiple musical languages, composer and performer Paquito D'Rivera (b. 1948) has impacted American music across Latin, jazz, and classical genres. Before emigrating to the United States in 1981, D'Rivera was already acknowledged as a leading musical figure in his native Cuba where he established the Orquesta Cubana de Música Moderna as well as the ground-breaking fusion group Irakere. His discography of more than 30 albums have garnered eight Grammy Awards including the 2004 Grammy Award for best instrumental composition for Merengue, a work recorded by Yo-Yo Ma. In 2005, the National Endowment for the Arts named D'Rivera a NEA Jazz Master, and in the same year he received the National Medal for the Arts, presented by the U.S. president at the White House.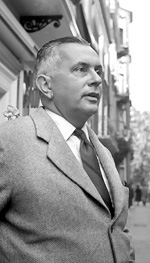 Vernon Duke
Photo by Kay Duke Ingalls
According to D'Rivera, "Joining Boosey & Hawkes offers me the never dreamed of opportunity of sharing the illustrious company of some of my favorite composers of all times, from Igor Stravinsky and Béla Bartók to my dear friends Chick Corea and Wynton Marsalis."
Under the name of Vernon Duke, Russian born American émigré composer Vladimir Dukelsky (1903-1969) enjoyed a highly successful Broadway and film career and was one of the composers, along with Berlin, Gershwin, Porter, Rodgers, Arlen and Kern, who contributed to The Great American Songbook. Among the standards Duke wrote (and which B&H will now have the ability to license) are "April in Paris," "Autumn In New York," "I Can't Get Started" and "Taking A Chance on Love." In addition, as Dukelsky he created a significant oeuvre of concert compositions, also now represented by Boosey & Hawkes, including concertos for cello and piano which were recently released in new recordings on Naxos American Classics.
Frank Lewin (1925-2008)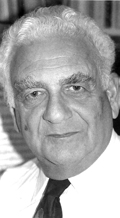 Frank Lewin
Composer and teacher Frank Lewin died at his home on January 18, 2008. He was 82.
Lewin composed and edited music for feature, documentary, and television episodes, including dozens of original scores for The Defenders and The Nurses. His cantata Music for the White House was performed in 1965 at a state dinner hosted by President Lyndon B. Johnson. Among his other concert compositions are two operas, including Burning Bright, based on the novel and play of the same name by John Steinbeck, as well as song cycles, choral music, and instrumental works. He received two fellowships from the National Endowment for the Arts, and two from the New Jersey State Council on the Arts, including a Distinguished Artist Award. He was a member of BMI, the American Composers Alliance, and the Composers Guild of New Jersey. In addition to activities as a composer, Lewin served as a professor at the Yale School of Music from 1971 to 1992, teaching composition for film; and at the Columbia University School of the Arts from 1975 to 1989, where he taught the course "Music in Modern Media."
Born in Breslau, Germany in 1925, Lewin escaped from Germany in 1939 with his parents and sister, spent a year in Cuba, then came to the United States in 1940. Lewin's composition teachers included Roy Harris and Paul Hindemith, studying with the latter at the Yale University School of Music, where he received his bachelor of music degree in 1951. Since 1951, Lewin had maintained a residence in Princeton, New Jersey. After losing his eyesight ten years ago he continued to work, producing masters for six CD releases of his music on Albany Records between 2001 and 2007. During that time, the New Violin Family Association also released a CD of music that Mr. Lewin wrote for the New Family of Violins designed and constructed by Carleen M. Hutchins.
Lewin is survived by his wife of 58 years, Elsbeth Gaertner Lewin, retired executive editor of the journal World Politics at Princeton University; his daughters Naomi Lewin of Cincinnati, Eva Radding of Newton, MA, and Miriam Lewin of New York; and two granddaughters. A memorial service was held January 20. Memorial contributions may be made to the New Jersey Library for the Blind and Handicapped, 2300 Stuyvesant Avenue, Trenton 08618-3226, attn. Carol Yoest, Director of Development.
(Compiled and Edited by Frank J. Oteri)