BMOP Goes Into the Record Business
At a time when pundits continue to predict the death of physical recordings, the always-against-the-grain Boston Modern Orchestra Project (BMOP) has launched a new CD label, BMOP/sound. Their initial release is the first complete recording of John Harbison's 1984 ballet Ulysses. Nine additional releases are scheduled to come out a month at a time for the remainder of 2008.
According to Gil Rose, BMOP's founding Artistic Director and the Executive Producer of BMOP/sound, "BMOP's mission has always been to bring the classical music audience closer to the music of its own time by performing new works and rediscovering underappreciated, important works from the 20th Century. BMOP/sound gives us the opportunity to broaden that mission to a global audience."
The remaining 2008 titles, which are almost exclusively single-composer discs of American music, are:
Michael Gandolfi, Y2K Compliant
Lee Hyla, Lives of the Saints
(featuring mezzo-soprano Mary Nessinger)
Gunther Schuller, Journey Into Jazz
(featuring the composer narrating)
Charles Fussell, Wilde (featuring baritone Sanford Sylvan)
Lukas Foss, The Prairie (featuring The Providence Singers)
Louis Andriessen, La Passione
(featuring mezzo-soprano Cristina Zavalloni and violinist Monica Germino)
David Rakowski, Winged Contraption
(featuring pianist Marilyn Nonken)
John Cage, 16 Dances
John Harbison, Full Moon in March
(featuring soprano Janna Baty, mezzo-soprano Lorraine DiSimone, and baritone James Maddalena)
Projects are additionally in the works for recordings of Steve Mackey's Dreamhouse and Eric Sawyer's opera Our American Cousin, as well as compositions by a broad range of American composers including George Antheil, Milton Babbitt, Arthur Berger, Derek Bermel, Lisa Bielawa, Martin Boykan, Henry Cowell, Anthony Davis, Jacob Druckman, Robert Erickson, Alan Hovhaness, Arthur Levering, Eric Moe, Paul Moravec, Elliott Schwartz, Ezra Sims, Virgil Thomson, Ken Ueno, and Reza Vali.
BMOP/sound discs come packaged in a slightly-oversized but ecologically-friendly digipac which also contains an extensively annotated program booklet. And if the first release is a harbinger of what's to come, the musical content promises to be extremely generous as well—clocking in at an almost unprecedented total of eighty minutes and thirty-two seconds, BMOP/sound's recording of Ulysses is one of the longest commercially-issued CDs ever released.
BMOP/sound's nine recordings significantly increase BMOP's discography which already includes 13 commercially released CDs the orchestra has recorded for a variety of labels (Albany, Arsis, Cantaloupe, Chandos, Naxos, New World, and Oxingale). BMOP/sound CD recordings will be distributed by Albany Music Distributors, coupled with global online distribution. Plus, to service mp3 partisans, an interactive BMOP website with digital download capabilities is planned for later in 2008. For more information visit the label's recently-launched website, www.bmopsound.org.
Six Composers to Participate in ACO Underwood Readings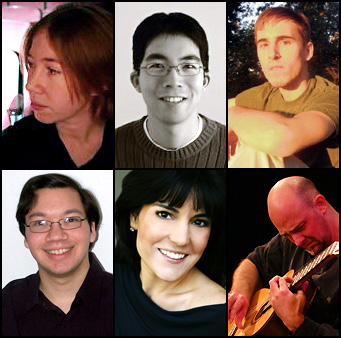 Ruby Fulton, Takuma Itoh, Conrad Winslow [L-R top row]
Roger Zare, Leanna Primiani, and Andrew McKenna Lee
[L-R bottom row]
The American Composers Orchestra has announced the winners of the 2008 Underwood New Music Readings, a program which offers young American composers in the early stages of their professional careers an opportunity to hear their music and to work directly with the musicians of the orchestra as well as mentor composers to hone their orchestration skills. A total of six composers—Ruby Fulton, Takuma Itoh, Andrew McKenna Lee, Leanna Primiani, Conrad Winslow, and Roger Zare—were chosen from more than 150 submissions received from around the country. The 2008 readings will be conducted in a slightly different format from previous years. This year the readings will take place over two days (May 6 and 7, 2008 from 10:00 a.m. to 1:00 p.m. at the New York University's Skirball Center for the Performing Arts). On the first day and the first-half of the second day all six works will be read, and there will be a complete run-through of the pieces on the second-half of the second day. (For more information about each of the composers and their works, scroll down.)
The readings are under the direction of ACO Artistic Director Robert Beaser. Guest conductors are Brad Lubman and Anne Manson; mentor composers are Derek Bermel, ACO's Music Alive Composer in Residence, Chen Yi, Christopher Theofanidis, and Christopher Rouse. The conductors, mentor composers and principal players from ACO serve as liaisons and provide critical feedback to each of the participants during and after the reading sessions. Following the Readings, one of the young composers will receive a $15,000 commission to write a new work to be performed by ACO. Last year's winner, Clint Needham, won the top prize with his work Earth and Green. The 2006 winner, Fang Man (a.k.a. Mandy Fang), will hear her Underwood-commissioned work, Resurrections, premiered by ACO at Carnegie Hall's Zankel Hall in February 2009.
The 2008 Underwood New Music Readings are the ACO's 17th series of annual readings since the program was initiated in 1991. To date, over 100 composers have participated in the readings, including such award-winning composers as Melinda Wagner, Pierre Jalbert, Augusta Read Thomas, Randall Woolf, Jennifer Higdon, Daniel Bernard Roumain, and Derek Bermel. Since participating in ACO's readings, these composers have held important residencies and had scores of works commissioned, premiered, and performed by many of the country's prominent symphony orchestras.
More About the 2008 ACO Underwood Readings Participants
Ruby Fulton: ameriwaste (2007)
Ruby Fulton (b. 1981) grew up in Northwest Iowa and studied at Boston University and the San Francisco Conservatory before moving to Baltimore, where she is currently working towards a doctorate at the Peabody Conservatory. She has studied with composers Julia Wolfe, Christopher Theofanidis, Moritz Eggert, Elinor Armer, Dan Becker, Charles Fussell, Tison Street, and Martin Amlin. Along with composer George Lam, she is co-artistic director of Rhymes With Opera, a new opera company committed to bringing new works of opera and music-theater out of the opera house and into unconventional spaces. Her music has been performed recently at the 2007 Bang on a Can Summer Music Festival at MASS MoCA and the 2007 A•Devantgarde Festival in Munich.
Takuma Itoh: Sunrise from a Distant Past (2007)
Takuma Itoh (b. 1984) spent his early childhood in Japan before moving to Northern California, where he grew up. Currently finishing his Master's degree at the University of Michigan, where he has studied with Bright Sheng and William Bolcom, Itoh received a B.M at Rice University where he studied with Shih-Hui Chen, Anthony Brandt, Pierre Jalbert, and Karim Al-Zand. His music has been published by Theodore Presser and has been performed by the New York Youth Symphony and the Shanghai Quartet at Carnegie Hall, Haddonfield Symphony, University of Michigan Symphony Orchestra, and Aspen Contemporary Ensemble. Itoh also enjoys playing jazz piano and currently studies with Geri Allen.
Andrew McKenna Lee: For Dear Life (2004)
Andrew McKenna Lee (b. 1974), a native of Charleston, SC, began his musical studies on the guitar at age twelve, going on to pursue composition in his late teens. In recent years, his music has been performed by such ensembles as the Brentano String Quartet, ensemble ereprijs, the New Jersey Symphony, Kroumata, and eighth blackbird. In 2007, he performed his own works at BAM Café, The Annenberg Center in Philadelphia, and Zankel Hall at Carnegie Hall as part of the ACO's Composers Out Front! program. An upcoming CD release on the New Amsterdam Records label will feature Lee's own performances of solo and chamber works for nylon-string guitar.
Leanna Primiani: Sirens (2007)
Leanna Primiani (b. 1968), a native of California, has just completed a DMA in composition at USC and has studied with Leonard Slatkin, Peter Eötvös, and Steven Stucky. Recent performances of her music include: Searching for M for Large Orchestra at the Cabrillo Music Festival; Variations for solo piano at the June In Buffalo New Music Festival; scenes from her opera Truman, which will be staged by the Virginia Arts Festival in May 2008; and sound installations for Pure, a mixed media exhibition in Brighton, MA. As a conductor, Ms. Primiani has served as associate conductor under Maestro James Conlon for LA Opera's Judas Maccabeus and as music director for the Central California Ballet. She has also conducted the National Symphony Orchestra, Ensemble Aventure Freiburg (Germany), Fort Worth Symphony, Dallas Opera Orchestra, San Antonio Symphony, and Fresno Philharmonic. Sirens, the work being read by the ACO, will be performed by Leonard Slatkin and the Nashville Symphony in February 2009.
Conrad Winslow: The Violence of Ragtime (2007)
Conrad Winslow (b. 1985), raised in Homer, AK, began composing and playing piano at age 6, performing several solo recitals in his youth. He holds an Honors A.B. degree in music from Rollins College, where he studied composition with Daniel Crozier, and is currently pursuing an M.M. degree in composition and film scoring at NYU, where he is a student of Justin Dello Joio. In addition, Winslow studied piano performance with Dr. Gloria Cook, with whom he has also co-authored a music theory and piano instruction book entitled Keyboard Theory, currently used in introductory theory courses at Rollins. Winslow's compositions include music for a production of Shakespeare's Henry V and a staged reading of letters between F. Scott Fitzgerald and Zelda Fitzgerald, as well as scores for several student films and The Last Romantic (2006), which went to several film festivals, including SXSW and the Independent Film Festival Boston.
Roger Zare: Green Flash (2007)
Roger Zare (b. 1985), born in Sarasota, FL, began playing piano at age 5 and violin at age 11; he started composing at age 14. He completed a Bachelor of Music degree in Composition at USC and is pursuing his Master of Music at the Peabody Conservatory. During his years at USC's Thornton School of Music, Zare has studied with Donald Crockett, Tamar Diesendruck, Frederick Lesemann, and Morten Lauridsen. At Peabody, he is currently studying with Chris Theofanidis. In 2003, Roger won the National Federation of Music Clubs Composition Competition with his Frolic for violin and piano. In early 2005, the New York Youth Symphony commissioned Zare to write an orchestral piece for them as part of their First Music competition which was premiered in Carnegie Hall in February 2006. He received a BMI student composer award in 2007 for Green Flash, the work which the ACO will be reading.
—FJO