7 Composers Selected for 2008 Minnesota Orchestra Composer Institute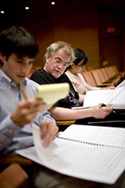 Osmo Vänskä gives advice to composers at the 2007 Composer Institute
Photo by Greg Helgeson, courtesy Minnesota Orchestra
Seven composers have been selected to participate in the 2008-09 Minnesota Orchestra Composer Institute, which will be held in Minneapolis from November 1 to 8, 2008. Chosen from a pool of 162 candidates, the composers hail from locations throughout the Midwest and East Coast, and their works represent a variety of musical styles. They will travel to Minneapolis for a week of rehearsals, seminars, and private tutoring sessions, as well as a public concert of their works, held on Friday, November 7, 2008, conducted by Music Director Osmo Vänskä.
The 2008 participants (in alphabetical order) and their works are:
Antonio DeFeo (NY): Four Portraits (Major Orchestra Premiere)
Ted Hearne (CT): Patriot (Major Orchestra Premiere)
Wang Lu (NY): Wailing (World Premiere)
Andrew McManus (NY): Identity (World Premiere)
Justin Merritt (MN): River of Blood (World Premiere)
David Schneider (IN): Automation (World Premiere)
Ming-Hsiu Yen (MI): Yun (Major Orchestra Premiere)
Antonio Carlos DeFeo writes music for dance, theater, film, and the concert hall, and often integrates live acoustic instruments with prerecorded sounds. He has attended the Berklee College of Music and Manhattan School of Music, and his compositions have been performed at Tanglewood. Ted Hearne is active as a composer, conductor, and performer. A master's student at the Yale School of Music, he is composer in residence of the Chicago Children's Choir, resident conductor of the Red Light New Music Ensemble, and artistic director of Yes is a World, a nonprofit organization working to promote peace and social change through musical collaboration. Wang Lu studied music at China's Xi'an Conservatory and Beijing Central Conservatory of Music before arriving in the U.S. to pursue her doctoral degree at Columbia University. Her music has been performed at venues in China, Taiwan, Hong Kong, France, Switzerland, and the U.S. Andrew McManus, currently pursuing a master's degree at the Eastman School of Music, earned his bachelor's degree at the Yale School of Music. His music has received numerous awards, including the 2008 Howard Hanson Orchestral Prize, Beekman Cannon Friends of Music Prize, Abraham Beekman Cox Prize, and Branford College Arts Prize. Justin Merritt is assistant professor and composer in residence at St. Olaf College in Northfield, Minnesota. In 2001 he became the youngest-ever winner of the ASCAP Foundation/Rudolph Nissim Award. David Schneider has earned degrees from the University of Southern California and Indiana University. He has won composition awards from the New West Symphony, Cambridge Madrigal Singers, and Indiana University Jacobs School of Music, among other institutions. In addition to his work in composition, he has performed as a singer. Ming-Hsiu Yen is currently pursuing a doctorate in composition at the University of Michigan. She holds dual degrees in composition and piano performance from the University of Michigan and Eastman School of Music. Her compositions have been performed in numerous venues in the U.S., China, Japan, and her native Taiwan.
In addition to the seven composers chosen to participate in the Composer Institute, the panel designated the following applicants as alternates: David Weaver, Daniel Wohl, Ryan Vigil, and Samson Young. Named as runners-up are: Michael Colina, Nathan Lincoln DeCusatis, Michael-Thomas Foumai, Michael Gilbertson, Javier Jimmy López, Carl Schimmel, Naftali Schindler, Wil Smith, Tim Sullivan, Matthew Van Brink, Jay Wadley, Du Yun, and Roger Zare. Cited for honorable mention are: Christopher Bailey, José Miguel Bevia, Brian Patrick Bromberg, Michael DiGiacinto, Michael Djupstrom, Devin Farney, Simon Fink, Ivor Francis, Ruby Fulton, David Kirkland Garner, Edward Aaron Goldman, Aaron Grad, James Holt, Chia-Yu Hsu, Curtis K. Hughes, Takuma Itoh, Ilari Kaila, Amy Beth Kirsten, Kris Maloy, Marcus Karl Maroney, Joshua Musikantow, Don Myers, Jeff Myers, Eric Nathan, Edward "Teddy" Niedermaier, Fred Onovwerosuoke, Marc Parella, William Carl Pertz, Jeremy Podgursky, Balee Pongklad, Chris Rogerson, Timothy Stulman, Ken Ueno, Yiorgos Vassilandonakis, and Jeremy Wagner.
The Minnesota Orchestra Composer Institute is co-presented with the American Composers Forum in cooperation with the American Music Center. The Institute, co-directed by composer Aaron Jay Kernis and Beth Cowart of the orchestra's artistic staff, is an outgrowth of the orchestra's Perfect Pitch program, an annual series of new music reading sessions for Minnesota composers launched during the 1995-96 season. Many of the 82 composers who have previously taken part in Perfect Pitch and the Composer Institute have gone on to receive major commissions, awards, grants, and additional performances of their works. The 2008 Minnesota Orchestra Composer Institute is generously sponsored by The Amphion Foundation, the Argosy Foundation Contemporary Music Fund, The ASCAP Foundation, the BMI Foundation, The Aaron Copland Fund for Music, Gerald B. and Catherine L. Fischer, the Jack and Linda Hoeschler Fund of The Saint Paul Foundation, The Hella Mears and Bill Hueg Fund of The Saint Paul Foundation, F. Bruce and Diana Lewis, the National Endowment for the Arts, David and Judy Ranheim, and Frederick E. and Gloria B. Sewell.
Alternates and runners-up may resubmit the work they entered this year for next year's competition. Honorable Mentions may not resubmit the work they submitted this year, but may submit another work that fits within the published guidelines. There were a total of 162 submissions, which made the process very competitive. The jury consisted of composers Yehudi Wyner, Sebastian Currier, Shafer Mahoney, and Minnesota Orchestra Assistant Conductor Sarah Hatsuko Hicks. Minnesota Orchestra Composer Institute co-director Aaron Jay Kernis was chairman of the panel.
Sphinx Selects Roberto Sierra for Inaugural Commission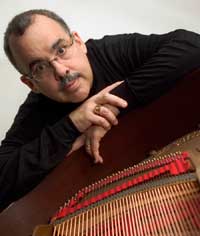 Robert Sierra
Roberto Sierra has been selected to compose the first work to be commissioned by the Sphinx Commissioning Consortium, an alliance between the Sphinx Organization and twelve American orchestras that seeks to build the repertoire of works by African-American and Latino composers. Sierra was chosen from among composers nominated for the commission by the twelve orchestras and the Sphinx Organization; the Nashville Symphony nominated Sierra for the award. Sierra's new work will be premiered during the 2009-2010 season by an orchestral member of the Consortium with subsequent performances by the remaining eleven Consortium orchestras also during that season.
"Roberto will be the first in what I envision as a long line of talented composers of color whose work the SCC will support through this historic effort," said Sphinx's Founder and President Aaron Dworkin during the announcement on June 9. Currently, works by black and Latino composers account for less than one percent of the classical music performed by American orchestras each year. Through a partnership between major orchestras and the Sphinx Organization, the Sphinx Commissioning Consortium seeks to increase that number while adding to the orchestral repertoire.
Puerto Rican-born Roberto Sierra's works have been part of the repertoire of many leading American and European orchestras, ensembles, and festivals. His works have previously been commissioned by the Koussevitzky Music Foundation, Philadelphia Orchestra, Detroit Symphony Orchestra, National Symphony Orchestra, Orquesta de Castilla y León, and the Julliard School, and he has served as composer-in-residence with the Milwaukee Symphony Orchestra, the Philadelphia Orchestra, the Puerto Rico Symphony, and the New Mexico Symphony.
The twelve member orchestras in the Consortium, who each contribute financially to the commission, are: the Baltimore Symphony Orchestra, Chicago Sinfonietta, Cincinnati Symphony Orchestra, Detroit Symphony Orchestra, Grand Rapids Symphony, Nashville Symphony, New Jersey Symphony Orchestra, Philadelphia Orchestra, Richmond Symphony, Rochester Philharmonic Orchestra, Virginia Symphony Orchestra, and the New World Symphony. The consortium is administered by the Sphinx Organization, a national non-profit arts and youth development organization dedicated to building diversity in classical music.
Maria Schneider earns Four 2008 Jazz Journalists Association Awards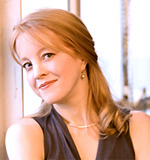 Maria Schneider
Photo by Jimmy and Dena Katz
The Jazz Journalists Association held its 12th annual awards ceremony at the Jazz Standard in New York City on June 18, 2008. Described as a "celebration of excellence in music and journalism, activists, advocates, altruists, aiders and abettors of jazz," the yearly event, as always, packed in a capacity audience for three hours of speeches, live music, and a BBQ buffet.
The biggest winner was Maria Schneider who was named Composer of the Year and Arranger of the Year and who was additionally the leader of Large Ensemble of the Year, plus her album Sky Blue was named Album of the Year. Marian McPartland received the Lifetime Achievement in Jazz, Herbie Hancock was named Musician of the Year, and ArtsJournal's Riff Tides blogger was given the Jazz Journalism Lifetime Achievement Award. One of the most moving moments of the afternoon was when photographer Laurence Donohue-Greene presented Joanne Hill, widow of composer/pianist Andrew Hill with his photo which had been named Jazz Photo of the Year—a photo of Andrew Hill taken during his very last concert appearance. Other highlights included an Iceberg Vodka toast to recipients of A Team Awards, a series of discretionary awards for health-care providers, educators, philanthropists, and other entrepreneurs dedicated to jazz and its musicians, and a performance by tenor saxophonist Joe Lovano and Hank Jones, who was named the 2008 Pianist of the Year.
Below is a complete list of the 2008 awardees:
Marian McPartland — Lifetime Achievement in Jazz
Herbie Hancock — Musician of the Year
Lionel Loueke — Up and Coming Artist of the Year

Maria Schneider, Sky Blue (ArtistShare) — Album of the Year
Charles Mingus Sextet, Cornell 1964 (Blue Note) — Reissue of the Year, Single Disc
A Life in Time: The Roy Haynes Story (Dreyfus Jazz) — Reissue of the Year, Boxed Set
Bobby Sanabria, Big Band Urban Folktales (Jazzheads) — Latin Jazz Album of the Year
Blue Note — Record Label of the Year

Maria Schneider — Composer of the Year
Maria Schneider — Arranger of the Year
Maria Schneider Orchestra — Large Ensemble of the Year
Ornette Coleman Quartet/Quintet — Small Ensemble of the year

Andy Bey — Male Singer of the Year
Abbey Lincoln — Female Singer of the Year
Terence Blanchard — Trumpeter of the Year
Wycliffe Gordon — Trombonist of the Year
Jane Ira Bloom — Soprano Saxophonist of the Year
Ornette Coleman — Alto Saxophonist of the Year
Sonny Rollins — Tenor Saxophonist of the Year
James Carter — Baitone Saxophonist of the Year
Anat Cohen — Clarinetist of the Year
Nicole Mitchell — Flutist of the Year
Hank Jones — Pianist of the Year
Dr. Lonnie Smith — Organist/Keyboardist of the Year
Bill Frisell — Guitarist of the Year
Christian McBride — Acoustic Bassist of the Year
Steve Swallow — Electric Bassist of the Year
Regina Carter — Stings Player of the Year
Joe Locke — Mallets Player of the Year
Candido Camero — Percussionist of the Year
Roy Haynes — Drummer of the Year
Scott Robinson, reeds, brass, antiques — Player of the Year of Instruments Rare in Jazz


JJA Photo of the Year:
"Time Stood Still for Andrew Hill"
(Trinity Church 3/29/2007)
Photo by Laurence Donohue-Greene (Managing Editor, AllAboutJazz-New York)

Patricia Nicholson-Parker – Arts for Art, RUCMA, Vision Festival (NYC) — Events Producer of the Year
Doug Ramsey — Jazz Journalism Lifetime Achievement Award
Nancy Wilson, Jazz Profiles (National Public Radio) — Willis Conover-Marian McPartland Award for Excellence in Jazz Broadcasting
Milt Hinton (1910–2000) — Lona Foote-Bob Parent Award for Excellence in Photography
Nate Chanen, New York Times and JazzTimes — Helen Dance-Robert Palmer Award for Excellence in Newspaper, Magazine or Online Writing
JazzTimes — Best Periodical Covering Jazz
AllAboutJazz.com — Best Website Concerning Jazz
Milt Hinton, David G. Berger and Holly Maxson, Playing the Changes: Milt Hinton's Life in Stories and Photographs — Best Book About Jazz
Laurence Donohue-Greene (Managing Editor, AllAboutJazz-New York), "Time Stood Still for Andrew Hill" (Trinity Church 3/29/2007) — Jazz Photo of the Year
A Team Awards:
Dr. Valerie Capers – pianist, composer, educator (CUNY Bronx Community College)

Lauren Deutsch – photographer and Executive Director, Jazz Institute of Chicago

Dana Gioia – Chairman, National Endowment fir the Arts

Susan Muscarella – pianist, composer, arranger, presenter (Downtown Berkeley Jazz Festival)

Phil Nimmons – clarinetist, father of Canadian jazz weducation efforts

Wendy Oxenhorn – Executive Director, Jazz Foundation of America

George Russell – music theorist, composer, orchestra leader, professor (New England Conservatory)

Dr. Herb Wong – Founder of the Palo Alto Jazz Alliance
2009 NEA Jazz Masters Announced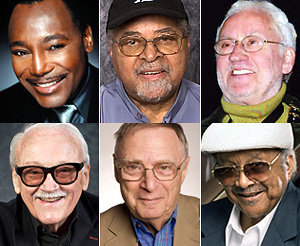 Top row (L-R): George Benson (photo by Kawaku Alston); Jimmy Cobb (photo by Steve Morales); and Lee Konitz (Photo © 2007 Frederic S. Sater);
Bottom row (L-R): Toots Thielemans (photo by Jos L. Knaepen); Rudy Van Gelder (photo by Ajaj Fotografie); and Snooky Young (photo by Nick Ruechel). Photos courtesy NEA
The National Endowment for the Arts has announced the six recipients of the 2009 NEA Jazz Masters Award: George Benson (vocalist and solo instrumentalist, guitar); Jimmy Cobb (rhythm instrumentalist, drums); Lee Konitz (solo instrumentalist, saxophone); Toots Thielemans (solo instrumentalist, harmonica and guitar); Snooky Young (solo instrumentalist, trumpet); and recording engineer Rudy Van Gelder, who will receive the 2009 A.B. Spellman NEA Jazz Masters Award for Jazz Advocacy. The six recipients will each receive a $25,000 grant award, and will be publicly honored in an awards ceremony and concert on Friday, October 17, 2008.
For the October presentation, the NEA will partner with Jazz at Lincoln Center in New York City. The awards ceremony and concert at Frederick P. Rose Hall, home of Jazz at Lincoln Center, will feature the Jazz at Lincoln Center Orchestra with Wynton Marsalis in a program dedicated to the honorees' works.
NEA Jazz Masters are selected from nominations submitted by the public. Only living musicians or jazz advocates may receive the NEA Jazz Masters honor which has been conferred annually since 1982. With this new class, the award has been given to 106 great figures in American music. Other NEA Jazz Masters include Count Basie, Art Blakey, Dave Brubeck, Betty Carter, Ornette Coleman, Miles Davis, Roy Eldridge, Ella Fitzgerald, Dizzy Gillespie, Lionel Hampton, Herbie Hancock, Elvin Jones, Abbey Lincoln, Max Roach, Sonny Rollins, Cecil Taylor, Sarah Vaughan, Nancy Wilson, and Teddy Wilson. In 2004, the NEA significantly expanded its NEA Jazz Masters program and in 2005 created the NEA Jazz Masters Initiative, a comprehensive program of jazz support that includes: the NEA Jazz Masters Award; NEA Jazz Masters Live, a series of multiple event engagements in selected communities, featuring NEA Jazz Masters; radio programming featuring NEA Jazz Masters; a compilation CD produced by Verve Music Group; and educational resources through the NEA Jazz in the Schools program, produced by Jazz at Lincoln Center, which are available free of charge to high school teachers nationwide.
Jeff Fairbanks Wins Charlie Parker Composition Prize at BMI Jazz Showcase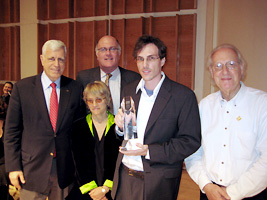 BMI's Robbin Ahrold, Jane Ira Bloom, Jim Mcneely, Jeff Fairbanks, and Dan Morgenstern at Merkin Concert Hall
Photo by Jamil Walker, courtesy BMI
Jeff Fairbanks was awarded the BMI Foundation Charlie Parker Composition Prize and Manny Albam Commission on June 25, 2008, at the 20th anniversary showcase concert of the BMI Jazz Composers Workshop held in New York's Merkin Concert Hall. The commission of $3,000 is for a new composition for big band for the following year's concert. This year's concert, featuring the 17-piece BMI/New York Jazz Orchestra, featured four finalists for the Prize—Jeff Fairbanks's Bi Bim Bop along with Javier Arau's Crown and Cardle, Tom Goehring's Mystic Cove, and Idan Santhaus's Tempo Rarely—as well as works by Todd Anderson, Ann Belmont, Tony Hyde, Bryan Knox, and Jonas Labhart, plus the commissioned premiere of last year's prize winner, Jose Bevia. During the intermission, the winner was chosen by three judges: noted jazz authority Dan Morgenstern; soprano saxophonist/composer and 2007 Guggenheim Fellowship recipient Jane Ira Bloom; and Latin jazz trombonist/composer Luis Bonilla, member of the Vanguard Jazz Orchestra and sideman to musical greats such as Dizzy Gillespie.
Jeff Fairbanks, a South Florida native who currently resides in New York City, has previously received the ASCAP Young Jazz Composer Award, finalist status for the International Association of Jazz Education's Gil Evans Fellowship, and recognition of Exceptional Achievement in Composition from the New York Youth Symphony First Music Program. His compositions and arrangements have been performed at the Montreux (Switzerland), Vienne (France), North Sea (Netherlands), and Umbria (Italy) Jazz festivals, the Amsterdam Trumpet Party, NYC's Merkin Concert Hall, Gasparilla Arts Festival (Tampa, Florida), and at several annual conferences of the IAJE. An active trombonist, Fairbanks recently completed a three-month stint with the world famous Glenn Miller Orchestra, with which he toured throughout the U.S. and Japan. His other performance experiences include the Tommy Dorsey Orchestra, Jimmy Dorsey Orchestra, Carnival Cruise Lines, Busch Gardens International Band, Wayne Gorbea and Salsa Picante, Dan MacMillion Jazz Orchestra, Wito Rodriguez Salsa Jazz, and the Sarasota Opera Orchestra, and he is involved in a number of New York-based ensembles as performer, leader, and/or composer. Fairbanks earned a Master's degree in Jazz Composition at the University of South Florida, under the instruction of Chuck Owen.
The BMI Jazz Composers Workshop is led by composer/arranger Jim McNeely, along with associate directors Michael Abele and Mike Holober, and offers a unique collaborative environment for professional jazz musicians with an emphasis on composition for the large jazz (big band) ensemble. The Workshop provides an environment where composers can hone their skills and also be free to explore new avenues in the creative process. The annual commission is named in honor of Manny Albam, the Workshop's co-founder and longtime musical director. Previous recipients of the Charlie Parker Composition Prize and Manny Albam Commission include Darcy James Argue, Sherisse Rogers, and Asuka Kakitani.
ASCAP Celebrates Emerging Jazz Composers and Legends at Rose Hall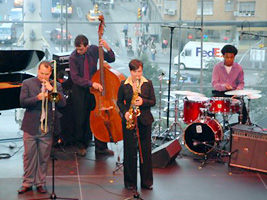 2008 Young Jazz Composer Award recipient Sharel Cassity (saxophone) leads her quartet
Photo by Gene Ward, courtesy ASCAP
ASCAP celebrated both emerging jazz composer and some of the music's legends in a reception and ceremony at The Allen Room, Frederick P. Rose Hall, home of Jazz at Lincoln Center on June 17, 2008. Three living jazz legends—bassist Ron Carter, composer-arranger and saxophonist Bill Holman, and tenor saxophonist Sonny Rollins—were inducted into the ASCAP Jazz Wall of Fame along with three posthumous honorees—trumpeter Bunny Berigan, drummer Art Blakey, and arranger/composer/pianist Tadd Dameron. In addition, pianist/composer Gonzalo Rubalcaba was presented with The ASCAP Foundation Vanguard Award for his innovative musical activity as a pianist and composer in the field of jazz.
The reception also celebrated the recipients of the sixth annual ASCAP Foundation Young Jazz Composer Awards. The program was established in 2002 to encourage the jazz creators of the future. The ASCAP Foundation Young Jazz Composer Awards recognize composers less than 30 years of age whose works are selected through a national competition. The recipients receive cash awards. The Young Jazz Composer Awards are in their third year of sponsorship by Gibson Foundation, the philanthropic arm of musical giant Gibson Guitar Corp.
The 2008 award recipients are:
Roy Assaf, 25 (New York, NY)
Sharel Cassity, 29 (New York, NY)
Michael Dease, 25 (New York, NY)
Jesse Elder, 24 (New York, NY)
Quamon Fowler, 27 (Ft. Worth, TX)
Ross Garren, 22 (Los Angeles, CA)
Tyler Gilmore, 25 (Denver, CO)
Nicholas Grondin, 25 (Lee, NH)
Alex Heitlinger, 27 (New York, NY)
Bryson Kern, 25 (Astoria, NY)
Pascal Le Boeuf, 21 (Santa Cruz, CA)
Remy Le Boeuf, 21 (Santa Cruz, CA)
Ben Markley, 25 (Longmont, CO)
Linda Oh, 23 (New York, NY)
Rick Parker, 29 (Brooklyn, NY)
Joshua Richman, 21 (Hatfield, PA)
Sherisse Rogers, 29 (New Castle, DE)
Kendrick Scott, 27 (New York, NY)
Jaleel Shaw, 29 (Paterson, NJ)
Stephen Smith, 27 (Wichita Falls, TX)
Omar Thomas, 23 (Bear, DE)
The youngest ASCAP Foundation Young Jazz Composers, ages 14 to 16, are: Lucas Apostoleris, 14 (MA); Joel Carini, 15 (NY); Grace Kelly, 15 (MA); Noah Kellman, 16 (NY); David Lantz, 16 (PA); and Elijah Shiffer, 16 (NY).
Composers receiving Honorable Mention are: Patrick Cornelius, 29 (Astoria, NY); Shaul Einav, 25, (Rochester, NY); Eric Hirsh, 23 (Durham, NC); James Hirschfeld, 26, (New York, NY); Jimmy Macbride, 16 (CT); Adam Ratner, 20 (Encino, CA); Matt Savage, 15, (NH); and Ted Taforo, 18, (CA).
The composer/judges for the 2007/2008 competition were: Jay Leonhart, John Fedchock, and Rufus Reid.
Adventurous Programming Awards Given Out at NPAC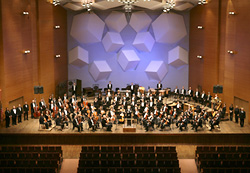 The Minnesota Orchestra, winner of the John S Edwards Award for Strongest Commitment to New American Music
Photo by Tim Rummelhoff, courtesy Minnesota Orchestra
During the 2008 National Performing Arts Convention in Denver, ASCAP honored 26 orchestras and 4 chorus who have demonstrated exceptional commitment to contemporary composers in special awards presentations held in partnership with the League of American Orchestras and Chorus America. These annual Adventurous Programming Awards presentations recognize organizations whose past season prominently featured music written within the last twenty-five years.
The winners are:
John S Edwards Award for Strongest Commitment to New American Music:
Minnesota Orchestra
Morton Gould Award for Innovative Programming:
American Composers Orchestra
Leonard Bernstein Award for Educational Programming:
Buffalo Philharmonic Orchestra
Award for American Programming on Foreign Tours:
Empire State Youth Orchestra
Awards for Programming of Contemporary Music:
Orchestras with Annual Operating Expenses More than $14.1 Million:
First Place: Boston Symphony Orchestra
Second Place: Los Angeles Philharmonic
Third Place: Nashville Symphony
Orchestras with Annual Operating Expenses $5.7-$14.1 Million:
First Place: The Saint Paul Chamber Orchestra
Second Place: Saint Louis Symphony Orchestra
Third Place: New World Symphony
Orchestras with Annual Operating Expenses $1.8-$5.7 Million:
First Place: Dayton Philharmonic Orchestra
Second Place: Albany Symphony Orchestra
Third Place: Los Angeles Chamber Orchestra
Orchestras with Annual Operating Expenses $470,000-$1.8 Million:
First Place: Boston Modern Orchestra Project
Second Place: Annapolis Symphony Orchestra
Third Place: South Dakota Symphony
Orchestras with Annual Operating Expenses $470,000 or less:
First Place: San Jose Chamber Orchestra
Second Place: Plymouth Symphony Orchestra
Third Place: Orchestra 2001
Collegiate Orchestras:
First Place: Portland State University
Second Place: Lamont Symphony Orchestra
Third Place: Cornell Symphony Orchestra
Youth Orchestras:
First Place: Empire State Youth Orchestra
Second Place: Etowah Youth Orchestra
Third Place: Vermont Youth Orchestra
Festival Orchestras:
First Place: Cabrillo Festival
Second Place: Aspen Festival
The award-winning choruses are:
All Adult Choruses (two awards): The Esoterics (Seattle, WA)
Eric Banks, Founding Director
Chanticleer (San Francisco, CA)
Joseph Jennings, Music Director
Children/Youth Choruses
Peninsula Girls Chorus (Burlingame, CA)
Catherine Doyle Wesolek, Founder & Artistic Director
Alice Parker Award: All Choruses
The Monmouth Civic Chorus (Redbank, NJ)
Mark Shapiro, Artistic Director
—compiled and edited by Frank J. Oter