Roger Zare Wins ACO Underwood Commission
Composer Roger Zare has been named the winner of the American Composers Orchestra's 2008 Underwood Emerging Composers Commission, bringing him a $15,000 commission for a work to be premiered by the American Composers Orchestra. Chosen from six finalists, Zare won the top prize at ACO's annual Underwood New Music Readings with his work Green Flash. In awarding Zare the Underwood Commission, ACO has singled him out as a composer whose "lapidary orchestrations, formal clarity, and alluringly mercurial surface give his music a strong and personal profile," says ACO Artistic Director Robert Beaser.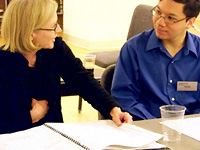 Roger Zare (right) with conductor Anne Manson
Photo courtesy American Composers Orchestra
Originally from Sarasota, Florida, Zare began composing at age 14, writing a composition for string orchestra premiered by the Pine View School Chamber Symphony in Sarasota. In 2003, he won the National Federation of Music Club's Composition Competition with his Frolic for violin and piano. In 2005, the New York Youth Symphony commissioned Zare to write The Other Rainbow for them as part of their First Music competition which received its premiere in Carnegie Hall in February 2006. Last year, he received a 2007 BMI Student Composer award for Green Flash. Zare is currently completing his studies as a master's candidate at Peabody Conservatory, where he has been studying with Christopher Theofanidis. He holds a bachelor of music degree in composition from the University of Southern California.
The same day Zare was awarded the Underwood Commission he also heard about becoming composer in residence for 2008–09 with SONAR, a Peabody Conservatory student ensemble, for which he will be writing a chamber opera and other works. "I've got a lot of music to write in the next year. I'm excited!" Zare said.
Daniel Bernard Roumain Now Published Exclusively by Subito Music Corporation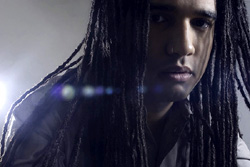 Daniel Bernard Roumain
Photo by John Walder
Daniel Bernard Roumain, frequently known by his acronym DBR, has entered into an exclusive publishing arrangement with Subito Music Publishing. Roumain's music will be available through Subito under the imprint Dredlin Publishing (BMI). The agreement includes Roumain's previously existing works as well as his future compositions.
Roumain (b. 1971) has carved a reputation for himself as a composer, performer, violinist, and band leader who has fused his classical music roots with a myriad of soundscapes. His compositions range from orchestral scores and chamber works to rock songs and electronica. Concert projects include 24 Bits: Hip-Hop Studies and Etudes and Event Pieces performed by Roumain on piano and laptop; the score for Carl Hancock Rux's contemporary opera Makandal premiering in 2008 at Miami's Carnival Center; a Sonata for Violin and Turntables (created in collaboration with DJ Scientific); and ongoing collaborations with the Orchestra of St. Luke's and the Bill T. Jones/Arnie Zane Dance Company. Roumain also serves as the artist-in-residence of the Seattle Theater Group sponsored by Starbucks. As a violinist and performer, he has worked with a wide range of artists including Philip Glass, DJ Spooky, Vernon Reid, Savion Glover, Susan Sarandon, and Cassandra Wilson. His group DBR & the Mission has been touring nationwide since 2004, and will make its international debut at Australia's 2008 Adelaide Festival.
Subito Music Corporation, in addition to its printing and distribution services which are widely used by major music publishers and self-published composers, also publishes a select roster of composers including Michael Abels, Victoria Bond, Deborah Drattell, Kenneth Frazelle, Nancy Galbraith, Edward Knight, Dan Locklair, Paul Moravec, Roberto Sierra, and Judith Lang Zaimont.
[Read a 2006 conversation between Daniel Bernard Roumain and Bill T. Jones published in NewMusicBox.]
Sebastian Currier Signed by Boosey & Hawkes
Effective July 1, Boosey & Hawkes will represent all future works and the majority of Sebastian Currier's existing catalog. A small number of works will continue to be represented by Carl Fischer Music and European American Music Distributors LLC (EAM).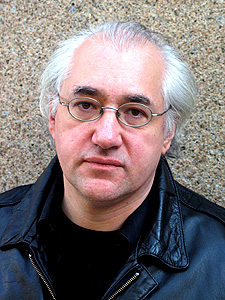 Sebastian Currier
Photo courtesy Boosey & Hawkes
Currier (b. 1959) has created solo, chamber, and orchestral compositions, as well as works that involve electronic media and video. He is the recipient of the 2007 Grawemeyer Award for Music Composition (for Static, the only chamber music composition ever to be so honored). He has additionally received the Berlin Prize, Rome Prize, a Guggenheim Fellowship, a fellowship from the National Endowment for the Arts, and an Academy Award from the American Academy of Arts and Letters, and has held residencies at the MacDowell and Yaddo colonies. He received a DMA from the Juilliard School and has taught at the Juilliard School (from 1992-1998) and Columbia University (from 1999-2007). Recordings devoted exclusively to his music have been released by Koch International Classics and New World Records.
Currier is currently composing a piece for panoramic video, electronics, and string quartet in collaboration the Ying Quartet, video artist Pawel Wojtasik, and Mass MoCA. A DVD of his 2005 multimedia work Nightmaze, based on the text of Thomas Bolt, is in production for release on Bridge Records. Currier's Group Dynamics for wind ensemble will receive its premiere at the University of Louisville in November 2008. Over the coming seasons Currier will again work with Anne-Sophie Mutter, who has previously commissioned and premiered his violin and piano composition Aftersong—this time writing a violin concerto which will receive its world premiere in New York City.
[Read NewMusicBox's coverage of the 2007 Grawemeyer Awards which includes a brief interview with Currier.]
Stephen Paulus to be Honored as AGO Distinguished Composer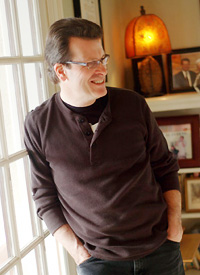 Stephen Paulus
The American Guild of Organists (AGO) will honor Stephen Paulus with its Distinguished Composer Award during its annual meeting on June 25, during the 2008 AGO National Convention in Minneapolis/St. Paul. The award, established in 1986, is presented biennially to recognize outstanding composers of organ and choral music in the United States and has been previously given to Samuel Adler, William Albright, Dominic Argento, Emma Lou Diemer, Dan Locklair, Alice Parker, Daniel Pinkham, Richard Proulx, Ned Rorem, Margaret Sandresky, Conrad Susa, and Virgil Thomson.
Stephen Paulus has published more than 300 works in all genres, including organ, piano, chamber ensembles, chorus, solo voice, concert band, orchestra, and opera. His organ music includes three concertos.
Awards will also be presented to Canadian composers Stephen R. Fraser (AGO/ECS Publishing Award in Choral Composition) and Rachel Laurin (AGO Award in Organ Composition).
The American Guild of Organists, founded in 1896 as both an educational and service organization, currently serves more than 20,000 members in more than 300 local chapters throughout the United States and abroad.
First Nations Composers Initiative Round III Grant Recipients Announced
Nine grants ranging from $3,500 to $7,500 have been awarded to American Indian/Indigenous musical artists in the third round of grant making of the First Nations Composer Initiative (FNCI), a program of the American Composers Forum. The FNCI is committed to supporting activities that build the careers of of American Indian/Alaska Native/First Nations/Indigenous makers of new music, including commissions, residencies, performance and production, travel/study, and outreach.
The nine awardees are:
Panelists for the third round were American Indian flutist Timothy Archambault (Kichesipirini), Mvskoke (Creek) Nation singer/songwriter and saxophonist Joy Harjo, and composer George Quincy who is of Choctaw heritage. Funding for the First Nations Composer Initiative's Common Ground Grant Program is supported through the Ford Foundation's Indigenous Knowledge, Expressive Culture grant program of the American Composers Forum.
14 Composers Receive NYFA Fellowships
The New York Foundation for the Arts (NYFA) has awarded fellowships to 14 composers out of a total of 136 Fellowships awarded to 144 New York artists representing eight artistic disciplines that cover the visual, performing, and literary arts. Reflected in the total are eight artistic collaborations. A NYFA Fellowship comes with an unrestricted grant in the amount of $7000.
The fourteen winning composers are:
This year's 144 NYFA Fellows—who were chosen from among over 4,500 applicants—also include architects, choreographers, fiction writers, painters, photographers, playwrights/screenwriters and video artists. The Fellows were selected by peer panels, which were assembled according to each artistic discipline. Since 1985, over 3,700 New York artists have received NYFA Fellowships.
Paul Revere Awards Announced at Annual MPA Meeting
The 2008 Paul Revere Awards for graphic excellence in music engraving were announced at the annual meeting of the Music Publishers' Association on June 6 at the Harvard Club in New York City. The winners include publications featuring music by John Corigliano, Gabriela Lena Frank, George Gershwin, Ricky Ian Gordon, John Harbison, Adolphus Hailstork, Scott Joplin, Morton Lauridsen, Meredith Monk, and Joan Tower.
Below is a complete list of the award winning publications:
OCTAVO SHEET MUSIC (Single titles)
1st Prize Loveliest of Trees (Valerie Showers Crescenz) Oxford University Press
1st Prize Didn' My Lord Deliver Daniel (Nancy Wertsch) Oxford University Press
2nd Prize Personet Hodie Boosey & Hawkes
2nd Prize Chanson Eloignée (Morton Lauridsen) Peermusic Classical
OCTAVO SHEET MUSIC (Collections and Large Works)
1st Prize The Psalms of David (Schütz) Oxford University Press
2nd Prize The Most Incredible Thing (Stephen Hatfield) Boosey & Hawkes
FOLIO (Popular)
1st Prize Best of Joe Bonamassa Cherry Lane Music Co.
1st Prize Ultimate Santana Alfred Publishing Company Inc.
FOLIO (Educational)
1st Prize The Art of Violin Playing Carl Fischer
2nd Prize Electrify Your Strings Cherry Lane Music Company
2nd Prize Cool Pedal Steel Licks for Guitar Cherry Lane Music Company
FOLIO (Standard)
1st Prize Piece in Seven Movements (Schnabel) PeerMusic Classical
2nd Prize Rhapsody in Blue (George Gershwin) Alfred Publishing Company Inc.
2nd Prize Piano Music of Africa Vol. 2 Oxford University Press
3rd Prize Introduction and Bolero (Chopin) International Music Company
3rd Prize Cadenza from Piano Concerto No. 2 (Beethoven) International Music Company
3rd Prize The Ultimate Organ Book Hope Music
FOLIO (Children's Educational)
1st Prize Kids' Musical Theatre Hal Leonard Corporation
2nd Prize Premier Piano Course, Lesson Book 3 Alfred Publishing Company Inc.
FOLIO (Full Score)
1st Prize String Quartet No. 5 (Schnabel) PeerMusic Classical
2nd Prize Der Protagonist (Weill) European American Music Corp.
FOLIO (Vocal Score)
1st Prize Late Afternoon (Ricky Ian Gordon) Carl Fischer
FOLIO (Solos with Accompaniment)
1st Prize Sueños de Chambi (Gabriela Lena Frank) G. Schirmer, Inc.
2nd Prize Concerto for Violin and Orchestra (John Corigliano) G. Schirmer, Inc.
3rd Prize Sanctum (Adolphus Hailstork) Theodore Presser Company
3rd Prize Sonata in G (Mozart) Theodore Presser Company
FOLIO (Chamber Ensemble)
1st Prize Danza de los Saqsampillos (Gabriela Lena Frank) G. Schirmer, Inc.
1st Prize Songs America Loves to Sing (John Harbison) Associated Music Publishers
2nd Prize Five Scenes from Treemonisha (Scott Joplin) International Music Company
2nd Prize Island Prelude (Joan Tower) Associated Music Publishers
3rd Prize Tangos for Two Pianos, Vol. 1 (Piazzolla) Carl Fischer
Special Award for Best Cover
Piano Album (Meredith Monk)
Wilson Ink
Boosey & Hawkes
Special Award Best Book Design
Der Protagonist (Weill)
WEGA
European American Music Corporation
Special Award for Best Engraving
Spanish Dance (Bilotti)
Carl Fischer
Nicholas Hopkins
The awards were presented by Paul Sadowski of McGinnis & Marx publishers, who chairs the awards committee for the Music Publishers' Association. During the awards presentation, Sadowski entertained the attendees by enumerating twelve ways not to win a Paul Revere Award:
Don't bother measuring line thickness.
Make orthography a creative choice rather than syntactical practice.
Bind an accompanying CD in the middle of the book.
Bind the book with the grain of paper perpendicular to the binding.
Overdo the number of fonts used. (Hint: Eight fonts is six too many.)
Use type that disappears.
Size your fonts illegibly.
Set your editorial policies in stone regardless of style.
Don't proofread your blank turn notices. (Hint: If you need to proofread them in the first place, they are too long.)
Don't include titles in your index.
Don't put parts on separate pages.
Tell people to visit your website for more information instead of including it. (Hint: Print isn't dead yet.)
In addition, the memories of Arnold Broido, Sandy Feldstein, and Lynn Sengstack were honored with a presentation of posthumous lifetime achievement awards, and a newly-created Arnold Broido Award for Copyright Advocacy was awarded to Marybeth Peters, the United States Register of Copyrights.
3,500 So Far Registered To Attend Historic Performing Arts Convention
The nation's first truly combined National Performing Arts Convention (NPAC) has reached 3,500 registered attendees, of whom more than 630 are individual artists, a week before convening. Never before have 30 national performing arts service organizations come together from all fields, such as dance, music, opera, and theatre, to tackle their shared challenges and learn which industry-wide solutions work best. Scheduled for June 10-14 in Denver, Colorado, NPAC will bring together people with a diverse range of interests in the non-profit performing arts to shape the direction of the industry for the next decade. Attendance is open to everyone.
A cornerstone of NPAC will be the "21st Century Town Meeting of the Performing Arts" implemented by AmericaSpeaks. Caucus sessions will be held each day, designed to cull ideas for consideration at Saturday's concluding town meeting. Facilitators will work with tables of ten to identify and discuss core questions that impact the future of the arts. Responses from the tables will be compiled and shared with the full convention. On Saturday, June 14, the ideas that came out of the caucuses will be addressed at a convention-wide meeting. Using the latest technologies, topics will be consolidated, discussed, and voted upon by all present, each with an individual touch pad. Results will be projected on large video screens to identify and hone agenda issues for the whole performing arts community. At this concluding session, attendees will have established clear priorities for action toward a stronger future for the performing arts in America.
[Ed. Note: The entire editorial staff of NewMusicBox will be on location in Denver next week for the National Performing Arts Convention and will be reporting events on site as they happen. Stay tuned.]
(Compiled and edited by Frank J. Oteri)