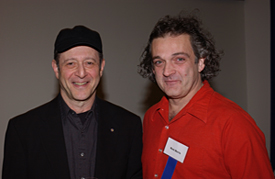 Steve Reich (left) and Mark Morris (right) catch up at the reception
Photo by R.J. Capak
Over 250 composers and friends of contemporary American music came together at the New 42nd Street Studios in New York City for the 64th annual American Music Center meeting and the 39th annual AMC awards ceremony. The annual event provides a venue for the new music community to gather, catch up with old friends, and make new ones. It is the ultimate manifestation of the vision that Aaron Copland, Howard Hanson, Harrison Kerr, Marion Bauer, Quincy Porter, and Otto Luening had when they gathered for the first-ever AMC meeting in March of 1939. And while this year's gathering took place less than 20 blocks from where the first meeting was held (at Copland's 63rd Street studio), this year's meeting and reception is a testament to how much the AMC has grown over the past 64 years. AMC executive director Richard Kessler welcomed the crowd. "We know very well that we have a long way to go still to fulfill that gutsy, daring, Progressive Era vision of Copland, Luening, and their four colleagues. All the while we fight everyday to do more. We never relax. We do everything we possibly can do, from helping the individual artist to addressing field-wide challenges; this is your American Music Center in 2003."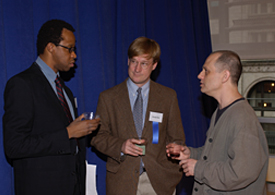 Matthew Shipp, George Steel, and David Lang chat it up at the event
Photo by R.J. Capak
The centerpiece of the meeting was the awarding of the AMC Letters of Distinction, Founders Awards, and the first ever Trailblazer Awards. All of the awards recognize the contributions made by individuals who have proven to be outstanding leaders in contemporary American music. Introducing the awards, AMC board president John Kennedy emphasized the need for artistic diversity in the field, especially in the current political, economic, and artistic climate. "In our culture, we continue to lose our sense of history more and more," he began. "And this is just our little chance to acknowledge its force in the present in people who continue to extend it with tremendous vision and energy and dedication and love."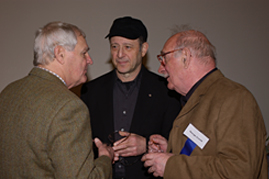 H. Wiley Hitchcock, Steve Reich, and George Crumb
Photo by R.J. Capak
The backbone of the AMC awards are their trademark Letters of Distinction, which have been given for the past 39 years. The list of past recipients is impressive, and this year five more important figures in American music were honored including composer George Crumb, publisher Ronald Freed (in memoriam), composer/music journalist Kyle Gann, composer Steve Reich, and composer/saxophonist Wayne Shorter. Accepting his award, Gann articulated the significance of these awards. "I'm kind of wondering what I'm doing up here with all of these famous people because … when I was in high school, my favorite composer was George Crumb, and then a couple of years later when I was in college my favorite composer had become Steve Reich. And then three years after that when I was in grad school and my favorite jazz album was The Soothsayer by Wayne Shorter and the idea that I might someday meet some of these people might have seemed kind of outlandish to me at the time."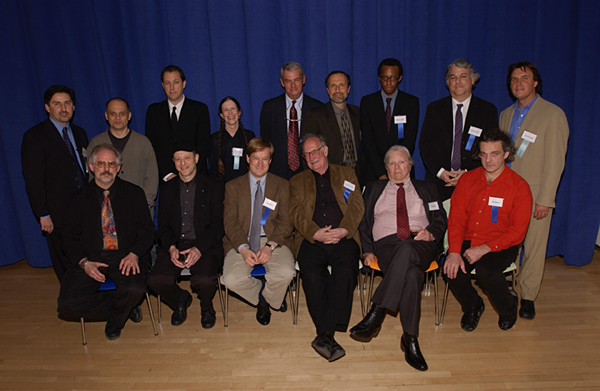 AMC honorees and award presenters: (bottom l to r) Kyle Gann, Steve Reich, George Steel, George Crumb, Donald Erb, Mark Morris; (top l to r) Richard Kessler, David Lang, Mikel Rouse, Meredith Monk, Ron Rowe, Ara Guzelimian, Matthew Shipp, David Starobin, John Kennedy
Photo by R.J. Capak
Patron and photographer Betty Freeman and composer Lou Harrison (who had both been awarded AMC Letters of Distinction in 1986) were further honored with AMC Founders Awards. Established in 1999, the Founders Award is a special honor given to people who have already received a Letter of Distinction, to recognize lifetime contributions to American music. The award is not given annually and there have only been two recipients in the past (Elliott Carter and John Duffy).
Because both the Letters of Distinction and the Founders Award tend to focus on more senior members of the new music community, the AMC awarded the inaugural Trailblazer Awards this year to early- and mid-career individuals deserving of support and applause for their efforts toward furthering new music. According to Kennedy, these awards "recognize people who are almost outside of category, who are doing something so progressive and with such a sense of change that they are really influencing how we think about new music and changing the field with a tremendous degree of impact." The first-ever recipients of this award were Miller Theatre director George Steel and composer/record producer John Zorn.
After the awards ceremony, attendees mingled, and many were reluctant to leave by the end of the night. "These gatherings feel so good and our community doesn't get together enough," Kennedy said. "When you come to a gathering like this tonight, you can understand how much our field shines."
Historical List of American Music Center Award Recipients
THE 2003 AMC HONOREES:
Many members of the new music community volunteered to write comments about this year's honorees. Click on the links below each awardee's bio to read these comments.
GEORGE CRUMB's numerous awards over six decades of composing include the 1968 Pulitzer Prize for Echoes of Time and the River and a 2001 Grammy Award for Star-Child (1977), scored for soprano, solo trombone, antiphonal children's voices, male speaking choir, bell ringers, and large orchestra. A pioneer of music notation and extended instrumental techniques, his other landmark scores include Ancient Voices of Children and the string quartet Black Angels. Crumb's recent works include: Eine Kleine Mitternachtmusik (2001) for amplified piano; …Unto the Hills (2002) for folk singer, amplified piano, and percussion quartet; and Otherwordly Resonances (2002) for two amplified pianos. He has taught at the University of Pennsylvania, where he was Annenberg Professor of the Humanities from 1983 to 1997; the Buffalo Center for the Creative and Performing Arts, SUNY Buffalo; the University of Colorado, Boulder; and Hollins College.
David Starobin on George Crumb
RONALD FREED (1937–2003) published many American composers in his career, first at Peer-Southern, then at European American Music Distributors Corporation (EAMDC). As President of EAMDC, Freed was a prominent North American publisher of symphonic, operatic, and educational music and the sole agent for Schott MusikInternational, the Kurt Weill Foundation for Music, Inc., and the Warner/Chappell rental library. Freed served four terms as president of the Music Publishers' Association of the United States and served for many years on the ASCAP Board of Directors. In addition to his ASCAP Board service, he was elected to the ASCAP Board of Review, was a respected member of the ASCAP Symphony and Concert Committee, and served as a board member of the American Music Center.
Corey Field Remembers Ronald Freed
BETTY FREEMAN has been a leading supporter and advocate for new music for more than 40 years, having generously supported the work of a remarkably wide range of composers including John Adams, John Cage, Peter Garland, Lou Harrison, Conlon Nancarrow, Harry Partch, Mel Powell, Ned Rorem, Steve Reich, Virgil Thomson, and La Monte Young. Since 1964, Freeman has served on the board of "Encounters," the Pasadena Art Museum's concert program, and also serves on the board of the Los Angeles Philharmonic, having supported for more than a decade the orchestra's New Music Group. She began hosting her Monday Evening Musicales, a venue for the new works of composers, in her Beverly Hills home in 1981. Freeman is also a noted photographer; "Music People," an exhibit of her photographs of leading figures in the world of contemporary music, toured internationally, and was published as a book entitled Music People and Others (1987). She produced a documentary film about Harry Partch entitled The Dreamer That Remains (1972). Freeman received an AMC Letter of Distinction in 1986.
KYLE GANN is a composer, associate professor of music at Bard College (where he has taught since 1997), and a music critic for the Village Voice (since 1986). His often microtonal compositions developed from his study of Hopi, Zuñi, and Pueblo Indian music and have been performed at the New Music America, Bang on a Can, and Spoleto festivals. Gann's books include American Music in the 20th Century (1997) and The Music of Conlon Nancarrow (1995), and he has published more than 2,000 articles in more than 35 publications, including The Chicago Tribune, Contemporary Music Review, The New Grove Dictionary of Musicians, and The New York Times. Gann has received ASCAP-Deems Taylor and Stagebill awards, a commission from Music in Motion, and a National Endowment for the Arts Individual Artists' Fellowship.
John Luther Adams on Kyle Gann
LOU HARRISON (1917–2003), a generous colleague and mentor who introduced countless Western musicians to the music of other cultures, was best known as a composer whose music bridged the gaps between Eastern and Western styles, older musical traditions, and the avant-garde. He studied with Henry Cowell and Arnold Schoenberg and collaborated with John Cage on a series of legendary percussion concerts featuring homemade instruments. His compositions range from operas and symphonies to chamber works to works scored for gamelan and other Asian instruments and ensembles. In addition to composing, teaching, conducting, and building instruments, Harrison was a poet, a calligrapher, and a painter, and served for ten years as a music critic for the New York Herald Tribune. Harrison received an AMC Letter of Distinction in 1986.
John Luther Adams Remembering Lou
STEVE REICH's music has been performed by major orchestras and ensembles worldwide and was the subject of a major retrospective presented by the Lincoln Center Festival in 1999. He has toured the world with his ensemble, Steve Reich and Musicians. Reich has received two Grammy Awards for recordings of his compositions Different Trains and Music for 18 Musicians, the Schuman Prize from Columbia University, the Montgomery Fellowship from Dartmouth College, the Regent's Lectureship at the University of California at Berkeley, and an honorary doctorate from the California Institute of the Arts. He was elected to the American Academy of Arts and Letters and the Bavarian Academy of Fine Arts and was awarded Commandeur de l'ordre des Arts et Lettres. In 2000 he was named Composer of the Year by Musical America magazine. In 2002, Oxford University Press published his Writings on Music, 1965-2000.
Daniel Felsenfeld on Steve Reich
WAYNE SHORTER is among the premier saxophonists of his generation and has helped define the compositional language of modern jazz. In addition to his own influential projects, which have ranged from fusions with Brazilian music to symphonic works, Shorter has been a key composer/performer with ensembles as varied as Art Blakey's Jazz Messengers, Miles Davis's mid-sixties quintet, and the electric jazz group Weather Report. He has won six Grammy Awards, most recently in 1999 for his track "In Walked Wayne." Shorter and his CD Footprints Live! were named Artist and Album of the Year for 2002 by JazzTimes magazine. His most recent CD, Alegría, was released in March 2003.
Matthew Shipp on Wayne Shorter
GEORGE STEEL and the Kathryn Bache Miller Theatre at Columbia University have earned a reputation for innovative programming. Steel, a countertenor, composer, and conductor, became executive director of Miller Theatre in 1998 and immediately initiated concert series that cross cultural and disciplinary boundaries, embracing the art of our time as well as that of the past. As one of New York City's foremost new music venues, the Miller Theatre is dedicated to the enrichment of the cultural life of the university, the neighborhood, and the city through the presentation of public events of the highest artistic quality. Steel and the theatre seek to illuminate and celebrate the creative process and the essential relationship between the arts and society.
Ara Guzelimian's comments on George Steel
JOHN ZORN is a composer, performer, and producer who is equally at home in concert music, jazz, klezmer, punk rock, and commercial music. His projects have included: Masada, an exploration of Jewish musical heritage; Naked City, a rock and avant-garde jazz group; tributes to Ornette Coleman and Ennio Morricone; string-quartet compositions; orchestral works; theoretical "game pieces"; soundtrack music for films and television animation; and much more. Deeply committed to building a stronger and more supportive community of creative and performing artists, Zorn gives voice to his fellow artists through Tzadik, the record label he established with his own funds, and other projects, including his lead role in establishing the concert space Tonic in New York City.