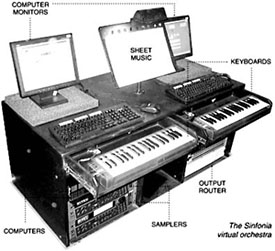 Realtime Music Solutions' Sinfonia
In today's edition of Newsday, Gordon Cox reports the latest in a series of ongoing disputes between New York City theater and opera producers and the local musicians' union.
This new clash revolves around an off-Broadway musical which is seeking to augment its three-musician pit orchestra with Realtime Music Solutions' Sinfonia—basically a computer designed to augment live orchestral sounds. The Local 802 has protested, contending that its use in tandem with fewer live players is a threat to union jobs.
David Weinstein, the 28-year-old composer for the new musical The Joys of Sex in question, is a member of AFM's Los Angeles union, the Local 47. In response to the 802 outcry he told Playbill that the show's original orchestration using live players has not changed since its Fringe run—piano, bass, and drums. He is using the machine as "a separate tool."
Whether true in this case or just a convenient cover story after the fact, this does expose a real debate to be addressed by both composers and musicians: Is this merely a way to cut musician income (and arguably production quality) or, like the other computer-generated sounds that have fueled the creativity of modern composers, should the Sinfonia be considered an instrument in its own right?
"It's like an oversized synthesizer. With this show in particular, I'm using it for that reason," explains Weinstein in the Playbill report. "There are a couple colors in there that sound a little bit like real instruments, but I'm not trying to make an orchestral mock-up, or symphony orchestra or anything nearly like the classical European orchestrations that you'll hear on a Broadway stage."
Amusingly, David Lennon, president of Local 802, is quoted by Cox as saying that the "idea of composing for the virtual-orchestra machine is about as valid as composing for a tape recorder." Someone needs to get this guy to a Phil Kline show, ASAP.