There's always a moment at some point in the American Music Center's Annual Awards Meeting and Awards Ceremony when it feels great to be a part of the American new music community. Sometimes there are several. I want to share a few of mine…
From the beginning of the afternoon's official festivities—a mini-concert by Manhattan Brass ranging from Ives to Marsalis that kept me on the edge of my seat the whole time—to the haze of faces of some of the most important composers of our time amidst the faces in the crowd—Ingram Marshall, Aaron Kernis, Alvin Singleton, Joan La Barbara, Michael Daugherty—it was a wonderful day for American music at the American Airlines Theatre, a post-modern glass palace in the hurly-burly that is Times Square.
It's a pity that 93-year old Gian Carlo Menotti could not be with us, but it was so wonderful to be in the same room with 82-year-old Lukas Foss, who seemed physically moved by the standing ovation he received from the audience, and to have an opportunity to talk to him about his music. (I can't wait to hear the CRI LP I just tracked down of his featuring his mobile-form String Quartet No. 3!) Too bad the late greats Count Basie and Charles Ives, together probably for the first time, weren't there to share in the fun. But one of the trustees of Basie's estate, Ronald Garnett, was on hand to speak on behalf of the Count, and his reflections on how no one bestowed such official recognition on this musical giant in his lifetime really hit home as did his description of the royalties that have continued to pile up since Basie's death. An even more poignant moment, though, was when Ives's grandson, whose only memory of America's most treasured rugged individualist was of a cantankerous old man who chased him around the yard in his childhood, confessed never realizing how important Ives was in his lifetime.
It was incredible to see so many of the members of the Minnesota Commissioning Club all lined up to receive the AMC's Trailblazer Award. It's so rare to see the people behind the scenes whose generosity helps to create so much of this music. Speaking on behalf of the group was Linda Hoeschler, who formerly ran the American Composers Forum. Ahmad Jamal was on the road touring, but we were told how much he appreciated the honor by his manager, Laura Hess-Hay, who also happens to be his ex-wife! And while Laurie Anderson was also out of town, luckily Charles Amirkhanian happened to be in town—his music will be featured at Merkin Thursday night as part of the Interpretations series—so he was able to join us to receive his award.
Yes, I know, I work at the American Music Center and maybe this is tooting our own horn a bit (brass puns too hard to resist). But our annual get-together has always been decidedly not about organizational self-promotion. Rather, it is a coming together of all kinds of composers, performers, and people from other organizations with an interest in new music. Perhaps yesterday's festivities were a little bit more about us than usual, but with good reason. After all, this was our first real opportunity to publicly introduce Joanne Cossa, our new Executive Director, to the Center's membership at large. It was also an opportunity to recognize the achievements of two of the Center's most important leaders in recent years: our previous Executive Director Richard Kessler, who redefined what the Center was and could be; and ASCAP's Vice President of Concert Music, Fran Richard, whose many selfless contributions on behalf of American composers included serving on the American Music Center's Board of Directors during its most trying time. It seemed like the audience could not stop cheering before or after she was on the podium to receive her Letter of Distinction. (This summer, Ms. Richard rejoins the Board once again.)
Snapshots from the Annual Awards Meeting and Awards Ceremony
All photos by Jeffrey Herman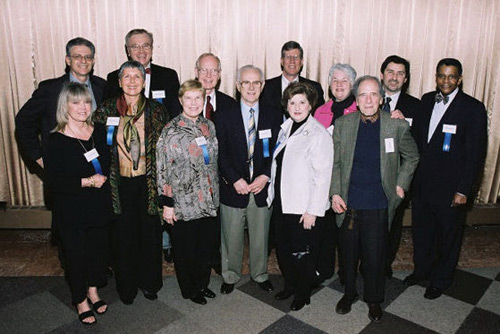 And the winner is…The American Music Center's Annual Awards recipients pause for a quick group shot.
| | |
| --- | --- |
| Composer, conductor, pianist, and educator Lukas Foss accept his Letter of Distinction | Frances Richard acknowledges the thunderous applause offered by the crowd in appreciation of her service to American music. |
| | |
| --- | --- |
| Charles Ives's grandson, Charles Tyler, accepts on his behalf. | Linda Hoeschler accepts the Trailblazer award on behalf of the Minnesota Commissioning Club, an organization that has commissioned 13 new works. |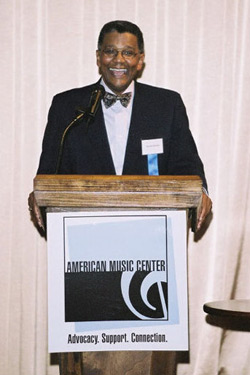 Basie Estate Trustee Ronald L. Garnett accepts William "Count" Basie's Founders Award