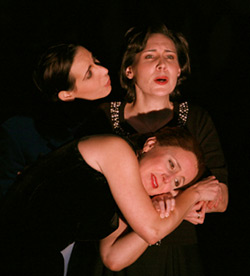 Photo by Richard Termine
We here in NYC have been arm wrestling each other for the last of the tickets to Osvaldo Golijov's "opera" Ainadamar ("Fountain of Tears"). Tonight is the final performance of the three-nights-only production at Lincoln Center—put up as part of a month-long festival celebrating the composer—and at this point it seems that unless you are so bold as to trip a patron and snatch her ticket out of her hand, you'll probably have to wait till next time. For the less aggressive Golijov fan and those living elsewhere, fret not: rumor has it that there is a Deutsche Grammophon recording in the pipeline.
Despite the fact that this production was packaged with Peter Sellars's staging and L.A.-based artist Gronk's faux fin-de-siècle expressionistic backdrop, a recording necessarily shed of these elements will be worth looking forward to, especially if some of the orchestra-vs.-voice balance issues I heard on Tuesday are resolved in the mix. I'm not always a fan of multi-culti scores, but this celebrated Argentinian-American has shown he knows how to work it, probably because he's lived it. Working here with a libretto by David Henry Hwang, electronic and orchestral sounds are colored with snatches of more traditional Spanish inflection. The voices deliver their lines with a pure, clean pitch—the music itself offering ornamentation enough.
The libretto conjures aspects of the life and death of Federico Garcia Lorca and his friend and champion, the actress Margarita Xirgu. Dressed in simple black gowns, Dawn Upshaw (Xirgu) and a chorus of young women took the stage to begin what turned out to be less an opera and more an evening-length lament. Kelley O'Connor, the mezzo playing Lorca, exuded enough stage presence and charisma to command the necessary attention, even up against Upshaw, who was as striking as ever. Unfortunately O'Connor's lower-register sound was almost completely buried at stretches by the Orchestra of St. Luke's under the baton of Miguel Harth-Bedoya. Jessica Rivera's clear soprano voice (in the role of Xirgu's student) and Upshaw struggled less, and seemed generally to shoot straight to the ear. Speakers overhead handled the samples.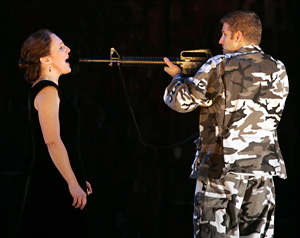 Photo by Richard Termine
All of the principals were required to pull off acting moves that could have easily turned into a sick sort of parody of the tragic plotline if not handled well, but they did so with notable grace, especially Upshaw who had to project while lying on the floor and pace herself through a death scene that must have accounted for at least 10 minutes of the piece. Some of Sellars's directorial choices could not be saved by the players, however, especially when it came to the soldiers wandering around in fatigues pointing machine guns at the singers and most unforgivably the execution of Lorca, with the death shot delivered over and over again in a cycle that eventually just made you stare at your shoes until it was finished.
It's a wrenching storyline, but the music channels the higher passions of the characters rather than the morose circumstances of their deaths. And though I'm not sure if the term "opera" is a very accurate moniker to slap on this 75-minute work, I was struck while listening that it would be my answer to what sort of piece 21st-century audiences disinclined to lose themselves in traditional operatic productions might be hunting for. The show was put up in Rose Hall, part of the Jazz at Lincoln Center megaplex in the Time Warner building (Barry Manilow was upstairs doing his thing the night I went), and I left the theater perfectly content to have forgone the Met pomposity and the three-hour run time. All the intellectual heft was there, just absent the trappings.